Press release
FCO Minister comments on violence in Democratic Republic of Congo
FCO Minister condemns M23 militia attacks and urges those with influence to help end violence in eastern Democratic Republic of Congo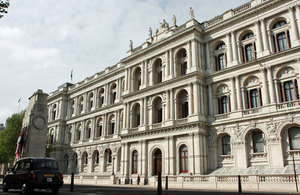 Commenting today on reports of increased violence in eastern Democratic Republic of Congo, FCO Minister for Africa, Mark Simmonds, said:
I am deeply concerned about the recent escalation in fighting in eastern Democratic Republic of the Congo. I strongly condemn the M23 militia's repeated and targeted attacks on civilians and peacekeepers from the UN mission, MONUSCO. I fully support MONUSCO's mandate and I commend their work to protect civilians.
The M23 must cease all forms of violence and I urge those with influence over them to help achieve this. Any external support to the M23 is unacceptable, damaging to the security of the region, and in direct contravention of the UN Security Council resolution
I was disturbed by reports that shells have landed in Rwanda, including UN reports that the M23 has fired into Rwandan territory. There must be a swift, thorough, and transparent investigation into these incidents. I also urge the Armed Forces of the Democratic Republic of Congo (FARDC) to ensure that shells do not unintentionally land in Rwandan territory.
The UK fully supports the Peace, Security, and Co-operation Framework. It is vital that the political process gets back on track. Only through all signatories working together to fulfil their commitment can lasting peace be brought to the region.
Further information
Follow the Foreign Secretary on twitter @WilliamJHague
Follow the Foreign Office on twitter @foreignoffice
Follow the Foreign Office on facebook and Google+
Published 27 August 2013
Last updated 29 August 2013
+ show all updates
Added translation
First published.