News story
DFID Research: Socio-economic realities in conflict affected situations
The 2013 Human Security: Humanitarian Perspectives and Responses Conference took place last week in Istanbul.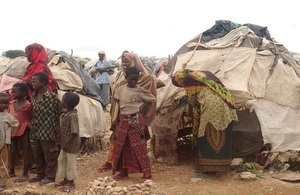 The event ran until the 27th October and brings together two conference series: The International Humanitarian Studies Conference and the Istanbul Human Security Conference. It is a joint initiative between the International Humanitarian Studies Association (IHSA), the Centre for Peace and Reconciliation Studies (CPRS) at Coventry University and Kadir Has University, Istanbul, and brought together both the academic and practitioner communities.
The panel sessions were structured around four conference themes in innovative and interactive formats to engage both the academic and practitioner communities:
Human Security Debate: Lessons from Humanitarianism

Politics and Practices of Natural Disasters and Disaster Response

Socio-economic Realities of Humanitarian Crises

New Players in the Humanitarian Arena, with Special Attention to Turkey
The Secure Livelihoods Research Consortium, a DFID funded programme, participated in the event on friday, hosting a panel which spoke to the third theme. The panel was entitled Livelihoods, basic services, security and justice: the socio-economic realities in conflict affected situations, and examined recent research findings.
While the influence of service delivery on processes of state building and legitimation has been increasingly asserted in mainstream international policy discourse, a recent SLRC working paper highlights the lack of rigorous evidence in this area.
To rectify this, SLRC has carried out a number of surveys alongside the Justice and Security Research Programme in 7 conflict-affected countries over the last couple of years.
The panel presented the audience with a preview of the findings of these on-going surveys. The SLRC survey examined issues relating to access to services, livelihoods and perceptions of governance while the JSRP survey is examining the impact of justice and security interventions on the end-user.
Friday's panel used these findings to explore the type and coverage of support to livelihoods, the extent of access to basic services and peoples' views about the roles, responsibilities and performance of different levels of government and non-state actors in providing services, supporting livelihoods and security and justice.
More information on the conference can be found here.
Outputs and learning from the SLRC panel will be shared on their website following the event.
Published 28 October 2013