Press release
Deputy Prime Minister launches mental health in sport initiative
Sports bodies are signing up to the Mental Health Charter for Sport and Recreation to help remove stigma and prejudice around mental health.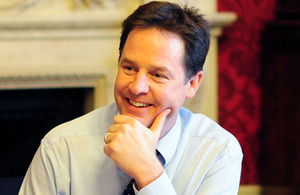 A network of major sporting bodies will stand side by side with the Deputy Prime Minister today to commit to blowing the whistle on mental health discrimination in sport.
For the first time ever, a host of sport organisations – from the Rugby Football Union to the England and Wales Cricket Board and the Football Association – will sign a charter committing to removing the stigma and prejudice around mental health from the pitch to the playground.
The Mental Health Charter for Sport and Recreation comes from a shared desire among national governing bodies of sport and players associations to raise awareness of, and tackle issues around, mental health.
Nick Clegg has hailed this as a "momentous day" for the nation's mental health, where the power of sport will be harnessed to bring mental health out of the shadows and help put an end to people suffering in silence.
With exercise proven to be as effective as antidepressants for those with mild clinical depression, the charter will also encourage more people to take up sport to help with their mental and physical health.
The move follows a report from leading mental health charity MIND, in October last year, which called for a national network to tackle mental health in sport following an increasing number of testimonies from high profile sports people about their own mental health struggles.
The announcement comes just days before the launch of the first ever access and waiting time standards which the Deputy Prime Minister announced last year to bring treatment for mental health problems on a par with physical health.
For the first time, from 5 April, most patients needing talking therapies – for conditions like depression – will be guaranteed the treatment they need in as little as 6 weeks, with a maximum wait of 18 weeks.
Deputy Prime Minister Nick Clegg said:
Whether it's Wimbledon or the World Cup, the Olympics or the Open, we are a nation truly inspired by our sportsmen and women.

But with 1 in 4 of us affected by mental illness in any year, we know that professional sportspeople are not immune. Out of the spotlight and away from the glare of the media, some have been fighting their own personal battles against mental illness.

That's why today is such a momentous day for the nation's mental health. For the very first time we're standing together to help kick mental health discrimination out of sport, not just on the pitches but across the playgrounds, so that we can build a fairer society in which no one has to suffer in silence.
The Sport and Recreation Alliance and Professional Players Federation has brought together around 20 organisations, including leading mental health charity Mind.
The PFA (Professional Footballers' Association), RFL (Rugby Football League), LTA (Lawn Tennis Association), UKA (United Kingdom Athletics), PCA (Professional Cricketers' Association) and the Professional Jockeys' Association are just some of the sporting bodies signing up to the charter.
Together they will commit to promoting wellbeing, adopting good mental health policies and tackling discrimination on the grounds of mental health.
Emma Boggis, Chief Executive of the Sport and Recreation Alliance said:
Evidence from our research report Game of Life outlined how exercise can be as effective as antidepressants for those with mild clinical depression.

This is one of those areas where sport and physical activity really can change lives, but there's not enough awareness of it as a treatment or as a way of preventing people from falling into poor mental health in the first place.

Too much of the association between sport and mental health is negative – like when a top athlete suffers problems. We want to re-frame that relationship so that people understand that sport is a positive place for conversations about mental health.
Brendon Batson OBE, Executive Chairman of the Professional Players Federation said:
By de-stigmatising mental health in sport and by promoting physical activity as a way of treating poor mental health, organisations signing up to the Charter will be making a difference to people across the UK.
Paul Farmer, Chief Executive of mental health charity Mind said:
From the elite level down to grass roots – sport can be used to reduce stigma and encourage positive conversation about mental health, which is why we're delighted to back the Sport and Recreational Alliance sport and mental health charter.

Sport brings people together. The benefits of physical activity for mental health and wellbeing are well known, and sport has been used to support people with mental health problems for some time.

We are looking forward to working closely with the SRA, Sport England and sporting bodies to incorporate mental health into their strategies to make sport more accessible to people with mental health problems and use it as a force for social change.
Progress on mental health
The launch of the charter is part of a wider campaign by the Deputy Prime Minister to bring treatment for mental health problems out of the shadows and in line with physical health.
As part of the budget last week, he announced:
a £1.25 billion investment to bring about a seismic shift and revolutionise children's mental healthcare – the money will be used over a 5-year period to help treat 110,000 more children with access to mental health services, as well as rapid access to mental health treatment for new mothers
£37 million over the next 3 years to help up to 40,000 people with mental health issues back into work by providing treatment at job centres, including access to talking therapies and online mental health services
£8.5 million investment over 5 years to 10 dedicated veterans mental health teams to increase support and treatment for servicemen and women with some of the most complex mental health needs
And in government he has helped build a strong foundation for the improvement of mental health services, including:
setting up and leading the first ever Mental Health Taskforce with senior ministers from across the coalition
securing a £400 million investment over the course of this parliament to improve access to talking therapies
£150 million investment for treatment and support for children and young adults with eating disorders
introducing ground-breaking waiting time and access standards to put a limit on the length of time people have to wait for treatment, backed up by more than £120 million investment
£54 million for the Children and Young People's Improving Access to Psychological Therapies programme
£7 million investment to fund 50 new inpatient beds for children and young people
About the Mental Health Charter
The charter will commit to:
using the power of sport and recreation to promote well being, with a special focus on encouraging physical activity and social interaction for their contribution to good mental health
publicly promoting and adopting good mental health policies and best practice within our sports and recreational activities
promoting positive public health messages using diverse role models and ambassadors to reduce the stigma attached to mental health problems
actively tackling discrimination on the grounds of mental health to ensure that everyone is treated with dignity and respect
supporting the establishment of a pan-sport platform to work closely with the mental health sector to develop and share networks, resources and best practice
regularly monitoring performance, assessing progress and taking positive action on mental health issues
Organisations involved
The following organisations have signed up to the Mental Health Charter for Sport and Recreation:
National governing bodies:
The ASA, Swim for Life
British Swimming
England and Wales Cricket Board (ECB)
The FA (Football Association)
RFL (Rugby Football League)
RFU (Rugby Football Union)
LTA (Lawn Tennis Association)
UKA (United Kingdom Athletics)
Players associations:
British Athletes' Commission
European Tour
1eagu3 (Super League Players' Association)
LMA (League Managers' Association)
PCA (Professional Cricketers' Association)
PDPA (Professional Darts Players' Association
Professional Footballers' Association
PFA Scotland
PGA (Professional Golfers' Association
Professional Jockeys' Association
The Rugby Players' Association
WRPA (Welsh Rugby Players' Association)
WPBSA (World Professional Billiards and Snooker Association)
Other bodies:
English Institute of Sport
Tennis Foundation
Sporting stars who will be at the launch include:
Clarke Carlisle (footballer)
Gail Emms (Team GB Badminton)
Claire Harvey (Team GB Sitting Volleyball captain)
Graeme Fowler (cricketer)
Key stats on mental health
1 in 6 people experience a mental health problem every day and there is a staggering cost of £105.2 billion a year to the economy from mental ill health; NHS and social care costs are over £21 billion a year whilst sick leave absence and unemployment costs are as high as £30 billion a year
physical activity in natural environments is associated with a reduction in the risk of poor mental health to a greater extent than physical activity in other environments
the annual short-term costs of emotional, conduct and hyperkinetic mental health disorders among children aged between 5 and 15 in the UK is estimated to be £1.58 billion and the long-term costs £2.35 billion
75% of adult mental health problems begin before age 18
mental illness is the single largest cause of disability in the UK: 1 in 4 people will experience a mental illness in their lifetime.
there is also a strong relationship between mental ill health and physical ill health: people with long-term illnesses such as diabetes or hypertension have double the rate of depression in comparison to the general population, and where people have 2 or more long term physical illnesses the chance of depression is an alarming 7 times higher; furthermore,mental ill health increases the risk of physical ill health – for adults, depression doubles the risk of coronary heart disease and leads to a 50% increase in the risk of mortality
obesity and mental health have a two-way relationship: obese people have a 55% increased risk of developing depression over time when compared to people of a healthy weight, and people with depression have a 58% increased risk of becoming obese
obese children are also more likely than non-obese children to experience psychological or psychiatric problems including low self-esteem, depression, conduct disorders and reduced school performance and social functioning
physical activity is as effective as medication in treating depression: a 16-week study of 202 men and women found that 45% of patients diagnosed with major depression no longer met the criteria for depression after exercising 3 times a week in a supervised group setting – this is on a par with the 47% of patients who no longer met the criteria after taking anti-depressants
regular exercise can reduce the risk of dementia by up to a third through increased cognitive function, improved memory and better maintenance of brain connectivity
regular physical activity improves cognitive function in older people with and without existing impairments, reduces anxiety and improves mental well being
About Mind:
Mind, the mental health charity provides advice and support to empower anyone experiencing a mental health problem. The charity campaigns to improve services, raise awareness and promote understanding, saying "We won't give up until everyone experiencing a mental health problem gets both support and respect."
Mind has a confidential information and support line, Mind Infoline, available on 0300 123 3393 (lines open 9am - 6pm, Monday – Friday).
The Get Set to Go programme, supported by Sport England and the National Lottery, will help people with mental health problems overcome the barriers to taking up a sport so they feel more confident about participating.
Help from Professional Players Association
Professional Players Association (PFA) has set up a helpline and a network of counsellors to help current and former players:
The PFA Player Welfare Department was set up 3 years ago. This service will enable current/former members the opportunity to receive and access a 24 hour/365 days a year support service to deal with any issues that they may encounter.
How it works
members can contact the PFA or Sporting Chance Clinic via telephone, email, text message
a telephone call or face to face assessment is done.
The member is then referred to one of our counsellors on our nationwide network, who we believe would be appropriate for the member – members are allocated an initial 6 sessions with a counsellor
extension requests are required should the counsellor believe that further sessions are needed; the counsellor will explain the reason for their extension request
the nationwide network of counsellors was established and launched in February 2013.
the network was started with 28 counsellors: this has now grown to 52 counsellors due to the demand for the service, especially in busy areas for the service such as Leeds, Manchester and Liverpool
Top stats:
in 2014 143 clients engaged with the service – 54 current, 89 former (38% current players) – 24 of these 143 clients were aged between 17 and 21
of 89 former players who used the service in 2014, 55 (62%) members presented with issues directly linked to transition out of the game – anxiety, depression, self - esteem, lack of confidence, financial, relationship or health issues (although we estimate at least another 40-45 made an initial call, but never engaged with the service)
in some extreme cases members were having suicidal thoughts – this group represents approximately 4% of former members who used the 24hr telephone helpline
of the 54 current players, 76% (41 clients) presented with issues around addiction, mainly (but not exclusively) gambling. Some of this 76% were also suffering with depression and anxiety, but the main issue/cause was the addictive disorder. 20% (11 clients) presented with issues of anxiety, loss of confidence and situational depression. 4% (2 clients) presented with issues around self-image and eating disorders.
38% presented with an addictive disorder as their main issue – of that 38% there was quite an equal split between those presenting with issues around gambling, alcohol and or drugs (or a combination); some of these clients also presented with depression and/or anxiety (depression can be a by-product of any addictive disorder)
11 (20%) players presented with issues of anxiety, loss of confidence and situational depression
2 (4%) presented with issues around self – image and eating
The above figures do not take into account those players (current and former) who contacted Sporting Chance Clinic directly in 2014 regarding an addictive disorder and received residential treatment. SCC treated 20 PFA clients in residential rehabilitation in 2014.
Published 25 March 2015