Press release
Deputy PM announces billion pound boost over 5 years for children's mental health services
Nick Clegg has secured £1.25 billion of new funding as part of today's budget to help children and new mothers with mental health issues.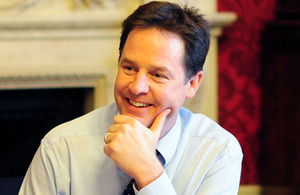 Over a 5-year period, the money will help treat 110,000 more children and provide rapid access to mental health treatment for new mothers.
With 3 children in every classroom having a diagnosed mental health condition, the Deputy Prime Minister has hailed the changes as "a seismic shift to revolutionise children's mental healthcare".
As part of the package, the first ever access and waiting time standards for children's mental health will be introduced and specialists in children's talking therapy will be available in every part of the country by 2018. The funding will also extend access to services for children under 5 and those with autism and learning disabilities.
Deputy Prime Minister Nick Clegg said:
There would be an outcry if a child with diabetes was left to cope without support or treatment. But that's exactly what's been happening with young people's mental health services.

I have heard, time and again, harrowing stories from young people and their families about how they suffered and their condition deteriorated waiting to get the right treatment for serious mental health problems.

That's why I am determined to start a seismic shift to revolutionise children's mental healthcare and end this unacceptable injustice.

By introducing access and waiting time standards and committing to talking therapies for children in every region, we are helping to build a fairer society where young people can get the right treatment and support they deserve to live a better life.
Care and Support Minister, Norman Lamb, said:
I am delighted with this investment in what is truly a ground-breaking moment for mental health. Mental illness can be devastating for young people and their families, and there is both a moral and an economic case for ensuring they get the best possible care at the right time.

Last year, I appointed experts to advise on how we can fundamentally modernise children's mental health services – this funding will be an essential boost to the new proposals, which we will publish shortly.
The funding announced will also ensure increased support and treatment for all women experiencing mental health issues during pregnancy or in the months after giving birth.
This will include rapid access to inpatient mother and baby services close to home in cases where the mother is very ill, as well as care from specialist community perinatal mental health teams and access to community-based psychological therapy.
Nick Clegg said:
One in 10 women experience mental health problems during pregnancy and the first year after childbirth but for far too long many have been subjected to a second-class mental health service.

It is terrifying to think that in this day and age some new mothers are having to travel miles for treatment and others are even being separated from their newborn child. This has to stop.

This funding will make sure they get the treatment and support they need so they in turn can give their children the best possible start in life.
Simon Stevens, Chief Executive of NHS England, said
Today our campaign for NHS mental health services gets an important boost. This much needed investment will kick-start a multi-year upgrade in care for younger people and their families. NHS nurses, therapist and doctors will use this funding to benefit families in every part of the country.
Funding for children's mental health
The funding will help children and young people with conditions like:
self-harming
depression or anxiety – some are so affected they are not even going to school
at risk of suicide
conduct disorder – including those at risk of exclusion from school
The kind of help they will get includes:
therapy sessions
parenting support for their families
group work
more evidence-based therapies and better trained clinicians
care closer to home and in their communities (eg local cafes, youth centres, shopping centres)
help via websites and apps
more control over their care
services will be better organised with routine collection of data and recovery rates
Previous government investment in young people's mental health services includes:
Mental health statistics:
1 in 10 children and young people aged between 5 and 16 suffer from a diagnosable mental health disorder – that's around 3 children in every class
between 1 in every 12 and 1 in 15 children and young people deliberately self-harm
there has been a big increase in the number of young people being admitted to hospital because of self-harm – over the last 10 years this figure has increased by 68%
more than half of all adults with mental health problems were diagnosed in childhood. Less than half were treated appropriately at the time
nearly 80,000 children and young people suffer from severe depression
more than 8,000 children aged under 10 years old suffer from severe depression
72% of children in care have behavioural or emotional problems – these are some of the most vulnerable people in our society
95% of imprisoned young offenders have a mental health disorder, and many of these are struggling with more than one disorder
the number of young people aged 15 to 16 with depression nearly doubled between the 1980s and the 2000s, while the proportion of young people aged 15 to 16 with a conduct disorder more than doubled between 1974 and 1999
maternal perinatal depression, anxiety and psychosis together carry a long-term cost to society of about £8.1 billion for each 1-year cohort of births in the UK
Published 18 March 2015