Defra issues reminder on new EU Animal Health Regulation
Defra has issued a reminder about the new EU Animal Health Regulation (AHR) and composite rules applying from 21 April 2021 and a compilation of supporting documents and guidance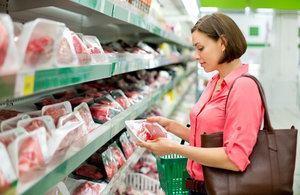 Please note that the information in this page has been issued by Defra, not the Government Chemist, and it is published to increase dissemination amongst Government Chemist stakeholders.
New Animal Health Regulation and composite rules apply from 21 April 2021
Defra has issued a reminder that new EU Animal Health Regulation (AHR) and composite rules will apply from 21 April 2021.
Five new Export Health Certificates (EHCs) and one private attestation can be used for exports of specific products of animal origin to the EU. This includes two new composite product EHCs and the private attestation document for products exempt from certification. The ECHs are on EHC online and the private attestation on form finder.
The remaining new EHCs for live animals, germinal products and products of animal origin will be phased in over the coming months.
If your composite product already requires an EHC, you will be able to carry on using the current EHC until August or choose to use the new documentation.
If your product does not currently require an EHC, you must follow the new rules from today (21 April).
For live animals, germinal products and other products of animal origin you will be able to continue using existing EHCs until August 2021.
Heat treatment
The European Commission has confirmed it is amending the AHR to allow businesses to use a private attestation to export shelf-stable composite products containing dairy (but no meat) that has not undergone UHT or sterilisation, so long as the dairy product originates and is processed in a third country listed for the export of dairy to the EU, such as GB. As the legislative amendments will not be in place by 21 April 2021 when the new Regulation applies the Commission has agreed an interim arrangement. There is further information in the guidance.
Further information
There is further information on AHR and the new composite rules in Defra's guidance. The AHR will apply in Northern Ireland.
The composite product decision tree will help you decide if your product is a composite and what documentation you need to use.
Defra has also provide a link to the presentation from a webinar and the narrative, along with frequently asked questions and answers.
Published 21 April 2021