Press release
Deal fairly with students, CMA tells universities
The Competition and Markets Authority has taken action to secure changes by 3 universities to ensure they deal fairly with their students.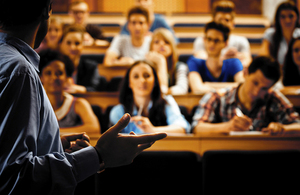 The undertakings, agreed by Buckingham, Bucks New and Birkbeck universities, followed the CMA's review of consumer law compliance in the sector, the findings of which have been published today.
The review was carried out to determine whether higher education (HE) providers are complying with consumer law in the information they give to students, the terms on which they deal with students, and the fairness of their complaints processes. It follows advice published by the CMA in March 2015 to help providers comply with their consumer law obligations.
The review revealed that awareness of consumer protection law obligations has increased since the CMA's work began in this sector in 2014. Many universities have reported improvements in their practices and terms in light of the CMA's 2015 advice. For example, by making information easier for prospective students to find on their websites.
The CMA has also seen positive examples of clear and upfront information being made available to prospective students, for example, about additional costs for particular courses such as for field trips, or on the level of tuition fees and how these might change, when relevant, during the duration of the course.
However, the CMA's review also revealed examples of poor practice. These included terms or notices that could allow providers wide discretion to vary tuition fees, to vary or withdraw courses, and policies that may prevent students from making complaints.
The CMA has obtained separate undertakings from each of the 3 universities to secure improvements to their terms and/or practices. It has also written to all higher education providers drawing the findings of its compliance review to their attention and asking them to review and revise, as necessary, their practices and terms to ensure compliance with consumer protection law.
The undertakings:
end the use of terms that prevent students from progressing or graduating if they owe non-academic debts, for example accommodation debt (Bucks New, Buckingham)
improve the information provided to prospective students regarding additional course costs (Buckingham)
amend terms that allowed a wide discretion to vary tuition fees (Birkbeck and Buckingham) and improving information provision regarding fee variation (Buckingham)
ensure terms in the complaints processes do not deter students from raising or continuing to pursue complaints (Birkbeck and Bucks New)
Nisha Arora, CMA Senior Director of Consumer, said:
For most students going to university is an expensive, once-in-a-lifetime event and one where they should receive the best possible experience. The CMA welcomes the action taken by HE providers to improve compliance with consumer protection law following the advice we published last year.

The CMA also welcomes the constructive engagement with, and commitments made by, Bucks New, Buckingham and Birkbeck universities to improve their terms or practices. The CMA expects all higher education providers to comply with consumer protection law and has drawn the findings of its compliance review to their attention. The CMA is continuing to look at issues relating to other providers and should we be made aware of other concerns, this could result in further action, either by the CMA, other enforcers, or sector regulators.
The CMA has produced a series of at-a-glance guides that help explain what to avoid when writing your terms and give helpful pointers on variation and cancellation terms.
Notes for editors
The CMA is the UK's primary competition and consumer authority. It is an independent non-ministerial government department with responsibility for carrying out investigations into mergers, markets and the regulated industries and enforcing competition and consumer law. For more information see the CMA's homepage, or follow us on Twitter @CMAgovuk, Flickr and LinkedIn.
The key pieces of consumer protection legislation relevant to this review are the Consumer Protection from Unfair Trading Regulations 2008, the Consumer Contracts (Information, Cancellation and Additional Charges) Regulations 2013, the Unfair Terms in Consumer Contracts Regulations 1999 (for contracts concluded prior 1 October 2015) and the Consumer Rights Act 2015, Part 2.
The above legislation is enforced through the courts. Ultimately, only a court can decide whether a particular term or practice infringes the law.
The CMA sent separate information notices to Bucks New, Buckingham and Birkbeck for the purpose of enabling it to exercise or consider whether to exercise any function it has under Part 8 of the Enterprise Act 2002 (pursuant to its powers under Part 3 of Schedule 5 to the Consumer Rights Act 2015). Each of the universities fully co-operated with the CMA's investigation and agreed separate Part 8 undertakings with the CMA, which reflected the changes that they had each made voluntarily to their terms or practices.
In November 2015 following action by the CMA, UCL agreed to ensure that students are not prevented from graduating or re-enrolling because of non-academic debts.
Enquiries should be directed to Simon Belgard (simon.belgard@cma.gsi.gov.uk, 020 3738 6472).
Published 22 July 2016