Press release
CMA looks to cap fares on three rail routes
The CMA has found that the award of the Northern rail franchise to Arriva will not lead to competition concerns except on 3 rail services.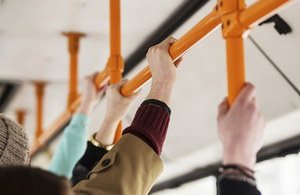 In today's final decision, the Competition and Markets Authority (CMA) has concluded that the award does not raise competition concerns on the majority of routes on which the Northern rail franchise overlaps with Arriva's other rail services (in this case, Arriva Trains Wales, CrossCountry services and Grand Central).
The CMA has found a substantial lessening of competition (SLC) on overlapping rail services on three routes (Leeds to Sheffield, Wakefield to Sheffield and Chester to Manchester) where there had previously been a choice of operators for passengers. Although Arriva is already limited by regulation on some of the fares that it charges, the CMA found that it could raise unregulated fares for passengers travelling on those routes. The CMA has therefore decided to cap unregulated rail fares for passengers travelling on any of those services.
Since the publication of its provisional findings in September, the CMA has examined further evidence and submissions and is now confident that competition concerns no longer arise on routes where Arriva's bus services overlap with Northern Franchise rail services.
Phil Evans, Inquiry Chair, said:
We have found that Arriva's acquisition of the Northern rail franchise will not lead to competition concerns on the vast majority of routes on which Arriva operates overlapping rail services.

However, we have found three routes where Arriva could raise unregulated fares for passengers. In order to protect their interests, we are bringing in targeted price caps on the affected journeys, which will still allow Arriva to deliver its overall commitment to bring a range of benefits to passengers through the Northern rail franchise, such as better trains and improved customer service.
By setting out its methodology clearly and in as much detail as possible, the CMA hopes that it can inform future rail franchise awards and provide clarity to franchise bidders regarding the CMA's approach.
Rail franchise awards are deemed under the Railways Act 1993 to amount to mergers and are therefore liable to be examined by the CMA. In December 2015, the Department for Transport awarded the Northern franchise to Arriva Rail North Ltd (ARN), a subsidiary of Arriva plc, following a competitive tender. ARN began operating the franchise on 1 April 2016, under terms agreed with the CMA, with a commitment to delivering significant benefits to passengers over the next 9 years.
The final report and all information relating to this merger investigation can be found on the case page.
Notes for editors
The CMA is the UK's primary competition and consumer authority. It is an independent non-ministerial government department with responsibility for carrying out investigations into mergers, markets and the regulated industries and enforcing competition and consumer law.
In January 2016 the CMA started its initial investigation into the franchise award and on 20 May 2016 it referred it for a phase 2 investigation. On 9 September 2016 it published its provisional findings.
All the CMA's functions in phase 2 merger inquiries are performed by independent inquiry groups chosen from the CMA's panel members, and supported by CMA staff. The appointed inquiry group are the decision-makers on phase 2 inquiries.
The members of the inquiry group are: Phil Evans (Inquiry Chair), Katherine Holmes, Andrew Popham and Tim Tutton.
The CMA's panel members come from a variety of backgrounds, including economics, law, accountancy and/or business; the membership of an inquiry group usually reflects a mix of expertise and experience.
For more information on the CMA see our homepage or follow us on Twitter @CMAgovuk, Flickr and LinkedIn. Sign up to our email alerts to receive updates on mergers cases.
Media enquiries should be directed to Neil Kernohan (neil.kernohan@cma.gsi.gov.uk, 020 3738 6170).
Published 2 November 2016