Press release
CMA concerned about rail franchise's impact on some local fares
The CMA has provisionally found that the award of the Northern rail franchise to Arriva may result in higher fares on some local routes.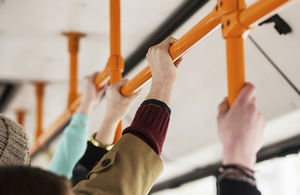 A group of independent panel members at the Competition and Markets Authority (CMA) has investigated whether Arriva's ownership of certain overlapping rail and bus services may lead to higher fares as a result of reduced competition. Their provisional finding is that there is a substantial lessening of competition (SLC) on 4 rail routes (Leeds to Sheffield, Wakefield to Sheffield, Chester to Manchester and Chester to Stockport) and 9 bus routes (3 in the Redcar area, 2 in the Huddersfield area, 1 in the Darlington area and 3 in Northumberland).
To address this, a notice of possible remedies (PDF, 196KB, 7 pages) published today outlines the measures the CMA might take if it still believes the franchise award could substantially lessen competition on the routes identified when a final decision is taken. These targeted local remedies include caps on bus and rail fares for the affected routes.
Phil Evans, Inquiry Chair, said:
We assessed the franchise award thoroughly and have provisionally found that it could lead to higher fares for passengers on some local rail and bus services in the North of England, which would be significant for consumers using these services.

However, we have not identified competition concerns arising from this merger on most routes and we recognise Arriva's commitment to bringing a range of benefits through the Northern rail franchise to passengers, such as better trains and improved customer service. Our remedies will protect passengers in the relatively few local areas where we have identified competition concerns.

We are now inviting responses to our provisional findings and remedies notice, and will continue to assess all the evidence before we make our final decision.
In December 2015, the Department for Transport awarded the Northern franchise to Arriva Rail North Ltd (ARN), a subsidiary of Arriva plc, following a competitive tender. ARN began operating the franchise on 1 April 2016, under terms agreed with the CMA, with a commitment to delivering significant benefits to passengers over the next 9 years.
Arriva operates some rail services which overlap with the Northern franchise, including the Arriva Trains Wales and CrossCountry rail franchises, as well as operating Grand Central trains and also provides local bus services in the North of England, some of which operate in the same areas as the Northern rail franchise.
All information relating to this merger investigation can be found on the case page. Anyone wishing to respond to the notice of possible remedies should do so by no later than 23 September 2016.
Anyone wishing to respond to the provisional findings should do so in writing, by no later than 30 September 2016.
Please email arrivanorthern@cma.gsi.gov.uk or write to:
Project Manager
Arriva/Northern merger inquiry
Competition and Markets Authority
Victoria House
Southampton Row
LONDON
WC1B 4AD

Notes for editors
The CMA is the UK's primary competition and consumer authority. It is an independent non-ministerial government department with responsibility for carrying out investigations into mergers, markets and the regulated industries and enforcing competition and consumer law. Awards of franchises to operate passenger rail services are deemed under the Railways Act 1993 to amount to mergers and therefore liable to be examined by the CMA under competition legislation.
The summary of provisional findings can be found on the case page. The final report will be published in the light of responses received. The CMA is required to publish its final decision by 3 November 2016.
In January 2016 the CMA started its initial investigation into the franchise award and on 20 May 2016 the CMA referred it for a phase 2 investigation.
All the CMA's functions in phase 2 merger inquiries are performed by independent inquiry groups chosen from the CMA's panel members, and supported by CMA staff. The appointed inquiry group are the decision-makers on phase 2 inquiries.
The members of the inquiry group are: Phil Evans (Inquiry Chair), Katherine Holmes, Andrew Popham, Tim Tutton.
The CMA's panel members come from a variety of backgrounds, including economics, law, accountancy and/or business; the membership of an inquiry group usually reflects a mix of expertise and experience.
For more information on the CMA see our homepage or follow us on Twitter @CMAgovuk, Flickr and LinkedIn. Sign up to our email alerts to receive updates on mergers cases.
Media enquiries should be directed to Neil Kernohan (neil.kernohan@cma.gsi.gov.uk, 020 3738 6170).
Published 9 September 2016