Press release
CMA advises universities and students on consumer law
The CMA has today published advice for higher education providers to help them comply with consumer law when dealing with students.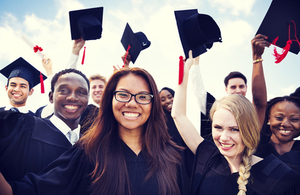 The Competition and Markets Authority's (CMA) advice informs providers about their consumer law obligations to undergraduate students, including advising them to:
give students the clear, accurate and timely information that they need so they can make an informed decision about what and where to study
ensure that their terms and conditions are fair, for example, so they cannot make surprising changes to the course or costs
ensure that their complaint handling processes are accessible, clear and fair
The CMA is writing to higher education (HE) providers asking them to review and, if necessary, amend their practices in line with the advice and has produced a 60-second summary to assist.
The CMA has also published an at-a-glance guide for undergraduates, informing them of their rights under consumer law – together with a longer guide for students and their advisers.
Students can notify the CMA of providers who may not be complying with consumer law, via a dedicated email address.
The CMA will monitor the sector and commence a review in October 2015 to assess compliance with consumer law.
Nisha Arora, Senior Director, Consumer at the CMA, said:
For most students, choosing the right university and course is a crucial one-off decision, leading to a significant investment of time and money. Consumer law is an important part of the wider academic relationship between higher education providers and students. It helps to ensure that students are given the information they need to make an informed choice about what and where to study and are then treated fairly during their period of study.

With the UK higher education sector playing a key role in our economy and having an enviable international reputation, compliance with consumer law is an important way of maintaining student confidence and the standards and reputation of the sector.
Notes for editors
Published 12 March 2015