Press release
Chloe Smith welcomes new pilot property scheme
A new property pilot scheme, One Public Estate, will boost economic growth, redevelopment and government savings.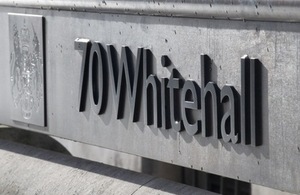 A pilot scheme designed to encourage local councils to work with central government and other public sector organisations to share buildings and re-use or release surplus property and land was welcomed as a driver for growth by Chloë Smith, the Parliamentary Secretary for the Cabinet Office, today (25 June 2013). The scheme will also enable the sharing of services and support regeneration.
As the minister visited Surrey, 1 of 12 new pilot areas launched across the country, she said the 'One Public Estate' scheme will deliver savings and encourage redevelopment. The Government Property Unit in Cabinet Office are working with the Local Government Association (LGA) on delivering the pilots.
The pilots examine issues within geographic areas rather than departmental structures, making use of local knowledge. The idea is based on the insight that whilst from central government HQs it may make sense for a government department to occupy a specific building or to sell it independently, in a local context that thinking may prevent efficiencies. These could range from sharing buildings to encourage regeneration and growth to selling land in small parcels rather than the larger areas which will attract local development and business. Taking a narrow departmental view can also get in the way of offering better services to local people by providing them in one location.
Examples from across the country include:
a shared building housing both police and fire services to save running costs (Worcestershire)
relocating staff to allow for residential development in ex-government buildings (Essex)
repurposing buildings for new cultural, leisure and health facilities (Hampshire)
Chloë Smith said:
I wanted to see first-hand the pioneering work public services are doing locally to get the most out of their buildings and land. Millions of pounds can be wasted by services using expensive buildings when there's a half empty property down the road – that's taxpayers' money which could be used in so many other ways. This policy will save money – but also promote growth and bring in jobs locally.

In central government, we're working hard to ensure the taxpayer does not have to pay for empty buildings. Already, we've raised over £1 billion nationally by getting departments to work together and use their property more efficiently. It's great to see local authorities making such good progress, by thinking in new ways about property issues.
The minister visited Guildford where re-development of a site will include a new fire station and residential development, including some affordable housing. She was joined by officials from the LGA and the local council.
Sir Merrick Cockell, Chairman of the LGA said:
Local government has long been acknowledged as the most efficient part of the public sector and these pilots are a fantastic opportunity to build on that reputation and work with our partners in other public agencies to save taxpayers money, boost economic growth and make it easier for people to access services.

By improving cooperation between central and local government we can save money through the more efficient use of public assets. The driver has always been there to innovate and improve but in the current environment of public sector cuts this joined-up approach is urgent and essential. While these pilots represent the flagships, this type of innovation is evident in councils right across the country.
Surrey County Council Leader David Hodge said:
All public services should be seen as one team working together for the benefit of taxpayers and we're delighted to be joining the government in ensuring every inch of land and all buildings are put to the best possible use.
Praising the programme, David Bentley – Head of Asset Management at the Chartered Institute of Public Finance and Accountancy (CIPFA) said:
A shared and collaborative approach to asset management offers significant opportunities to better manage public land and buildings. CIPFA's own research and experience has highlighted the potential for such a joint approach to deliver savings, give better access to services and create new opportunities for growth at a local level. As such we are encouraged by, and supportive of the pilot work between the Government Property Unit (GPU) and the wider public sector.
The Government Property Unit in Cabinet Office will be running the programme.
Notes to editors
The full list of pilot areas is as follows:
Bristol
Cheshire West and Chester
Essex
Hampshire
Hull
Leeds
Nottingham
Portsmouth
Sheffield
Surrey
Warrington
Worcestershire
A new shared fire and police station in Worcestershire will save 25% on running costs.
In Braintree staff are being relocated from Tabor House to Causeway House to allow the building to be used for residential development.
In Andover plans are to re-use the Ministry of Justice-owned magistrates court building (currently scheduled for closure) as part of a co-location of cultural, leisure and health facilities, by a land assembly process involving several public sector interests on adjacent sites.
Published 25 June 2013