Press release
Worcestershire 'leading the way' in solving government property problems
Chloë Smith visited Bromsgrove, where new property developments and initiatives are helping to save money and create jobs.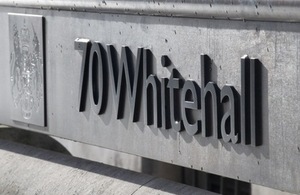 Minister for Political and Constitutional Reform, Chloë Smith, today (6 June 2013) visited initiatives in Bromsgrove which aim to get better value for taxpayers from public buildings. The minister visited the country's first purpose-built shared police and fire station in development; a new site for sheltered housing and dementia care and a new multi-agency hub for council services, including a Job Centre Plus.
The projects form part of the Worcestershire Capital and Assets Pathfinder Partnership which brings together the County Council with other local services to pool their assets and make sure they are put to the best use. The plan is expected to raise up to £125 million by selling vacant property and generate a further £280 million in revenue over 25 years. These savings can be reinvested to protect frontline public services for local people.
Chloë Smith said:
I wanted to see first-hand the pioneering work public services in Worcestershire are doing to get the most out of their buildings. Millions of pounds can be wasted by services using expensive buildings when there's a half empty property down the road – that's taxpayers' money which could be used in so many other ways.

In central government, we're working hard to ensure the taxpayer does not have to pay for empty buildings. Already, we've raised over £1 billion nationally by getting departments to work together and use their property more efficiently. It's great to see local authorities making such good progress. Worcestershire is leading the way and I hope their work will be replicated across the country.
The new joint police and fire station on Slideslow Drive, Bromsgrove will replace outdated police and fire stations in the town when it opens in December 2013. By joining forces the police and fire brigade are saving an estimated 18% on building costs and expect to cut their annual running costs by up to 25%.
The new sheltered housing and dementia care development in Recreation Road, Bromsgrove will greatly improve services for local people. Worcestershire County Council teamed-up with a consortium of private land owners to agree the development. It brings much needed redevelopment to the area and is expected to create well over 100 permanent jobs.
The combined County and District Council offices in Parkside will include a library, registration office, customer service centre and Job Centre Plus in one accessible site. The £7.5 million development secures the future of an important listed building on the site and will improve the town centre boosting its appeal to business. Both councils have agreed a plan to agree the redevelopment of offices which will be vacated when the new centre opens.
Notes to editors
The Government Property Unit (GPU), part of the Cabinet Office, has worked closely with the Local Government Association and Worcestershire County Council to develop the strategy for more efficient use of local buildings.
Published 6 June 2013