Press release
Cable takes aim at dodgy directors
Plans for tougher penalties against reckless directors have been unveiled by Business Secretary Vince Cable today (19 April 2014).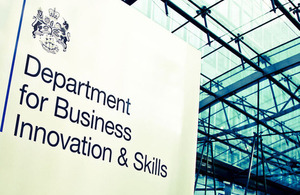 While the UK already has 1 of the strongest disqualification regimes in the world – with disqualification periods ranging from 2 years up to 15 years for the worst offenders – the new measures will mean the rogue minority face stronger deterrents to break the law and more robust sanctions if they do.
With around 1,200 directors disqualified each year, the government is determined to make sure those who flout their responsibilities, cost jobs and cause investors to lose their money face the strongest possible consequences.
The measures include:
allowing government to intervene and ask the court to award compensation against a disqualified director to put money back in the pockets of victims. This would put them in a better position to get compensation if they are victims of a miscreant director
changing disqualification law so judges now have a duty to take into account a wider range of matters when considering whether to disqualify an individual, such as their previous business failures, the nature of any losses, overseas conduct and breaches of specific laws
overseas directors convicted of an offence relating to a commercial matter overseas could be barred from being a director in the UK
Business Secretary Vince Cable said:
The vast majority of directors in this country run their businesses in the right way. But some people have suffered unnecessary losses as a result of rogue behaviour.

These measures will protect the British economy and our reputation as a good and fair place to do business by banning directors who have already been convicted of offences overseas from running British companies.

Rogue directors can cause a huge amount of harm in terms of large financial losses, unnecessary redundancies and lifelong investments going down the drain. It is only right that we should put the toughest possible sanctions in place, make sure we stamp out unfair practices and deter those who are looking to act dishonestly.
Directors can currently be disqualified for abusing the corporate and insolvency regimes or for treating creditors unfairly. Analysis suggests that for every director disqualified, the economy is saved around £100,000 because of the detrimental action that their actions could have caused if they had not been disqualified.
Entrepreneurs taking risks to start and grow their own businesses are a vital part of our economy and not all will be successful at the first attempt. Around 20,000 businesses fail each year, with the vast majority failing through no fault of honest directors and entrepreneurs, but when directors act dishonestly or recklessly the consequences can be devastating.
In recent years scammers targeting the 'grey pound' in particular have been examples where the Insolvency Service has taken enforcement action and include:
wine investments – where people think a wise investment in a wine company will generate excellent returns but find that the company they have invested in was 'cooking the books' and is insolvent, and their savings have been lost. It is estimated that scams of these kind have resulted in £80 million being lost by savers
landbanking – where investors are sold land plots, both in the UK and abroad, which they are told will greatly increase in value once planning permission has been granted, only to find that this was never likely to be granted in the first place. 111 companies have been wound up since 2007 with 34 directors disqualified
carbon credits – where scam companies sell these credits to people who think they will be able to sell on to big companies, and also do good for environmental cause, only to find that they cannot trade them. Just under £30 million has been taken from investors in these scams since 2012
Legislation in the fourth session will be required for these reforms.
Notes to editors
1.Case studies of recent disqualification cases include:
Landbanking
UKLI Limited was wound up in the public interest in 2010. Baljinder Chohan was disqualified for 12 years and became the sixth director of UKLI Ltd to be disqualified. The disqualifications handed down to the directors of UKLI totalled 41 years. The company was involved in running a landbanking scheme which resulted in land being purchased by the company, sub divided into small plots and sold to individual investors
they were typically told the land would be collectively marketed to the relevant local authority for re-zoning and or planning permission for housing, and that this would result in a significant uplift in their investment. In reality there was no chance of that and when the company went into liquidation, it owed creditors over £70 million
since 2007, 34 directors have been disqualified, totalling sentences of 310 years
Wine investments
in October 2013, Ian Paul Vanderhook, the director of Bordeaux UK Ltd which took in more than £23 million from investors and folded with debts of more than £10 million, was banned as a director for 9 years for failing to keep proper company books and records
the company went into creditors' liquidation on 30 November 2011 with debts of over £10 million but with only £1.7 million of wine available. Since 2010, 6 companies have been wound up, with 4 directors disqualified with an average sentence of 12 years
Carbon credits
in the past 2 years, 24 carbon credit companies that ripped off nearly £30 million from over 1,900 investors, including a 94-year-old man, have been wound up following investigations
2.The number of company director disqualifications were: 1,053 in the first 3 quarters of 2013/14, 1,031 in 2012/13, 1,151 in 2011/12 and 1,437 in 2010/11.
3.The government also intends to increase the period by which disqualification proceedings must begin after insolvency. Currently standing at 2 years, this will be increased to 3 years to allow for more complex cases.
4.The Insolvency Service administers compulsory liquidations and individual bankruptcies through its network of Official Receivers. It may also bring disqualification proceedings, on behalf of the Secretary of State, against directors who are considered to be unfit and also has powers under the Companies Act 1985 to conduct confidential fact-finding investigations into the activities of live limited companies in the UK.
5.In addition the agency authorises and regulates the insolvency profession; deals with disqualification of directors in corporate failures; assesses and pays statutory entitlement to redundancy payments when an employer cannot or will not pay employees; provides banking and investment services for bankruptcy and liquidation estate funds; and advises ministers and other government departments on insolvency law and practice.
6.The government's economic policy objective is to achieve 'strong, sustainable and balanced growth that is more evenly shared across the country and between industries'. It set 4 ambitions in the 'Plan for Growth':
to create the most competitive tax system in the G20
to make the UK the best place in Europe to start, finance and grow a business
to encourage investment and exports as a route to a more balanced economy
to create a more educated workforce that is the most flexible in Europe
Work is underway across government to achieve these ambitions, including progress on more than 250 measures as part of the Growth Review. Developing an Industrial Strategy gives new impetus to this work by providing businesses, investors and the public with more clarity about the long-term direction in which the government wants the economy to travel.
Published 19 April 2014