Press release
Cabinet Office settlement at the Spending Review 2015
The Chancellor has published the results of the spending review, including details of the Cabinet Office's (CO) budget over the course of this Parliament.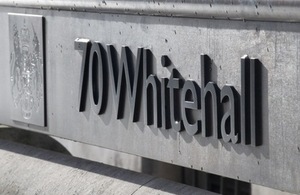 The Spending Review and Autumn Statement delivers on the government's priority to provide security to working people at every stage of their lives. It sets out a 4 year plan to fix the public finances, return the country to surplus and run a healthy economy that starts to pay down the debt. By ensuring Britain's long term economic security, the government is able to spend £4 trillion on its priorities over the next 4 years.
For the Cabinet Office this means:
funding for the expansion of the National Citizen Service to deliver up to 300,000 places by 2019 to 2020, supporting hundreds of charities and third sector providers
£282 million of resource funding and up to £90 million of capital funding by 2019 to 2020 for a series of cross-government digital and property programmes that will deliver savings and improve services such as GOV.UK Pay, a new and simpler way to pay the government
expanding support for Social Impact Bonds, providing £80 million of the £105 million total across government over the Parliament, to uplift funding for locally designed schemes, tackling issues such as youth unemployment
annual resource savings of £60 million by 2019 to 2020 from efficiencies such as reducing the costs of finance and HR and rationalising headcount
Cabinet Office settlement (£ billion)
| | | | | | | |
| --- | --- | --- | --- | --- | --- | --- |
|   | 2015-16 baseline | 2016-17 | 2017-18 | 2018-19 | 2019-20 | 2020-21 (3) |
| Resource DEL (1)(2) | 0.3 | 0.6 | 0.6 | 0.5 | 0.6 | * |
| Capital DEL | 0.0 | 0.0 | 0.0 | 0.0 | 0.0 | 0.0 |
| Total DEL | 0.4 | 0.6 | 0.6 | 0.6 | 0.6 | * |
(1) In this table, Resource DEL (Departmental Expenditure Limit) excludes depreciation
(2) National Citizen Service is part of Cabinet Office DEL
(3) 2020 to 2021 Resource DEL departmental budgets have only been set for some departments. For the rest, these budgets will be set in full at the next Spending Review.
Security
The government will continue to protect funding for the National Security Secretariat and Joint Intelligence Organisation.
Reform
The Cabinet Office remains committed to driving efficiency and reform across government through the Chief Executive's Group.
The Government Digital Service (GDS) will deliver cross-government programmes that will improve public services and deliver efficiencies including:
a Common Technology Services programme will allow the Civil Service to purchase consistent, flexible and modern IT, driving savings and improving performance
a new way of delivering digital services, Government As A Platform, will provide a common set of core systems that enable government departments to share digital services, technology and processes
the development of the GOV.UK Verify programme to enable individuals to prove their identity online and to access government services securely and safely
The Government Property Unit will deliver a new property model to own and manage the central government estate, with departments paying market-level rents for freehold assets they own. £31 million of funding for One Public Estate will support local authorities to use their assets more effectively.
The Cabinet Office will make efficiencies in its corporate services, finding savings in HR, Finance and IT services and rationalising headcount.
The Office for Civil Society will continue to provide a range of support to the UK's third sector, but it will reduce its headcount and widen the availability of Social Impact Bonds.
The Minister for the Cabinet Office, Matthew Hancock MP, said:
The mission of the Cabinet Office is to make government greater than the sum of its parts, providing challenge, support and expertise. We coordinate policy, support the constitution, and promote efficiency and reform across government by focussing on what is most effectively done at the corporate centre of government.

Our task is to ensure that the Civil Service is the best it can possibly be, to deliver for citizens. And in doing all these things across government we need the Cabinet Office effectively and efficiently run.

Over the next 5 years we will harness our world-class Government Digital Service to transform the relationship between the citizen and the state.

By ramping up our digital capabilities we've already saved £3.56 billion in the past 3 years but we've only scraped the surface. We will use this new investment to develop new technology that makes it easier and clearer to use a whole host of government services such as renewing your driving licence or pay your tax bill – whilst also being significantly cheaper to run.

We will also focus our energies on building the National Citizen Service (NCS) so our young people are more confident and capable. I'm very proud of the support we give to build civil society and promote engagement, cohesion and responsibility across the country.
Published 25 November 2015