A guide to Social Impact Bonds
Introduction and guidance to developing Social Impact Bonds, information about sources of funding and available support.
Introduction
There are a range of entrenched social problems that government has consistently struggled to address, including children in care, homelessness, youth unemployment or long-term health issues. Traditional models have failed to deliver the innovation and focus upon results needed to make inroads with these issues. Social Impact Bonds (SIBs) bring together the public, private and voluntary sectors to solve these challenges by having a clear and relentless focus upon delivering the outcomes we want to see.
What are Social Impact Bonds?
Social impact bonds (SIBs) are a commissioning tool that can enable organisations to deliver outcomes contracts and make funding for services conditional on achieving results. Social Investors pay for the project at the start, and then receive payments based on the results achieved by the project. There now exist over 30 SIBs across the UK, supporting tens of thousands of beneficiaries in areas like youth unemployment, mental health and homelessness.
What is a Social Impact Bond Video
Resources and information
The Knowledge Box: Developing a Social Impact Bond (PDF, 1.47MB, 30 pages) provides introductory information for organisations that consider a SIB.
There are also additional resources and sources of information to help develop a SIB:
What are the key drivers for developing a Social Impact Bond?
Innovate: enabling new solutions to be trialed and the risk of failure to be transferred to social investors
Improve: achieving better results from existing services
Align: correcting existing perverse incentives and focus on outcomes
Co-ordinate: bringing stakeholders together to solve complex issues
Unlock: creating future savings by shifting the focus on prevention and investing up-front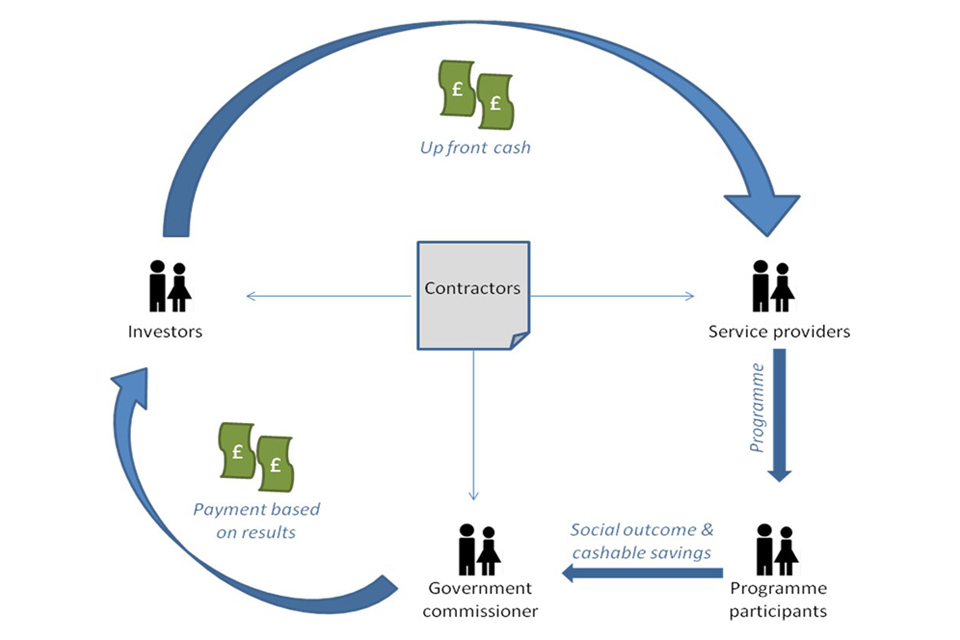 How to decide whether a SIB is likely to be appropriate
An organisation commissioning a service or project could consider a SIB when:
the desired outcome is clear and measurable (for example reducing recidivism)
the quality of outcomes can improve
there is a desire to increase evidence of effective programs
government is looking to transfer financial risk
there is a desire to catalyse the market for innovative financing
a large proportion of savings are cashable or funding is available for this outcome
Available Support
The Centre for Social Impact Bonds
The Centre for SIBs aims to catalyse the development of SIBs at scale. As part of the Office for Civil Society at the Department for Digital, Culture, Media and Sport, we provide expert guidance on developing SIBs, share information on outcomes-based commissioning and support the growth of the social investment sector. We work in partnership with a range of stakeholders, including local commissioners, service providers, academics, social investors, intermediaries and departments across government. We launched the £20m Social Outcomes Fund in 2012 and the £80m Life Chances Fund in 2016 to promote the local development of SIBs.
The Government Outcomes Lab
The Government Outcomes Lab (GO Lab) is a partnership between the Centre for Social Impact Bonds and the Blavatnik School of Government at the University of Oxford. Launched in July 2016, the centre of excellence provides practical, in-person support with the development of Social Impact Bonds.
The core mission of the GO Lab is to support innovative public sector commissioning to achieve better social outcomes through world class academic research and practitioner engagement. It harnesses expertise from across the University of Oxford and other partners in the public, private and charity sectors to enhance the understanding and existing research on outcome based commissioning. It also builds on the evidence base to evaluate the effectiveness of this model versus alternatives and to support local authorities that are developing and implementing an outcomes-based approach. The GO Lab team are available on Tuesday mornings to provide advice and support via phone or Skype to assist commissioners in local authorities and other public sector organisations across the UK, who seek guidance on key issues relating to the development and implementation of outcome based contracts.
Cost-benefit analysis (CBA) guidance and CBA model
This guidance has been designed for local partnerships to assess and evaluate spending proposals. It complements the unit cost data (described below) and can be used by local commssioners, charitable organisations and social enterprises to estimate the fiscal, economic and public benefits that may arise from SIB proposals and how these are apportioned across local and national organisations. Supporting this guidance is a CBA model, that can be used to estimate the costs and benefits of SIB proposals.
New economy unit cost database
This unit cost database brings together more than 600 cost estimates in a single place, most of which are national costs derived from government reports and academic studies. The costs cover crime, education and skills, employment and economy, fire, health, housing and social services. The costs can be used by local commissioners, charitable organisations and social enterprises to inform:
SIB proposals for new interventions or the redesign of existing public services and
feasibility studies and evaluations.
The costs have been quality assured by New Economy in co-operation with HM Government. The data will be reviewed and updated on a regular basis as new research and analysis is published.
UK Government outcomes funds for SIBs
Life Chances Fund (Department for Digital, Culture, Media and Sport)
The £80m Life Chances Fund tops up outcomes for locally commissioned SIBs that tackle complex social issues. Applications for the Life Chances Fund are now closed. For further information, please visit the Life Chances Fund website.
The Rough Sleeping SIB Fund (Department for Communities and Local Government)
The £10 million outcomes fund for Social Impact Bonds aims to help long-term rough sleepers with the most complex needs. This press release includes further information on the programme.
Fair Chance Fund (Department for Communities and Local Government and Cabinet Office)
The Fair Chance Fund comprised of £10m from the Department for Communities and Local Government (DCLG) and £5m from the Cabinet Office, is used to fund seven Social Impact Bonds (SIBs) focused on improving outcomes for young homeless people.
Youth Engagement Fund (Department for Work and Pensions)
The Youth Engagement Fund was a £16 million fund that was jointly established by DWP and the Cabinet Office to help disadvantaged young people aged 14 to 17 to participate and succeed in education or training.
Social Outcomes Fund and Commissioning Better Outcomes Fund (Cabinet Office and Big Lottery Fund)
The Social Outcomes Fund (£20m) and Commissioning Better Outcomes (£40m) were funds established by the Cabinet Office and the Big Lottery Fund to support the development of SIBs in a range of policy areas.
Innovation Fund (Department for Work and Pensions)
The Innovation Fund was a pilot initiative aimed at supporting disadvantaged young people, and those at risk of disadvantage, aged 14 years and over.
Published 16 November 2012
Last updated 26 September 2017
+ show all updates
Updated guidance and information about support to develop a Social Impact Bond.

Added link to new guidance on the template contract for social impact bonds and payment by results.

Added the Social Outcome Fund's Expression of Interest application form for SIB funding

First published.