National Citizen Service
Turn No You Can't into No We Can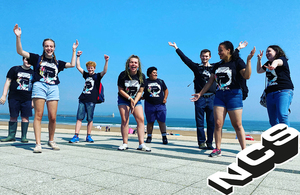 What is NCS?
Designed specially for 16 and 17 year olds, the NCS experience will give you a clearer idea of what you want from your future turning all those 'No You Cant's' into No We Can.
We exist to engage, unite and empower young people, building your confidence so you can go out there and achieve your dreams, no matter where you're from or what your background is.
You'll spend a few weeks in the summer or autumn mixing with a new crowd, and taking on fresh challenges together. Before you know it, you'll be rooting for each other, as you all tackle your own little hurdles.
Along the way, you'll also get a taste for independence and pick up skills that'll help you smash your future goals. And if that's not enough for you, you'll also be given a platform to get your voice heard and pursue a passion project to create a positive, lasting impact in your local community.
How can I get involved?
NCS is designed for 16 and 17 year olds. However, you can go on programme as a 15-year-old, as long as you turn 16 on or by 31 August of the year you apply for. If you have already turned 18 by this date, you unfortunately won't be eligible.
Find out more and sign up today at the NCS site.