Press release
Cabinet meeting at Chequers, 31 August 2016: PM statement
Prime Minister Theresa May gave a statement at the beginning of her Cabinet meeting at Chequers.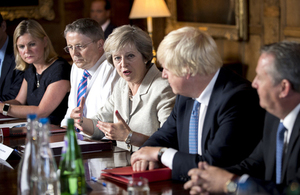 Prime Minister Theresa May said:
Thank you very much for coming together today. It's our first opportunity to meet since the summer recess, but also the first opportunity for us to meet since the fantastic success of the GB Team at the Olympics – absolutely great. And also the Paralympics will be starting very soon, so we wish our Paralympic athletes all the very best and success there as well.

But obviously over the summer – over the last few weeks – quite a lot of work has been done. We're going to be having an opportunity today to discuss this. We will have an update on Brexit; we'll be looking at the next steps that we need to take, and we'll also be looking at the opportunities that are now open to us as we forge a new role for the UK in the world. We must continue to be very clear that "Brexit means Brexit", that we're going to make a success of it. That means there's no second referendum; no attempts to sort of stay in the EU by the back door; that we're actually going to deliver on this.

We're also going to talk this morning about social reform. We want to be a government and a country that works for everyone, and we'll be talking about some of the steps that we need to take in order to build that society that works for everyone. And I want it to be a society where it's the talent that you have and how hard you're prepared to work that determines how you get on, rather than your background.

We'll be having an update on the state of the economy. We'll be looking at how we can work to increase productivity – that's one of the key issues that we want to address. But also how we can get tough on irresponsible behaviour in big business – again making sure that actually everyone is able to share in the country's prosperity.

We will be looking at the legislative programme that we have coming up in Parliament. And we'll also be hearing a political update from the Party Chairman, particularly as we look forward to our party conference.

So quite a packed agenda for our meeting today. But can I just remind everybody that this really is a very significant moment for the country, as we look ahead to the next steps that we need to take. We have the opportunity to forge a new positive role for the UK in the world; to make sure that we are that government and country that works for everyone – that everyone can share in the country's prosperity. So there are challenges ahead but it's an important and significant moment for us and I think we have real opportunities to develop the United Kingdom and ensure that it does work for everyone in the UK.
Published 31 August 2016