News story
Boosting Britain's growth: PM visits Yorkshire
David Cameron visits Yorkshire to see some of the projects that are helping to grow the economy and create jobs.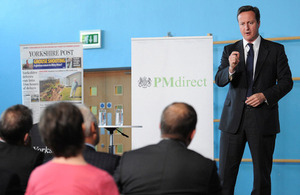 Outside London, Yorkshire has seen the highest increase in private sector jobs over the past year - 82,000. The value of new orders in the construction sector in Yorkshire and the Humber has risen to the highest level since 2007, driven mainly by new infrastructure and private commercial projects.
Ahead of the visit, the Prime Minister said:
Today I'm visiting Yorkshire and I'm coming with a clear message – the struggle of the past few years will only be worth it if we finish the job we started.

Although there is still a long way to go, our country is turning a corner. Together we've taken tough, at times painful, decisions and now we're slowly beginning to see the rewards. The economy is growing. The deficit is falling. Businesses have created 1.4 million new jobs in the private sector.

And I'm here today to celebrate Yorkshire and Humber's part in this recovery – in the past year businesses here have created more jobs than anywhere outside London. What's more, in the past 3 years, this region has seen 110,000 new private sector jobs – enough to fill Elland Road almost 3 times over and Headingley cricket ground 6 times over.

I want Yorkshire's future to be as great as its past – and all hardworking people here to be a part of it. That's why we've got to hold our nerve and finish the job we started.
Published 10 October 2013