News story
Birmingham to host world's first zero emission vehicle summit
Summit on vehicle technology to tackle carbon emissions and to find ways to improve air quality.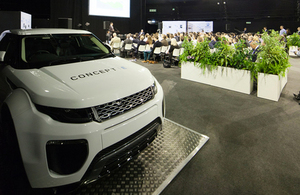 UK to host zero emission vehicle technology summit as exemplar of government's Industrial Strategy
world leaders to join industry experts, agencies, academics and financial institutions at world-first event at Birmingham's International Conference Centre on 11 September 2018
UK's premier Low Carbon Vehicle Show (Cenex-LCV2018) to showcase innovative technology on 12 September 2018
Birmingham will host the world's first zero emission vehicles summit, following a pledge from the Prime Minister at the One Planet event in Paris.
The summit will bring together policy makers, industry experts and opinion formers from around globe to tackle carbon emissions and to find ways to improve air quality.
Through our modern Industrial Strategy and Automotive Sector Deal we are committed to making transport technology cleaner and greener. As the Prime Minister made clear in her landmark Industrial Strategy speech, we have a mission to put the UK at the forefront of the design and manufacturing of zero emission vehicles, making all new cars and vans effectively emission-free by 2040.
Transport Secretary Chris Grayling said:
The government is committed to meeting our climate change targets and cleaning up our air and to help achieve that we are investing £1.5 billion in ultra-low emission vehicles by 2021.

This ground-breaking event shows Britain leading the way in developing the new technology that will create new jobs and help improve the air we breathe.

And with a proud history in pioneering vehicle manufacturing, Birmingham is exactly the right location to showcase the innovations of the future.
Business Secretary Greg Clark said:
The Midlands has a rich automotive heritage and the growth of high-tech manufacturing across the region continues to drive investment into the region, produce highly skilled jobs and boost economic growth – making it an ideal place to lead the world in zero emission vehicles.

Our modern Industrial Strategy sets out plans for the transition to ultra-low and zero emissions vehicle technology and this summit, bringing together global leaders in the green vehicle revolution, is an important step on the road to making that ambition a reality.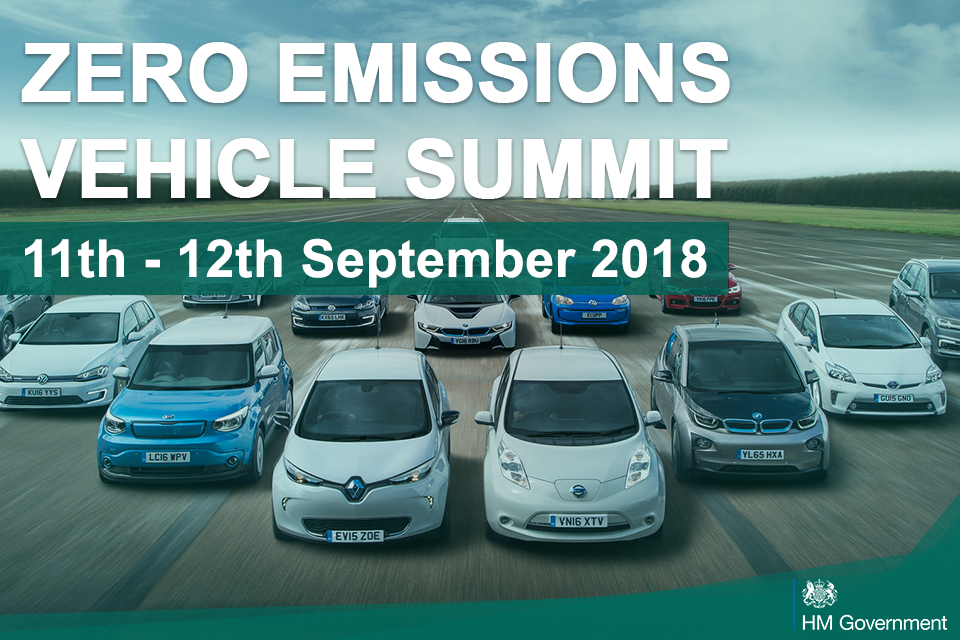 The summit will continue at Cenex-LCV - the UK's premier low carbon vehicle event – held at Millbrook Proving Grounds on 12 September 2018. Innovation and technology is at the heart of the transition to Zero Emission Vehicles. LCV features innovative technology from international companies and is an established fixture of the automotive calendar.
The news comes on the same day as ministers confirm the continuation of the Plug in Car Grant and Van Grant, further emphasising the government's commitment to our climate and clean air targets as part of £1.5 billion being spent on ultra-low emission vehicles to 2021. Notably, the government has also announced it is considering further options for reducing emissions for last mile deliveries, to be set out by Cycling and Walking Minister Jesse Norman in a forthcoming call for evidence, including for the first time providing grants and/or other financial incentives to support the use of e-cargo bikes
Robert Evans, CEO of Cenex said:
We are honoured that the Zero Emission Vehicle (ZEV) Summit will be linked to our 11th annual Cenex-LCV Event this year. The UK is at the forefront of low carbon vehicle technology innovation and we think there is great value for the ZEV attendees to see these technologies first-hand at the Cenex-LCV exhibition.

The Cenex-LCV event already attracts an international audience and provides a glimpse into the leading innovations in low carbon automotive transport and supporting energy infrastructure technologies. This years Connected and Autonomous Vehicle Showcase, sponsored by Meridian, will also help ensure the ZEV summit attendees see the synergies between zero emission vehicles and self-driving cars when attending the Cenex-LCV event.
The opportunity for our partners at the International Zero Emission Vehicle Summit
Partners will meet international talent, key decision makers and thought leaders from vehicle manufacturers, supply chain companies, infrastructure, technology companies and financial institutions.
Partnering with HMG offers a truly unique platform for companies to gain significant commercial exposure through a strategically important international event aimed at showcasing a growing and well established international market. Partners will be able to showcase their ideas, products, expertise and services to an international audience through a major media campaign. There will also be opportunities for partners to speak at the summit.
The summit will gather leading transport innovators in one place and provide an opportunity to meet and discuss important issues with senior government representatives from around the world.
Partners will work with DfT and BEIS to create and distribute digital content and reach audiences across the globe, showcasing their innovation to consumers and policy makers across the globe.
All partnership opportunities will be tailored to help individual businesses exploit the unique platform that the Summit will provide.
Partnership packages at the International Zero Emission Vehicle Summit
Bespoke partner rights packages for businesses can be developed – providing either direct financial support in exchange of a set of rights or value in kind support in the form of a free product or service. Expressions of interest for value in kind support are sought for:
use of zero emission vehicles for ride and drive facilities
transportation of delegates between venues
involvement in, or the hosting of, lunch and evening receptions
AV equipment and support
catering, including food and beverage products
Contact for partnership packages at the International Zero Emission Vehicle Summit, UK
Any company wanting to register an expression of interest, in either cash or value in kind sponsorship, should contact ZEVSummit@OLEV.gsi.gov.uk.
Roads media enquiries
Media enquiries 020 7944 3021
Out of hours media enquiries 020 7944 4292
Switchboard 0300 330 3000
Published 24 May 2018