Press release
Baroness Anelay welcomes conclusions of UN Human Rights Council
The UN Human Rights Council concluded its 27th Session today with important resolutions on Syria, Ukraine, Sudan and women's rights.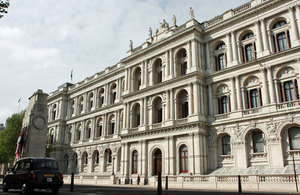 Baroness Anelay said:
My first visit to the Human Rights Council in Geneva as the UK's Minister for Human Rights could not have come at a more pressing time for the international community to stand up for human rights. Recent developments in many parts of the world have shown how we cannot afford to be complacent, and that we must speak up against human rights abuses and violations - whenever and wherever they occur.
I welcome the strong support for a resolution which makes clear that the Assad regime and extremist groups such as ISIL must be held to account for human rights crimes in Syria. The Human Rights Council sent a clear message that human rights violations and abuses will not go unchallenged. We remain supportive of the work of the Commission of Inquiry, and are pleased to see a resolution which demands unrestricted access throughout Syria. The UK will continue to call for those responsible for violations of international law - war crimes and crimes against humanity - to be held to account.
We strongly condemn the human rights violations in Sudan, in particular the use of arbitrary detention, torture and restrictions on the media and on civil society, as well as sexual and gender based violence and indiscriminate bombings in conflicts in Darfur, South Kordofan and Blue Nile. We remain deeply concerned by the deteriorating situation, and whilst the resolution takes some positive steps, it is disappointing that it does not adequately reflect the gravity of these violations. Violations that have continued unabated while this Council has been in session. I urge the Government of Sudan to address not only the concerns raised in the resolutions, but also the detentions and allegations of torture by the National Intelligence and Security Service and to take measures to reform legislation that is inconsistent with Sudan's human rights obligations, such as that on apostasy.
We remain extremely concerned by the continued human rights abuses being committed by armed groups in separatist-held parts of eastern Ukraine and the worsening humanitarian situation in the region. We are also concerned by the harassment and discrimination being experienced by Ukrainian nationals, Crimean Tatars and other minorities residing in Crimea. We welcome Ukraine's engagement with the Human Rights Council as the government works to restore stability. Important progress has been made but further institutional reforms are needed to establish governance and justice systems that are effective and accountable, and which promote and protect human rights for all.
I welcome the adoption of the UN's second ever resolution on sexual orientation. This landmark resolution underlines the importance of upholding the universality of human rights. Much work still needs to be done to ensure that lesbian, gay, bi-sexual and transgender people do not suffer violence because of their sexual orientation. The UK welcomes High Commissioner Zeid's personal commitment to tackling this form of discrimination.
After the success of the London Girl Summit in July on ending female genital mutilation and child, early and forced marriage, I was particularly pleased that the Council passed a strong resolution on female genital mutilation.
The session may have ended, but our work has not. The defence of human rights requires the UN family of nations - and each one of us - to be tireless in our efforts to promote and protect human rights. It is our duty to remain vigilant.
Further information
Follow Baroness Anelay on Twitter: @JoyceAnelay.
Follow the Foreign Office on Twitter.
Follow the Foreign Office on Facebook & Google+.
Published 26 September 2014