News story
Avian influenza (bird flu) outbreak in Yorkshire: risk to public health extremely low
PHE is providing public health support to Defra investigating avian flu on a Yorkshire duck breeding farm.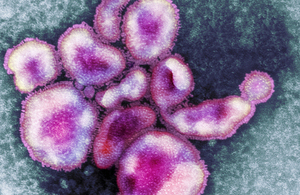 Public Health England (PHE) is assisting the Department for Environment Food & Rural Affairs (Defra) in the investigation of an avian flu outbreak at a duck breeding farm in Yorkshire.
Testing has now confirmed that the strain of avian flu concerned is H5N8, which supports our assessment that the public health risk is extremely low. To date, no human infections of H5N8 have ever been reported worldwide and the risk of transmission from birds to humans is considered to be extremely low.
Dr Stephen Morton, Centre Director for Public Health England in Yorkshire and the Humber, said:
Avian flu (often called bird flu) is primarily a disease of birds. Infection in people is rare and only occurs with some strains of avian influenza. Evidence shows that only people who have handled or have been in very close contact with infected birds are most at risk of getting avian influenza and even then, the risk of severe illness is low.

As a precautionary measure, anyone who is directly involved in culling the birds at the site in Yorkshire will be offered antiviral medicine which is usual practice in incidents of this sort.
The Food Standards Agency has advised that avian flu does not pose a food safety risk in the UK.
Further information
Published 17 November 2014
Last updated 18 November 2014
+ show all updates
Testing has now confirmed the strain of avian flu concerned.
First published.