Avian flu (bird flu) outbreak in duck breeding farm in Yorkshire
All restrictions following the outbreak are now lifted.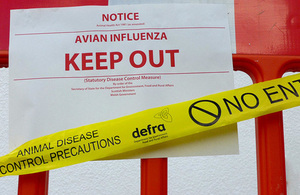 On 16 November Defra confirmed a case of avian flu (bird flu) in a duck breeding farm in Yorkshire. The strain was identified as H5N8.
Latest news
On 21 December 2014 all restrictions following the outbreak were lifted.
This means that all poultry keeping farms within the 10km surveillance zone around the infected property are now allowed to move poultry and other animals without restriction. Other restrictions covering the storage, transport and sourcing of meat products are also lifted.
A protected zone which imposed additional movement controls on properties within 3 km of the infected farm was lifted on Friday 12 December.
Chief Vet Nigel Gibbens said:
Protecting our country from animal diseases is important for our economy, and our robust and thorough approach to tackling this outbreak means we are able to lift these restrictions at the earliest possible point allowed by EU law.

This outbreak should serve as a reminder for the poultry industry of the importance of maintaining strict biosecurity to minimise the risk of infection, and I would urge keepers to remain vigilant for any signs of disease and report suspicions to their vet immediately.
Following confirmation of the outbreak last month, all poultry on the infected premises were humanely destroyed and the affected farm was cleansed and disinfected.
Guidance advising poultry keepers how to minimise the risk of infection on their farm was published.
The advice from Public Health England and the Chief Medical Officer is that the risk to public health is very low, and the Food Standards Agency has said there is no food safety risk for consumers.
Investigations are ongoing into the most likely source of the outbreak.
Where to find information
These links will provide guidance to poultry keepers and to the public.
Background
The outbreak of Avian Flu was confirmed at a duck farm in East Yorkshire on 16 November. Immediate action was taken to control the outbreak. We introduced a 10km restriction zone and a complete cull of all 6,000 birds on the farm was carried out to prevent any potential spread of infection. The cull was to prevent the spread of potential infection, and was carried out in a safe and humane manner by fully trained APHA staff. The cull was completed on 19 November.
Our response to this outbreak follows tried and tested procedures for dealing with avian flu outbreaks. The UK has a strong track record of controlling and eliminating previous outbreaks of avian flu and all action will be taken to control this outbreak to prevent a further spread of the disease.
If anyone suspects any strain of avian influenza you must contact your nearest Animal and Plant and Health Agency (APHA) office.
Published 17 November 2014
Last updated 21 December 2014
+ show all updates
Updated following lifting of all restrictions on Sunday 21 December 2014.

Updated following lifting of the protection zone; surveillance zone restrictions remain in force.

Updated paragraph referring to movement licences.

Includes reference to updated biosecurity guidance

Updated article with latest information.

Updated to report the end of the cull.

Updated information on the cull of poultry at the affected premises.

First published.