Avian flu prevention zone extended
The Chief Veterinary Officer has extended a Prevention Zone to help protect poultry from avian flu.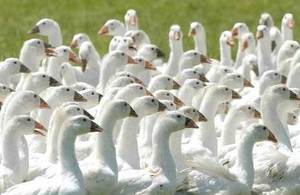 An Avian Influenza Prevention Zone that has been in place since 6 December will be extended until 28 February to help protect poultry and captive birds from avian flu, the Chief Veterinary Officer has announced.
The zone requires keepers of poultry and other captive birds to continue to keep their birds indoors, or take appropriate practical steps to keep them separate from wild birds.
It covers England and similar declarations have been made in Scotland and Wales. There is also a GB-wide ban on poultry shows and gatherings.
If you keep poultry, you must also practice good biosecurity to minimise the risk of infection spreading via items such as feed, clothing or equipment.
Public Health England advises that the risk to public health remains very low and the Food Standards Agency is clear that bird flu does not pose a food safety risk for UK consumers.
Chief Veterinary Officer Nigel Gibbens said:
The Prevention Zone means anyone who keeps poultry such as chickens, ducks and geese, even as pets, must take action to stop them coming into contact with wild birds to protect them from avian flu.

Birds should be moved into a suitable building, or if that isn't possible owners must take sensible precautions to keep them away from wild birds, like putting up netting to create a temporary enclosure and keeping food and water supplies inside where they cannot be contaminated by wild birds.

Even when birds are kept indoors a risk of infection remains so keepers must also practice good biosecurity, for example by disinfecting footwear and equipment and washing clothing after contact with birds.
The H5N8 strain of Avian Influenza has been circulating in Europe for several weeks. An outbreak was confirmed in turkeys at a farm in Lincolnshire on 16 December and swift action taken to limit the risk of spread, including a 3km Protection Zone and a 10km Surveillance Zone around the infected farm.
A further case was confirmed in a back yard flock in Carmarthenshire on 3 January and the Welsh Government has put in place control measures including a 3km Protection Zone and a 10km Surveillance Zone around the infected premises.
The disease has also been found in wild birds in Wales, England and Scotland.
Nigel Gibbens added:
Recent H5N8 avian flu findings in wild birds and a backyard flock in Wales highlight just how essential it is to minimise contact between wild and captive birds and maintain good biosecurity to reduce the risk of infection.

We must continue to be vigilant and do all we can to protect against this highly pathogenic strain of the disease, which is why we are extending the Prevention Zone, have introduced a ban on poultry gatherings and continue to strengthen surveillance to understand the extent of infection in wild birds.
All bird keepers must take extra biosecurity steps, including:
minimising direct and indirect contact between poultry and wild birds

making sure that feed and water can't be accessed by wild birds

taking all reasonable precautions to avoid the transfer of contamination between premises, including cleansing and disinfection of equipment, vehicles and footwear

reducing the movement of people, vehicles or equipment to and from areas where poultry or captive birds are kept

implementing effective vermin control programmes around buildings where poultry or captive birds are kept

thoroughly cleansing and disinfecting housing and equipment at the end of a production cycle

keeping Defra-approved disinfectant at the right concentration at key points such as farm entrances and entrances to bird houses
Background
Owners should follow Defra's biosecurity advice.

A Prevention Zone lasting 31 days was declared on 6 December 2016. An extension until 28 February will be in place from 6 January 2017.

Under the current housing restrictions, birds and eggs are still considered free range provided they meet all other requirements. Declaring a Prevention Zone means birds can be housed for up to 12 weeks and still maintain their free range status. In this case the 12 week period applies until 28 February 2017. The 12 week period applies to the time of slaughter or laying of the eggs, rather than the time of sale. Therefore, provided birds are slaughtered or eggs laid on or before the 28 February, they may still be marketed as free range.

For advice and guidance on what to do if you keep poultry, or to report suspicion of disease in animals, call the Defra Rural Services Helpline on 03000 200 301. The helpline is open Monday to Friday, 8.30am to 5pm. There is an out of hours facility on the same number for reporting suspicion of disease in animals.

Members of the public are encouraged to report dead wild waterfowl (swans, geese or ducks), or other dead wild birds such as gulls or birds of prey, to the Defra helpline on 03459 33 55 77. Defra will then test them to help understand how the disease is distributed geographically and in different types of bird.

Latest information and announcements about avian flu in winter 2016 to 2017.

For more information on this press release please call Defra press office.
Published 4 January 2017