News story
Ask Cameron: Prime Minister answers G8 questions at the BBC
David Cameron took questions from around the world ahead of the G8 Summit on the BBC's interactive World Have Your Say programme.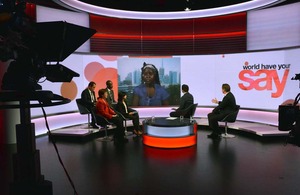 World Have Your Say was broadcast at 4pm BST on Friday 14 June.
Watch the Prime Minister on the BBC's World Have Your Say
The opportunity to ask the Prime Minister questions came ahead of his hosting the G8 Summit at Lough Erne, Northern Ireland on 17 to 18 June. The UK last hosted the G8 Summit in 2005.
Topics included the G8's main themes of tax, trade and transparency plus questions on the conflict in Syria, wider events in the Middle East and the UK's relationship with China.
Published 14 June 2013