News story
30 September filing deadline for accounts
If you're one of the 250,000 companies that must file accounts by the end of the month, do not leave it to the last minute.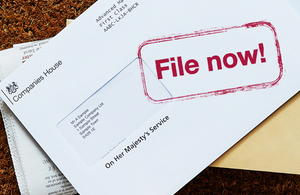 It's easier to file your accounts online.
Request an authentication code, if you have not already got one. It's sent by post to the company's registered office and can take up to 5 days to arrive.
File early and file online
File online before your deadline and we'll send you an email to confirm we've received your accounts. We'll send you another email when they've been registered.
It can take as little as 15 minutes from start to finish and you'll know your accounts have been delivered on time.
If you're a small company, you cannot file abbreviated accounts any more. Our guidance explains your options.
How to file dormant accounts online
How to file dormant accounts online
Avoid rejections
Our online filing service has inbuilt checks to help you avoid mistakes.
Accounts filed on paper need to be manually checked. We can only check them during office opening hours, and they can take over a week to process.
If you have to file paper accounts, you may want to use a guaranteed next day delivery service. Send your accounts well before the deadline in case you need time to resubmit them. If your accounts are rejected and you need to resend them, you could be too late to avoid a penalty.
Postal delays will not be accepted as an excuse for late filing.
Our online services
Our online services are available 24 hours a day, 7 days a week.
Check your company is registered for online filing and you're able to file your accounts on the service.
Filing accounts at our offices
Our Cardiff office can receive documents 24 hours a day, 7 days a week. Our London and Edinburgh offices have a letterbox for out of hours deliveries. Our Belfast office can only accept documents during open hours.
Check our office opening hours before filing your accounts at one of our offices.
Further information
Find out more about our WebFiling service and the company authentication code you'll need to file online.
GOV.UK has information about how to prepare your accounts.
We have further guidance on accounts and late filing penalties.
If you cannot file your accounts on time, email enquiries@companieshouse.gov.uk as soon as possible. Include your company name, number and the reasons you need an extension.
Published 6 September 2016
Last updated 5 September 2018
+ show all updates
Latest video about accounts added.
Further information updated.
Added translation