Guidance
Company authentication codes for online filing
How to request and manage the authentication code you'll need to file company information online.
The authentication code is a 6 digit alphanumeric code issued by us to each company. The code is used to authorise information filed online and is the equivalent of a company officer's signature.
You'll need a code to file your information on our online services or using third-party software.
Do not wait until you're due to file to request your code and risk it being too late. Because of the high volumes of post, delivery could take longer than usual during busy periods.
How to get your code
Request your code now. It's sent by post to your company's registered office and can take up to 5 days to arrive.
Watch our video to see how easy it is to register and order your code.
If you're new to the service, you'll need to:
Select 'Request an authentication code'.

Enter your company registration number.

Select 'Request code'.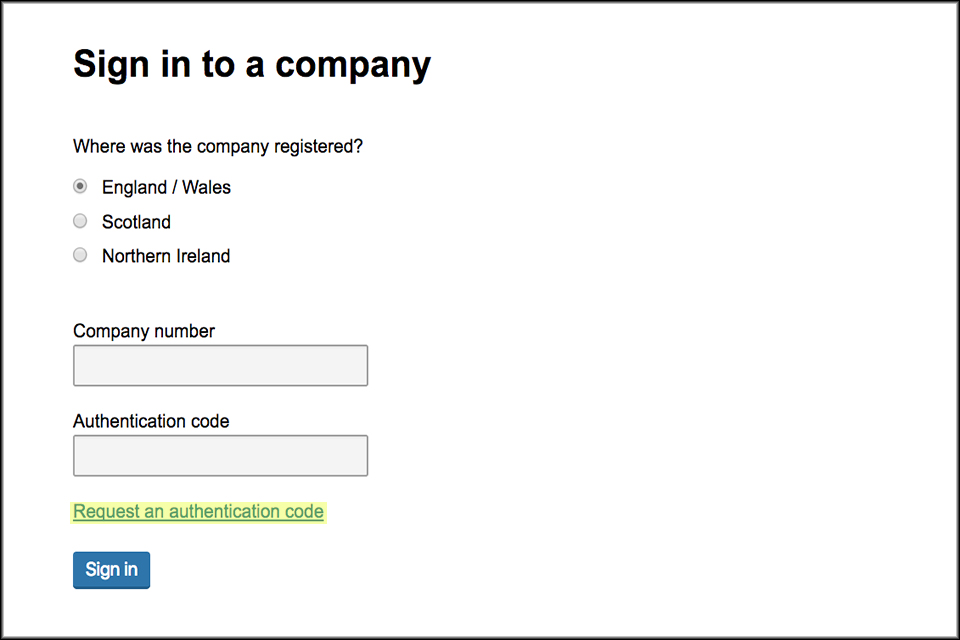 We'll send your code by post to your company's registered office. If your company already has a code, we'll send a reminder.
For security reasons, we cannot send your authentication code by email or tell you over the phone.
How to use your code
You'll use the same authentication code for your company for either our online filing services or third-party software.
To use our online filing services, you'll also need to register your email address and password.
To use third-party software, you'll need to set up an online filing account to get a presenter ID and presenter authentication code.
You cannot use your Government Gateway account to send Companies House information online.
Change or cancel your code
To change or cancel your code, use the 'Company authentication' section of our online filing service.
You can change your code to something more memorable, but do not make it easy to guess.
You must tell anyone else who files online for your company (such as an accountant) if you change your code, or they will not be able to file.
Looking after your code
You should treat your company's authentication code with the same care as your bank card PIN. Anyone who knows your code is able to change your company's details online.
To look after your authentication code:
mix letters and numbers so your code is not easy to guess
only share your code with someone you trust to file information for your company
change your code if it's known by someone you do not trust
change your code if it's known by someone who's no longer authorised to file for your company (such as staff who've left your company, or your previous accountant)
We'll never ask you what your authentication code is over the phone.

If you're contacted by someone who asks for your code and claims to be from Companies House, you should report it to us immediately.
Published 18 May 2015
Last updated 5 September 2018
+ show all updates
Links added to guidance.
Guidance added for the Christmas holiday period.
Screenshot added.
Welsh translation added.
First published.