Guidance
Reporting fraud to Companies House
Updated 26 April 2017
1.

What Companies House can and can't do

Companies House can only assist with issues that involve forms being filed at Companies House.

The function of Companies House is to incorporate and register companies. It can take action against companies that fail to deliver documents under the Companies Act 2006, such as removing a company from the public register or prosecuting its directors.

Companies House has no investigatory powers and is unable to investigate allegations of fraud. If you suspect fraudulent activity you should report the details to the police. Companies House works closely with various law enforcement authorities by providing them information when they need assistance with their inquiries.

You should get in touch with Companies House if you have concerns that:
a registered office has been changed without the company's knowledge or consent
an individual has been appointed as an officer without their knowledge or consent
a company name has been changed without permission
an unauthorised address is being used for a registered office or officer's service address
Provide full details of your complaint and your contact details to: fraud@companieshouse.gov.uk
Internal company disputes
Companies House will not become involved or offer advice on disputes between company officers or shareholders, either past or present. It is the company's responsibility to resolve any differences which are outside the remit of the registrar of companies and file the appropriate documentation with him.
If a solution cannot be reached you'll need to seek your own independent legal advice.
2.

Who you should report fraud to

If you suspect fraudulent activity you should report it to the police.

If your complaint is about the conduct of a company or its officers you should contact The Insolvency Service - learn more about how to complain about a limited company.

The Company Investigations team within The Insolvency Service has the power to investigate limited companies where information received suggests corporate abuse, such as:
serious misconduct
fraud or scams
sharp practice in the way a company operates
Further support on fraud
You can get advice and support on matters of fraud, from Action Fraud who are the UK's national fraud reporting centre.
Further support on identity theft
For advice and support on identity theft, you find practical advice and information from:
CIFAS - the UK's fraud prevention service
Further support on property fraud
You can reduce the risk of you or your company becoming a victim of property fraud with free security measures from the Land Registry - find out more about how to protect your land and property from fraud.
If you think you're a victim of property fraud, contact the Land Registry property fraud line on 0300 006 7030 or email reportafraud@landregistry.gsi.gov.uk.
3.

Known fraud and scams

Information and advice on fraudulent activity and scams which Companies House is aware of, including:
Late filing penalty payment
Companies have been contacted asking for payment of a late filing penalty over the telephone. The caller says they will accept a payment of £5 by credit or debit to place a hold on any further action being taken.
Companies House will not contact you for immediate payment of a late filing penalty or request payment of a nominal fee to place a hold on any recovery action.
Payment plans are set up with the agreement of the manager dealing with your late filing penalty query. We will not cold call you to take a payment.
Bogus Companies House emails
We are aware that a number of suspicious emails are being sent claiming to be from Companies House. These emails have not been generated by Companies House.
Investigations and Enforcement Services emails
From November 2016, we've been shown examples of emails claiming to be from the 'Investigations and Enforcement Services' at Companies House. The email claims to be generated automatically in response to a complaint about a company. Customers are then asked to view an attached document. This document has been shown to contain malware. We advise you not to open this attachment.
The emails have been containing the following text: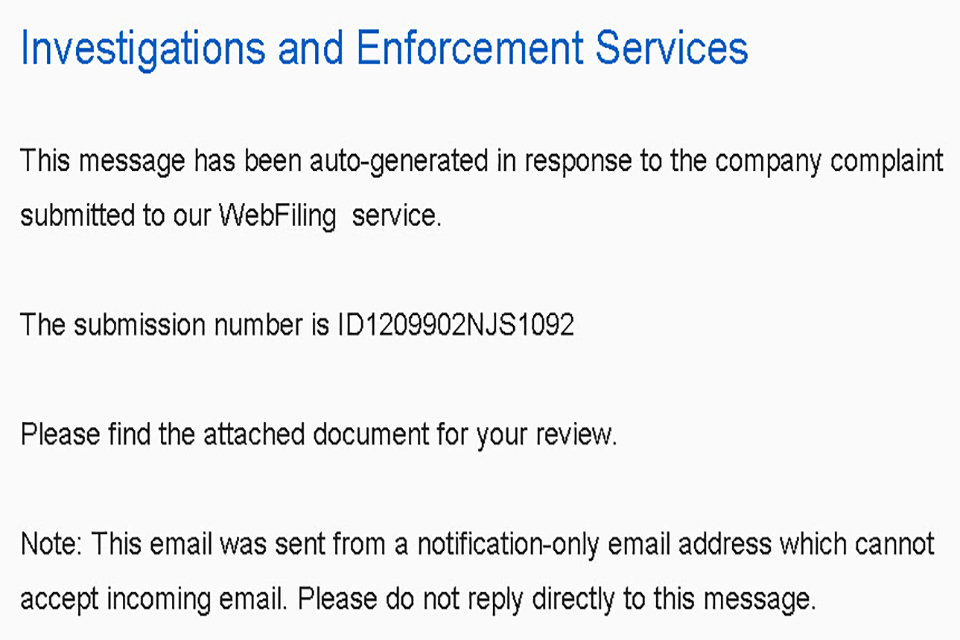 The emails have been seen to contain the following domains which Companies House does not use:
@companieshouse.me.uk
@companies-house.me.uk
@companieshouses.com
@companieshouses.co.uk
@companieshousecomplaints.co.uk
@companieshouseemail.co.uk
@companieshousesecure.co.uk
If you've received one of these emails forward it to phishing@companieshouse.gov.uk and then delete it. Don't try to view any attachments contained in the email.
Bogus 'Document Order' emails
These emails appear to come from a valid Companies House email address but do not. Genuine 'Document Order' emails are only produced when a copy of current company information is requested from within our online filing service.
Also, genuine 'Document Order' emails contain your company name and number under an 'Order detail' heading, and a reference to the attached PDF of company information. The bogus emails appear not to contain this individual company information, and the attachment is not in a PDF format. Do not open the attachment.
If you've received one of these emails forward it to phishing@companieshouse.gov.uk and then delete it. Don't try to view any attachments contained in the email.
Bogus online filing submission emails
This bogus email claims to be a response to an online filing submission.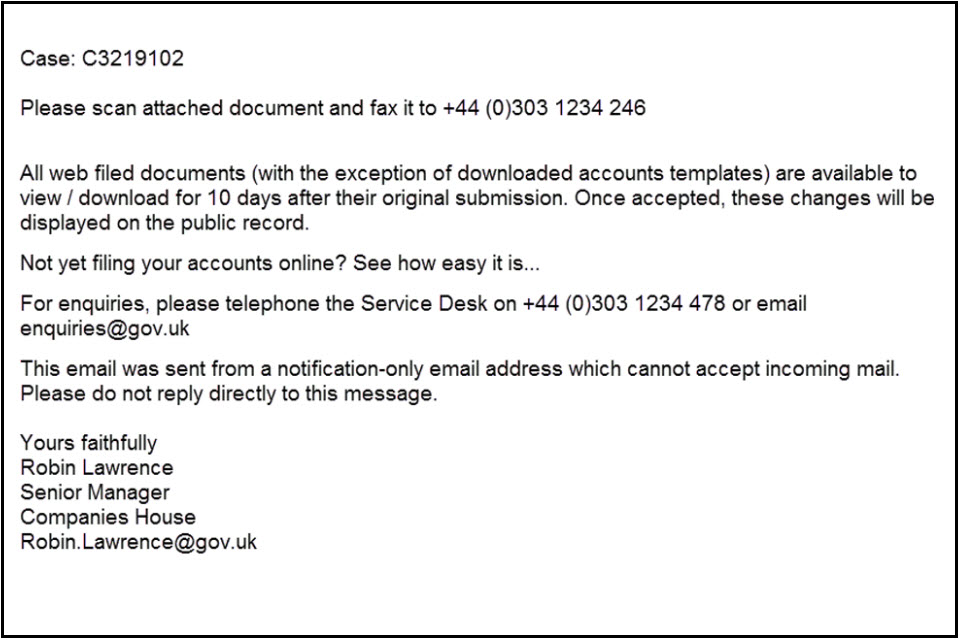 We are also aware that some customers have been sent emails stating:
"Thank you for completing a submission Reference # (0516538). Check attachment to confirm acceptance or rejection of this filing"
We will tell you within the email whether your submission has been accepted or rejected. Please do not open the attachment.
If you have received one of these emails forward it to phishing@companieshouse.gov.uk and then delete it. Do not try to view any attachments contained in the email.
Bogus eReminder requests for accounts
Some customers have reported receiving phishing emails in the form of an email reminder to submit accounts. The examples we've been shown have an incorrect due date on them. This is your first indication that this maybe a scam.
There is also a sentence that states "Please find information in the following link regarding your Company's annual accounts." Do not click this link. This link transfers you to "118enquiries.com" and downloads a zip-file onto your device.
If you have received one of these emails forward it to phishing@companieshouse.gov.uk and then delete it. Do not try to view any attachments contained in the email.
Bogus requests to verify your Companies House password
We've had reports from customers that they're receiving email requests to validate their Companies House email address and password. If you're not expecting to receive an email to reset your password it may be a scam. Our advice is to forward it to phishing@companieshouse.gov.uk and then delete it.
The email contains a link to a web page that requests the entry of your email address and password. Always check that the URL (the website address) you are about to link to is a genuine Companies House or GOV.UK address.
For example, a request for a password reset for our online filing service will have an address that starts: ewf.companieshouse.gov.uk
If the link doesn't contain '.gov.uk' within the address, it's not a Companies House page and is potentially a scam.

Don't enter any details or click any links or buttons. The web page is not linked to our services and will send your details to the scammers.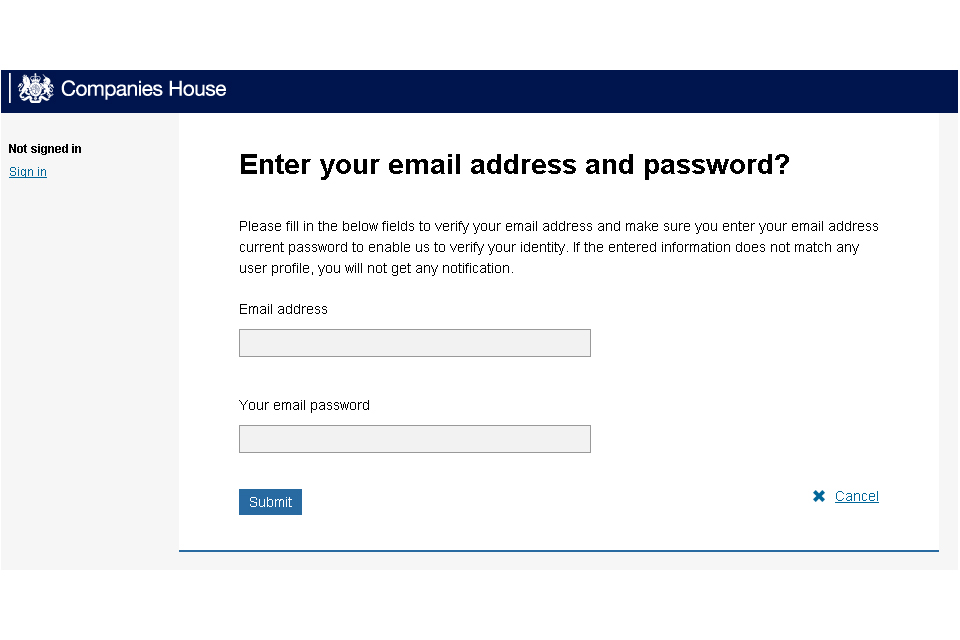 Suspicious job vacancies
We're receiving email enquiries about job adverts in the UK. These generally offer highly paid vacancies or opportunities in the oil, hotel or banking industries. The job adverts are often placed in print or on websites to appear genuine.
Treat all job offers with extreme caution. The contact details are usually fake, and you should avoid replying to the providers of these vacancies.
The advert might request money up front before the application can be processed, and they might also mention UK visas. Be sure to check with UK Visas and Immigration for information on applying for a UK visa.
Pension liberation fraud
Pension scams are on the increase in the UK and Companies House has been made aware that under some schemes individuals have had limited companies established in their name. If you believe that you have had a company set up in your name, please see legal advice before taking any action to close it.
Scams are promoted using terms such as an offer of unique investment opportunities, free pension review, legal loophole, cash bonus or as a government endorsed scheme and victims are being approached via cold calling, text message or in person door to door. You should treat all approaches about your pension with caution if it is not from a source that you recognise and trust.
If you are approached, do not share your personal information or sign any paperwork. You are able to check whether the offer of service is genuine and the Pension Advisory Service website can help.
The Pensions Regulator also offers guidance to help individuals who think that they may have been targeted by pension scams.
Companies House telephone scam warning
Companies have been telephoned by persons claiming to be from Companies House, who request details of their company's directors.
After being advised there's a discrepancy with the information held on the register, the caller requests information such as full dates of birth for directors.
We'll never contact you by telephone to find out who your officers are, or ask for secure information such as authentication codes.
If anyone telephones you claiming to be from Companies House asking for this information, try to obtain a return telephone number and contact Companies House immediately on 0303 1234 500.
4.

Company register payment requests

Companies registered at Companies House are receiving notifications asking for money to maintain their company on a register.

The companies concerned are receiving what looks like a genuine request from one of the following:
New Companies Register
Digital Companies Register
National Register of Companies
Economic Index for Europe
Register of Companies and Businesses
Scottish Commercial Register (publication of companies)
Welsh Commercial Register
e-public.co.uk Company Register
regist.co.uk
These organisations are not connected to, or endorsed by, either Companies House or GOV.UK and the fee requested is not required to keep the company registered at Companies House.