Case study
Youth Employment Scheme (North Ayrshire)
NDA and Magnox Ltd helped fund a scheme to address high youth unemployment rates in an area affected by industrial decline following the global economic crash.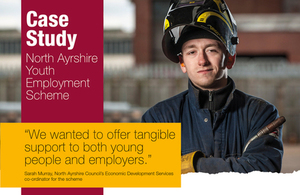 | Nearest NDA site | Duration | Total investment | NDA contribution | Partners | Delivered by |
| --- | --- | --- | --- | --- | --- |
| Hunterston A | 2013 to 2016 | £1 million | £250,000 | North Ayrshire Council, Scottish government, NDA | North Ayrshire Council Economic Development Services |
Outcome:
125 unemployed young people supported, including:

100 who progressed to wage-subsidised work
70 who are in in sustainable employment
20 who moved to other positive outcomes

100 vacancies filled
75 companies supported
Pilot scheme's success continued in North Ayrshire
North Ayrshire Council Youth Employment Support
When electronic and manufacturing industries began to pull out of North Ayrshire following the global economic crash, the area was left with one of the highest youth unemployment rates in Scotland.
Figures from 2012 showed that 10.8% of young people were claiming unemployment benefit, compared to the Scottish average of 6%. In some parts, the figure was twice the Scottish average.
The local authority began to look for ways to reverse/boost the area's economic fortunes, concluding that support was needed for smaller businesses and, in particular, for young people.
Working with a range of regeneration partners, North Ayrshire's innovative Youth Employment Scheme (YES) was forged, focusing on the government's Modern Apprenticeship programme.
Uniquely, YES combines training for young people in work-related softer skills plus tailored vocational training together with wage subsidies of up to 60% for a fixed period, enabling smaller businesses to recruit and grow. Launched for a trial three-year period in 2013, the YES formula has exceeded its targets and proved so successful that it is being continued by the Council. There is now a commitment to achieve youth employment above the national average by 2020.
North Ayrshire Council's Economic Development Services co-ordinator for the scheme, Sarah Murray, said:
We wanted to offer tangible support to both young people and employers. With the decline of our large-scale manufacturing base, we turned to smaller businesses whose growth and productivity could be enhanced by taking on additional staff.

Our discussions showed that employers needed not just vocational aptitude but also softer skills such as communications, team work, planning, organisation and customer service. Thanks to the funding, we were able to provide this, while the subsidised wages removed some of the financial risk to businesses.

The vocational training is tailored to each individual company. For young people, meanwhile, acquiring these softer skills has improved their self-esteem and work-readiness, as well as ensured they are more likely to secure long-term, sustainable employment.
YES works alongside local JobCentres, individual employers and a range of training providers, with the scheme evolving during the trial period to be as responsive as possible.
Feedback from businesses suggests almost universal support together with ongoing, sustainable work for the majority of young people who have enrolled. An early target was to reach 100 young people, but this has more than tripled, while hundreds of businesses are involved.
Employers in potential growth areas are targeted specifically, while a growing number of accredited educational providers are able to offer tailor-made training packages that meet business requirements. YES is subject to a robust and regular assessment programme by funding partners, including Scottish Government, NDA and Magnox Ltd.
Although now officially completed, the scheme is being adapted and, subject to continued funding, expanded to include people in a slightly older age bracket.
Sarah added:
We're extremely grateful for the funding that enabled us to establish YES, and delighted with the scheme's achievements. Our intention is that it will carry on for as long as necessary.
Ross McLelland, Managing Director of RM Construction in Saltcoats
Ross became been involved when YES was first launched. His small construction company employs 10-30 staff, depending on contracts, and couldn't easily risk taking on apprentices.
Ross said:
It's important to keep bringing young blood into the construction industry but difficult in the current climate and we couldn't really afford it – this system is perfect for us and really helps the business. We've had three apprentices: one has finished training and is with us full-time, while two more are still going through the training.

We also recently took on a young lad who hadn't worked for two years. Although he's not planning to go on to an apprenticeship – he's happy to continue as a labourer - the change in his confidence has been phenomenal and we certainly intend to keep him on.
Removals firm Richard Healey
Richard Healey operates throughout the UK and took on apprentices Ryan Harvey and Ryan Kennedy, who are both undergoing training in transport and logistics.
For 19-year-old Ryan Kennedy, who has been with the firm for 18 months, the Council-run training in softer skills such as interview techniques, work planning and dealing with customers had been particularly valuable.
Ryan said:
I wouldn't have had this opportunity without that support, and it has been a really useful starting point – first to find work and then to deal with an environment that is so different to school or college.
Published 23 March 2018