Case study
Southampton sets sail towards prosperous future
Funding of £50 million from the government is being used to transform a former shipyard site into a thriving mixed community.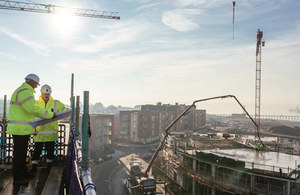 Funding of £50 million from the government is being used to transform a former shipyard site into a thriving mixed community that will bring much needed homes, jobs and prosperity to the deprived area of Woolston in Southampton. This page will help users understand how government investment is benefitting local economies.
The project, called Centenary Quay, is being developed by Crest Nicholson. Investment from the Homes and Communities Agency (HCA) has been instrumental in supporting the project's first 3 phases since work started in earnest in 2010. Phase 1 is complete, with more than 160 new homes, 25% of which will be affordable, created on the site. Phase 2, which comprises 168 apartments, a nursery and a new library, will be ready for occupation in 2014.
More recent investment through the government's Build to Rent fund will unlock phase 3 of the development, which will create 102 private rented homes for an investment of £3.5 million. The development has also received a loan of £1.96 million from the HCA's Get Britain Building fund to support a further 56 homes on phase 3 and around £15.1 million funding for new affordable homes, which will see 234 affordable homes created.
Phase 3 of the development is expected to create up to 300 new jobs through the construction of 329 new homes, retail and office space. This phase started in June 2013 and is progressing rapidly.
The development sits alongside a Marine Employment Quarter, comprising office space, workshops and a hotel. It's expected to create up to 1,000 permanent new jobs, and around 70% of suppliers on the project are locally-based.
Just over a decade ago, the prospects for the Woolston community were described as precarious when Vosper Thorneycroft closed its operations at the local ship building yard to move along the coast to a site in Portsmouth. While the 1,200 people who worked in the yard were guaranteed jobs at the new site, small businesses in Woolston closed and locals worried about job opportunities for future generations.
Welcoming the recent Build to Rent investment in the scheme, Cllr Warwick Payne, Southampton City Council's Cabinet Member for Housing and Sustainability, called Centenary Quay 'a model of excellence in partnership working between the HCA, Crest and the council'.
He added:
This new funding highlights the benefits of this joint approach for the city. Centenary Quay is already helping to meet affordable housing need locally, as well as offering good opportunities for home ownership. This new funding will ensure quality private rented homes in a vibrant location for a significant number of residents.
Quick facts
£500 million development, of which Government has invested £50 million in site assembly, clean-up, affordable housing and loans to unlock the latest building phase
1,620 new homes, of which 25% will be affordable
Development is expected to create or support up to 1,000 new jobs
70% of the suppliers are locally-based, such as Houlihan Carpentry, K.A.R Contractors, Faulkner Gates, Roofing Cladding & Building Ltd and Elliotts, Northam
Since April 2011, the HCA has invested £16.9 million in Southampton, creating around 1,120 homes.
Published 4 September 2014