A guide to where we work throughout the world.
Where we work
We work in countries across Africa, Asia and the Middle East, many of which are fragile or at risk from fragile neighbours. We also have regional programmes in Africa, Asia and the Caribbean, and development relationships with 3 aid dependent Overseas Territories – St Helena, the Pitcairn Islands and Montserrat. In addition to working directly in countries, FCDO also gives UK Aid through multi-country global programmes and core contributions to multilaterals.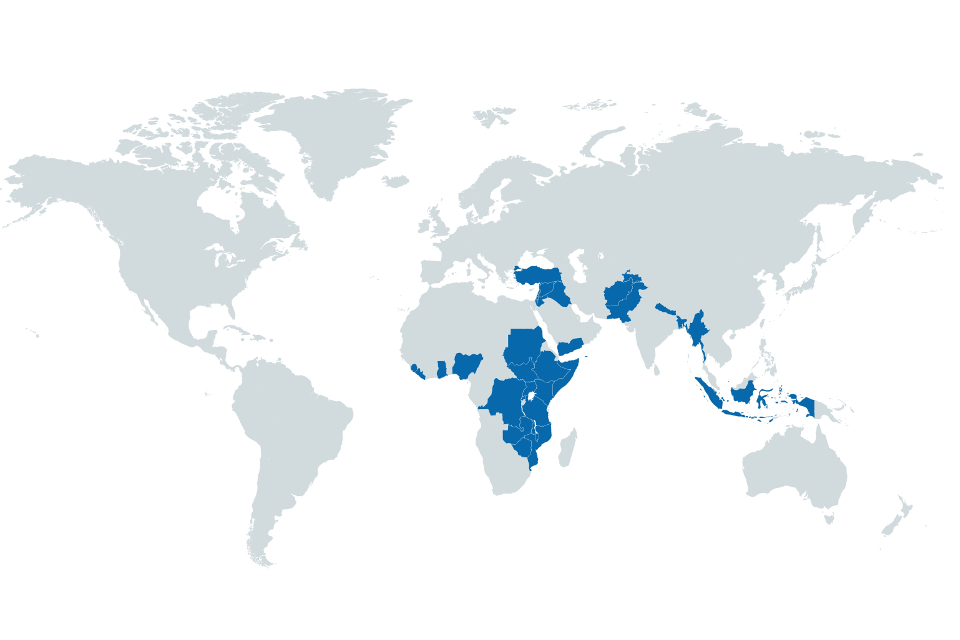 Bilateral programmes
Afghanistan | Bangladesh | Democratic Republic of Congo | Ethiopia | Ghana | Indonesia | Iraq | Jordan | Kenya | Kyrgyzstan | Lebanon | Liberia | Malawi | Mozambique | Myanmar (Burma) | Nepal | Nigeria | Occupied Palestinian Territories | Pakistan | Rwanda | Sierra Leone | Somalia | South Sudan | Sudan | Syria | Tajikistan | Tanzania | Turkey | Uganda | Yemen | Zambia | Zimbabwe
Regional programmes
Africa Regional | Caribbean | Middle East and North Africa | Overseas Territories | Sahel
Development partnerships
China | India | South Africa
We will continue to work flexibly as and where necessary, including with the international community, to provide humanitarian assistance where it is needed.