Guidance
Using the 'EU Exit: ID Document Check' app
Information for EU citizens and their families taking part in the pilot for the EU Settlement Scheme.
You'll be asked to verify your identity by using the EU Exit: ID Document Check app during your application under the current pilot phase of the EU Settlement Scheme. Details of who is eligible for the pilot are available on GOV.UK.
The app will:
check that your identity document is genuine
verify that the document belongs to you
You must use either:
your EU biometric passport if you're an EU citizen
your UK residence card with a biometric chip if you're the non-EU family member of an EU citizen

Check if you can use the app on your device
You'll need an Android smartphone or tablet (such as a Samsung, Google or Sony phone) with NFC (Near-Field Communication) to use the app.
Look in your phone settings to see if it has NFC. NFC is what the app uses to scan your document.
If you can use your phone to pay for things using 'contactless', this means it has NFC and you can use the app.
Your device will need:
Android 6.0 or above – you can find this in your device settings
at least 135MB of storage space to install the app
to be connected to 3G/4G or WiFi
NFC – you can find this in your device settings
How to use the app
Scan your document
You must scan the photo page of your passport using the camera on your Android device. The full page must be inside the frame, including the two lines at the bottom of the page.
The app will prompt you to adjust your Android device to make sure you capture your document effectively. These prompts will appear in a text box at the top of your screen.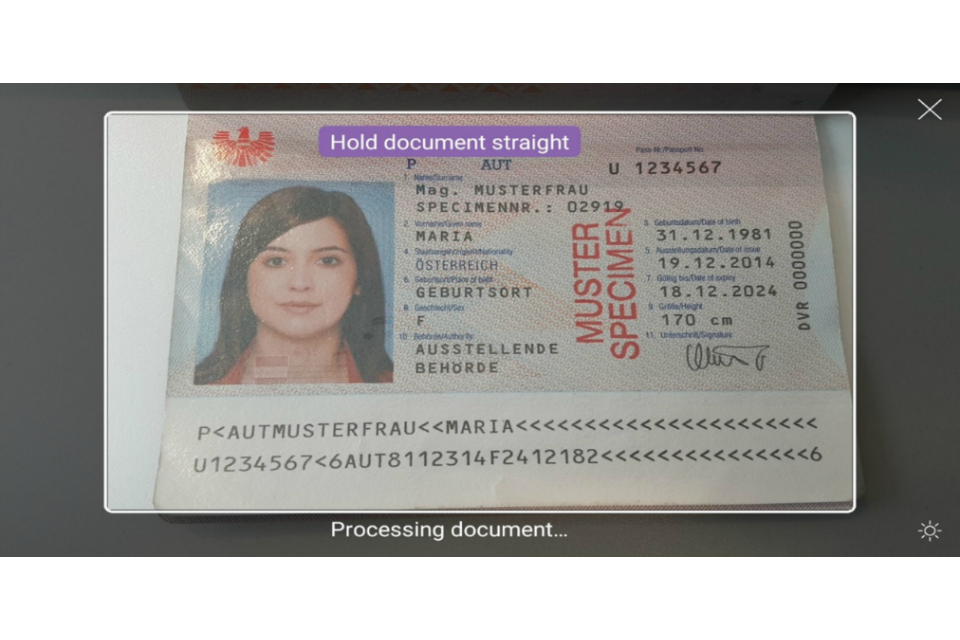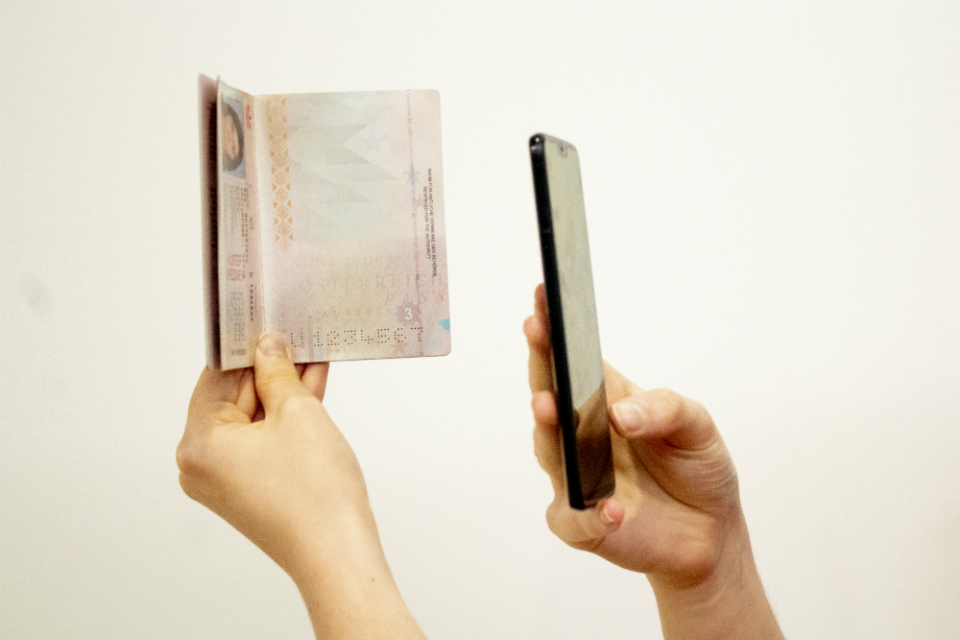 Check your document's information
Remove any cases or covers from your document and Android device and make sure the volume is turned up.
Click the 'check now' button in the app when you are ready to start checking your document.
Place the Android device on top of your document when the app tells you to 'check your document's information'.
A progress bar will let you know when the check begins and when it is complete. Do not move the Android device until the check is complete.
If the app doesn't recognise your document once you have placed the device on top of it, you should slowly move the device around the document until the app recognises it. You will hear a beep if the volume on your device is turned up. This beep means that your document has been recognised.
If you're using a passport and you continue to have problems, place the phone on the reverse cover or the photo page.
If the app cannot read the chip in your passport or UK residence card
If the EU Exit: ID Document Check app is not able to read the chip in your document, either due to a damaged chip or some other reason, we'll ask you to send your passport to us for manual checking of your identity and nationality.
Details of how you can do this are provided in the application. We'll ensure that your document is returned to you without delay.
Scan your face
The screen will flash as it scans your face. You should hold your device's camera in front of your face until the scanning is complete.
You can skip this step and provide different evidence to prove your identity if flashing light may cause you difficulties. You can do this by going to the 'Find out more' menu and selecting 'Skip this step'.
If you're 10-years-old or younger, you will not be asked to scan your face.
Take a photo of yourself
You should:
look straight into the camera
have a neutral expression – do not smile or frown
remove tinted glasses, for example sunglasses
Your photo should:
be well-lit
have no other faces in the background
Completing your application
After using the app to verify your identity, you can complete the rest of the application either on that device or on any smartphone, laptop or computer.
Published 15 November 2018
Last updated 30 November 2018
+ show all updates
Updated images to show how to use the EU Exit: ID Document Check app
First published.