Universal Credit: how it helps you into work
If you're on a low income or out of work, Universal Credit supports you to find a job or increase the hours you work.
Opening up work
Universal Credit is designed to make sure that you're better off in work, by topping up your wages each month while you need it.
Your Universal Credit payment reduces gradually as you earn more, and will increase again if your job ends or your earnings go down.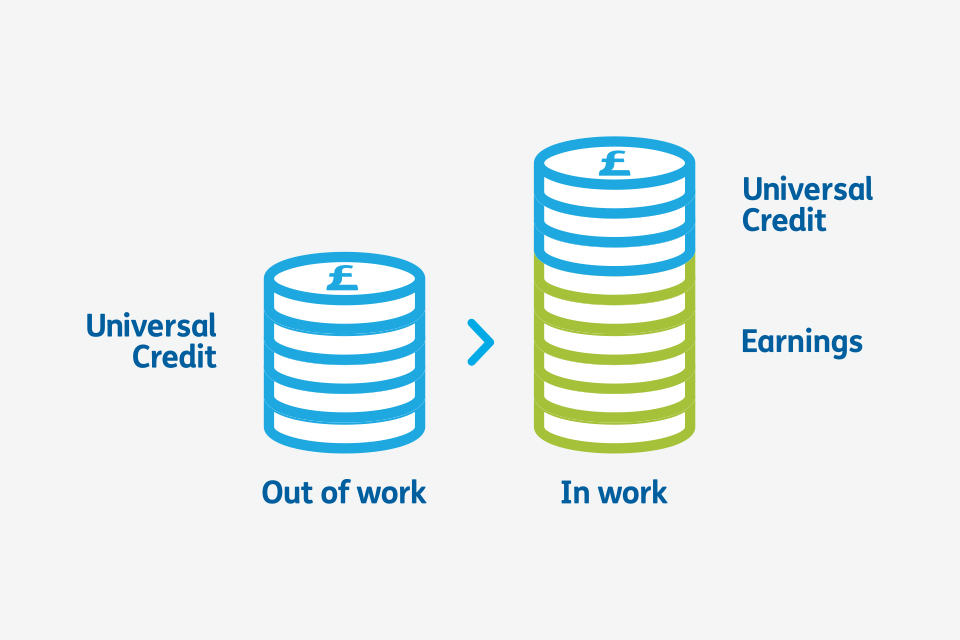 Universal Credit adjusts automatically if your earnings change, so taking a job will be worth your while – even if it's a temporary job or for just a few hours a week. There are no limits on the number of hours you can work, and if your job ends, it's easy to start your Universal Credit payments again.
Support from your work coach
Universal Credit provides you with personal support from a work coach to help you move into work, find a better job or build a career. Your work coach can give you advice about things like:
job opportunities and training suitable for you
improving your CV and making successful job applications
increasing your hours or earning more
help available to pay towards childcare costs
where to get help with managing your money
The daily jobseeker is a free source of job search advice that's updated daily and available to everyone, whether you're claiming Universal Credit or not.
Help available for parents
In addition to other childcare support available for parents and carers, parents claiming Universal Credit can get support with their childcare costs to help them move into work and increase their hours.
You can claim up to 85% of your paid–out childcare costs, up to a monthly limit of £646 for one child, or £1108 for two or more children.
Find out more about what Universal Credit means for families.
When you can claim Universal Credit
Universal Credit is now available everywhere, if you make a new claim for benefit we'll tell you whether you should claim Universal Credit.
See the list of benefits that Universal Credit replaces.
If you're already claiming benefits, you don't need to do anything now. We'll let you know at the right time if you need to claim Universal Credit instead.
If you can't claim Universal Credit yet, but think you might need to in the future, the Universal Credit Personal Planner can help you to get prepared, and offers advice about:
getting online to make a claim for Universal Credit
setting up a bank account
budgeting and managing your money on your own or as part of a couple
paying rent to your landlord yourself
More detailed advice
There's also information and advice about the benefits Universal Credit offers employers, as well as guides on claiming Universal Credit.
Published 2 November 2015
Last updated 8 March 2019
+ show all updates
Content updated to show Universal Credit is now available everywhere.

First published.