Guidance
Consumer safety awareness campaigns materials
Materials for individuals and organisations to download supporting a variety of safety awareness campaigns.
Current campaign - Summer fun, don't fake it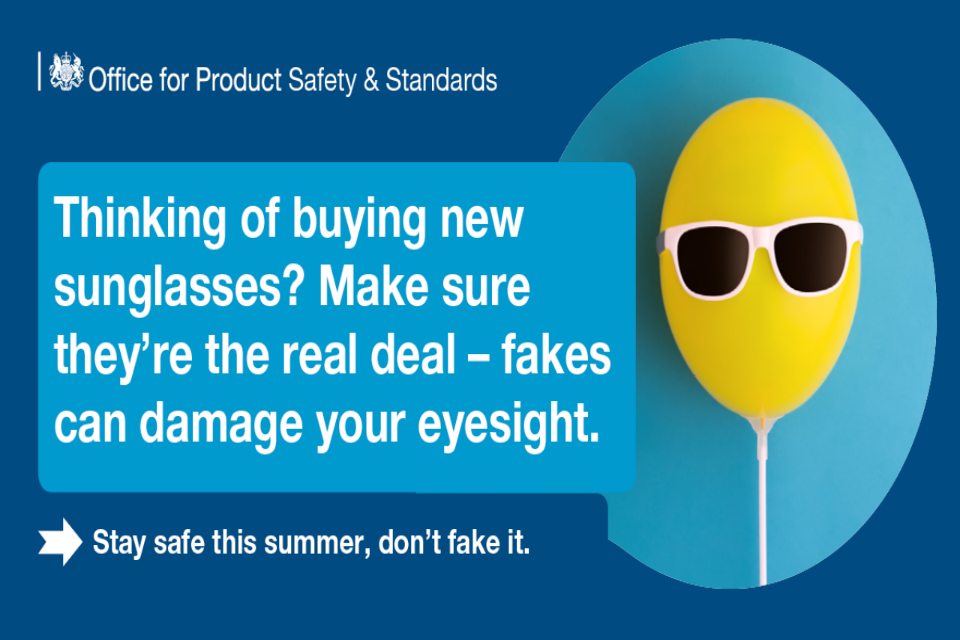 If in doubt, check it out. Just because you can buy it doesn't mean it's safe.
Getting ready for some fun in the sun? Many of us will be buying new items to take us through the summer months, such as sunglasses, new makeup, sun tan lotions, and even a new phone charger to take on holidays. But how do you know you're getting the real deal? Buying a bargain is always tempting, but if it seems too good to be true, it probably is.
Campaign materials are available to download below in print ready versions for professional printers and ready to download versions for immediate use.
You can also support our campaigns on Twitter @OfficeforSandS and by using the appropriate hashtag; and on Facebook.
Print ready versions
Sunglasses leaflet (PDF, 473KB, 2 pages)
Sunglasses leaflet 2 (PDF, 784KB, 2 pages)
Sunglasses poster (PDF, 250KB, 1 page)
Sunglasses poster 2 (PDF, 580KB, 1 page)
Phone charger poster 1 (PDF, 360KB, 1 page)
Phone charger poster 2 (PDF, 957KB, 1 page)
Suntan lotion poster (PDF, 524KB, 1 page)
Suntan lotion poster 2 (PDF, 649KB, 1 page)
Cosmetics poster (PDF, 420KB, 1 page)
Cosmetics poster 2 (PDF, 862KB, 1 page)
Materials for immediate use
Summer fun leaflet 1 (front) (PNG, 148KB)
Summer fun leaflet 1 (back) (PNG, 152KB)
Summer fun leaflet 2 (front) (PNG, 241KB)
Summer fun leaflet 2 (back) (PNG, 140KB)
Sunglasses poster (PNG, 284KB)
Sunglasses poster 2 (PNG, 493KB)
Phone charger poster (PNG, 376KB)
Phone charger poster 2 (PNG, 634KB)
Suntan lotion poster (PNG, 374KB)
Suntan lotion poster 2 (PNG, 515KB)
Cosmetics poster (PNG, 426KB)
Cosmetics poster 2 (PNG, 621KB)
Button batteries campaign: how to stay safe
Button batteries leaflet (PDF, 681KB, 2 pages)
Button batteries poster (PDF, 665KB, 2 pages)
Halloween safety - fancy dress
Halloween leaflet for professional printers (PDF, 644KB, 2 pages)
Halloween poster for professional printers (PDF, 822KB, 1 page)
Halloween poster 2 for professional printers (PDF, 595KB, 1 page)
Halloween leaflet for download (PDF, 630KB, 2 pages)
Halloween poster for download (PDF, 811KB, 1 page)
Halloween poster 2 for download (PDF, 590KB, 1 page)
Fireworks safety campaign
Fireworks leaflet for professional print (PDF, 818KB, 2 pages)
Fireworks poster for professional print (PDF, 294KB, 1 page)
Fireworks poster 2 for professional printers (PDF, 1.67MB, 1 page)
Fireworks leaflet download (PDF, 779KB, 2 pages)
Fireworks poster for download (PDF, 291KB, 1 page)
Fireworks poster 2 for download (PDF, 1.65MB, 1 page)
Shop safely at Christmas
Christmas leaflet for professional print (PDF, 529KB, 2 pages)
Christmas poster for professional print (PDF, 1.08MB, 1 page)
Christmas leaflet for download (PDF, 523KB, 2 pages)
Christmas poster for download (PDF, 1.08MB, 1 page)