Speech
Tackling Contraband and Illicit Trade in Central America
Opening Remarks by the Charge d'Affaires of the British Embassy San Jose, Melanie Smart at the opening of the Regional Workshop on Tackling Contraband and Illicit Trade in Central America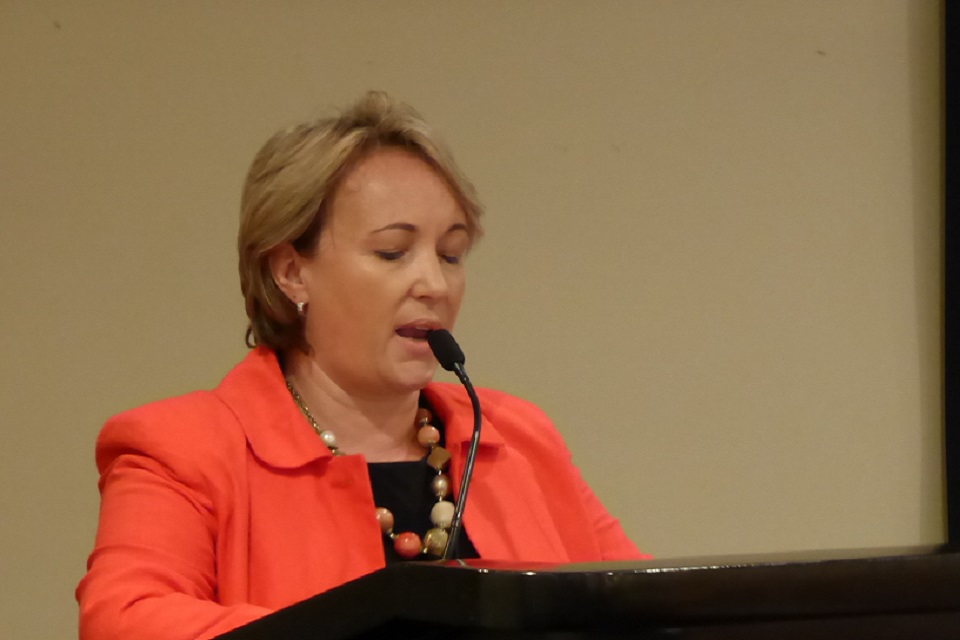 Su Excelencia Vice-Ministro de Hacienda, Alvaro Ramos;
Representantes del órgano judicial de países de Centroamérica;
Delegados distinguidos de Centroamérica;
Miembros del cuerpo diplomático;
Damas y caballeros.
I am delighted to welcome you all today to this Regional Seminar on tackling contraband and illicit trade. This event highlights the great opportunity for cooperation and collaboration in an area of mutual importance for the UK and Central America. The British Government is delighted to be able to work in partnership with the countries and companies represented here today and to help raise awareness of an issue that has a negative impact upon governments, businesses and individuals globally.
We have been encouraged by the overwhelming support we've received for this project. This reflects the growing recognition of the harm caused by contraband, counterfeit goods and illicit trade. This is an issue that affects all levels of society. Governments are hurt by the impact on public revenues, reducing their ability to invest and provide services and security to their citizens. They, as well as individuals, are also negatively affected by the health concerns caused by products not meeting safety standards, for example in the pharmaceutical industry. Companies suffer from lost income and suffer damage to their reputation and branding, meaning that they are inclined to invest less and are able to provide fewer jobs. Violations of intellectual property reduce the incentives and rewards of research and development, thereby stymieing innovation. And the proceeds of illegal trade often end up in the hands of criminal organisations, and fund other illegal activity. This last point is especially pertinent in Central America where insecurity has such a profound impact upon the lives of citizens.
Work to tackle IP theft and contraband is very much aligned with the priorities established by the British Prime Minister, David Cameron, during the UK's Presidency of the G8 last year. We in the British Embassy, and indeed British Embassies across Central America and the rest of the world, continue to work with likeminded partners on the important themes of trade, tax and transparency, as well as helping to establish a Rules Based International Economic System in which companies may compete on level-playing field, no matter where they come from. The Association Agreement between the EU and Central America, which entered into force last year, is an exciting development which will help cement and grow trade relationships between our regions. And we are also deeply encouraged by Costa Rica's aspirations towards OECD membership, and will do what we can to assist in that journey. This week's activities are a fantastic example of where we can work in partnership to achieve common goals, and we are happy and proud to be able to provide such support.
Contraband is an issue in which the UK has considerable experience to share. An area of focus in the UK has been to counteract tobacco smuggling, a theme you will hear more about later this week. To give an example of the scale of the problem in the UK, in the financial year 2011 to 2012, 1.7 billion illegal cigarettes were seized by Her Majesty's Revenue and Customs and the UK Border Force. That resulted in an estimated 1.5 billion US dollars in additional revenues for the Government; as well as ensuring that those funds did not end up in the hands of criminal groups. The figures, I think you will agree, are quite remarkable. Fighting illicit trade and contraband can not only enhance a country's reputation with potential investors, but can also raise much needed revenues for governments that can be reinvested to help economic growth and development in those countries.
We believe that this project is one further step towards achieving real, tangible outcomes in Central America. In Costa Rica, illegal alcohol is thought to represent around 22% of the total market. And illegal cigarettes are considered to make up around half of tobacco sales in Panama. There is clearly much to be gained from addressing these issues, and the presence of so many of you today shows the will of the region to do so. As well as building awareness about the real risks to societies, economies and governments from contraband and counterfeit goods – and building institutional capacity to enforce the law – I see this event as a fantastic opportunity to promote effective collaboration regionally. I urge you all to share your experiences, get to know one another and, of course, to exchange contact details so that your relationships can continue to grow and bear fruit beyond this week.
Ladies and gentlemen, I'd like to thank you all once again for being here today. I'm very grateful to the Ministerio de Hacienda for its support throughout, as well as to Viasol for bringing this event to life. I would also like to thank AstraZeneca, DIAGEO and the British-Costa Rican Chamber of Commerce whose generous support have made this event possible. We look forward to many more collaborations in the future with you all. Thank you.
Published 11 February 2014