Oral statement to Parliament
Prime Minister statement on European Council
David Cameron made an oral statement in the House of Commons today on the European Council, Afghanistan, Ebola, Ukraine and the EU budget.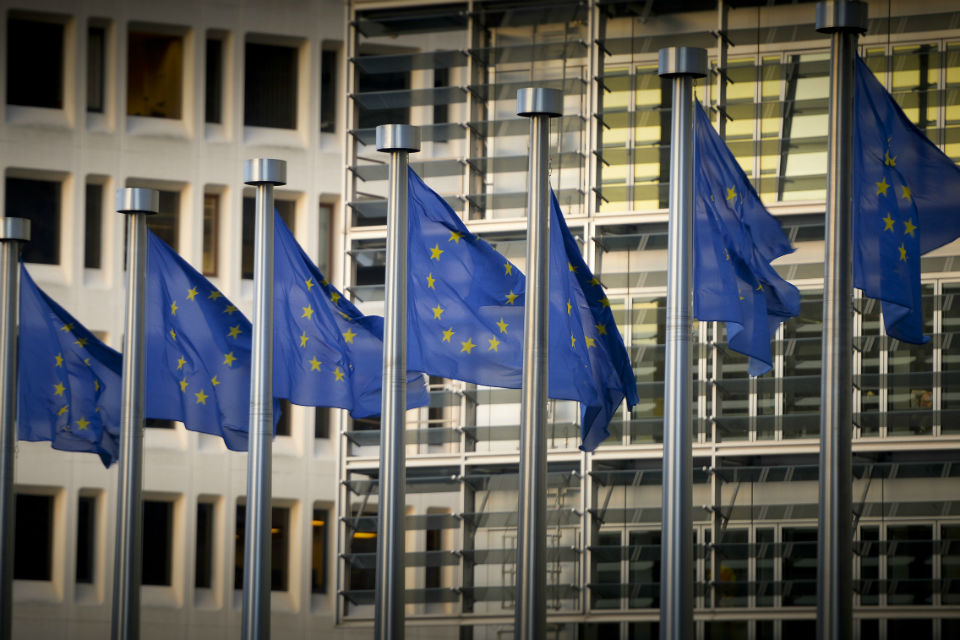 Afghanistan
Mr Speaker, yesterday British forces concluded their combat mission in Afghanistan.
I know the thoughts of the whole House will be with the friends and families of every one of the 453 British soldiers who lost their lives in this long campaign. We will never forget their sacrifice for us.
When Al Qaeda attacked the twin towers in 2001 – they planned that attack from Afghanistan, operating freely under the Taliban regime. Our incredible servicemen and women have driven Al Qaeda out. And they have built up and trained the Afghan forces – none of which even existed in 2001- so that the Afghans can take control of their own security.
I said when I became Prime Minister that I would bring our combat troops home. Today they are coming home. And we should be incredibly proud of all that they have done to keep our country safe.
European Council
With permission, Mr Speaker, I would like to make a statement on last week's European Council.
Before turning to the issue of our contributions to the EU [indistinct] let me first update the House on three significant agreements where the UK played an important role.
On Ebola, on climate change and on the situation in Ukraine.
Ebola
First, on Ebola, the world is facing one of the worst public health emergencies in a generation.
Playing our part in halting the rise of this terrible disease is not just about meeting our moral obligations. [indistinct] it is also the single most effective way of preventing Ebola infecting people here in the UK.
That is why Britain has been a making such a major contribution to the international response. [indistinct] pledging over £205 million, and sending troops and health workers to West Africa.
But it also means that Britain must use its influence to get other countries to step up their contributions too.
Before the Council I wrote to all my fellow leaders, urging that we significantly step up our collective response.
At the meeting, Members States agreed to my proposal to more than double the EU effort by pledging over 1 billion euros in assistance. The Council also agreed to increase the deployment of medical and support staff in the region. [indistinct] and for member states to guarantee proper care for our courageous health workers.
Climate change
Second, it is vital that Europe plays its part if we are to secure a global deal on climate change in Paris next year.
One of the problems we have faced in the past is that instead of just setting a binding target on carbon emissions. [indistinct] the EU has set binding national targets on things like renewables and energy efficiency.
These diktats over how each country should reach its commitments can pile up costs on our industries, consumers and families who don't want to pay any more on their energy bills than they have to.
And they create an unnecessary trade-off between cutting carbon emissions and promoting economic growth.
At this Council, we have chosen a different path.
We have reached a landmark commitment to deliver at least 40 per cent reductions in greenhouse gases by 2030. But we have rejected any new binding national targets for renewables or energy efficiency. [indistinct] giving us full flexibility over how we reduce our carbon allowing us to do so at the lowest possible costs for consumers and businesses.
Mr Speaker, this is another example of where British leadership has helped the EU to step up and meet its international obligations.
[indistinct] while at the same time protecting our national interest by keeping energy bills down for businesses and Britain's hard-working families.
Ukraine
The Council also discussed the situation in Ukraine and relations with Russia.
We welcomed the Minsk agreement between Kiev, Moscow and the separatists.
But the Council was also clear that much more must be done to implement that agreement before the EU should consider lifting any of the sanctions put in place in response to the conflict and in response to Russia's actions.
The Council welcomed the Parliamentary elections that took place in Ukraine yesterday.
And it made clear that it would not recognise the outcome of any elections organised by the separatists outside the framework of Ukrainian law.
Contributions to the EU
Mr Speaker, let me turn to the issue over the UK's contributions to the EU.
I want to be clear with the House. [indistinct] how the demand for the UK to repay money has come about. [indistinct] and why the scale and timing of this demand is unacceptable.
Mr Speaker, in an organisation like the EU, if your economy grows a little faster or a little slower, then there can be adjustments every year to the amount you pay.
In some years the UK adjustment has been negative – as it was in 2008, 2009, 2011 and 2012. And in some years we contribute a little bit more. This happens every year.
And when the UK is growing at 3 per cent a year and many European economies are growing much more slowly. [indistinct] it would not be surprising to find Britain being asked to pay a little bit more this year.
But what has never happened is for 2 billion euros to be demanded. This represents around 20 per cent of our net contribution to the EU last year. Member states collectively are being asked to pay almost four times the highest gross figure requested in recent years.
It is simply not acceptable for the EU to make these kinds of demands. [indistinct] and to do so through a fast-tracked process lasting barely a month. 2 billion euros is bigger than many countries' gross contributions. It cannot just be nodded through by the EU bureaucracy as some kind of technical adjustment.
It is British taxpayer's money. And it is not small change, but a vast sum. So this has to be examined in detail and discussed properly.
That is why I interrupted the Council meeting on Friday to seek an urgent resolution to this issue.
I was supported by the Prime Ministers of Italy, Holland, Malta, Greece and others. And the Council agreed there would be an urgent discussion with finance ministers to resolve this issue going forwards.
Mr Speaker, it is not just about the scale of the money being demanded. It is also the timetable. The Commission admits that it does not actually need this. [indistinct] indeed the President of the Commission wasn't even aware of it on Thursday evening. [indistinct] so there is no pressing need for the money to be paid.
There are fundamental questions over the fairness of these payments.
For example, the proposal is for funds to be taken from the UK to correct historic contributions to the EU budget dating back to 2002. [indistinct] and to be redistributed based on the current share of Gross National Income to countries which only joined the EU in 2004 and 2007.
It is not just Britain that would lose out. It is also perverse that a country like Greece – at the heart of the crisis in the Eurozone – is being asked to find money to pay back to countries like Germany.
And the revised Gross National Income statistics on which these adjustments are based are also not yet finalised. The numbers are a "provisional estimate" and the EU-wide process to quality assure the figures will not conclude until well into 2015.
So Mr Speaker, Britain will not be paying 2 billion euros to anyone on the 1st December. [indistinct] and we reject this scale of payment. We will be challenging this in every way possible. We want to check on the way the statistics were arrived at. [indistinct] the methodology that was used. [indistinct] we will crawl through this in exhaustive detail.
Mr Speaker, the events at last week's Council will not – to use some British understatement – have enhanced the reputation of the European Union in the United Kingdom.
As the Italian Prime Minister put it, even the EU's founding fathers "would turn to euro-scepticism when faced with some of the things that you've see here."
The European Union has to change. It has to regain trust. And that starts by understanding and respecting the fact that these payments and adjustments are about the hard-earned taxes of its citizens.
This is just one of the many challenges in our long campaign to reform the European Union. But it is vital we stick to the task.
We've already cut the EU budget, got Britain out of the bail-out schemes. [indistinct] vetoed a treaty that wasn't in our national interest. [indistinct] made vital progress on cutting red tape and completing the single market [indistinct] and we are leading the push for what will be the biggest bilateral trade deal in history, between the EU and the US.
None of this is easy. Progress is hard-won. It requires perseverance and hard work. We will carry on defending our national interest. [indistinct] and fighting with all we have to reform the EU over the next few years.
And Mr Speaker, at the end of 2017, it will not be the Brussels bureaucracy or the politicians of any party who will decide whether we remain in the EU or not. If I am Prime Minister, it will be the British people who make that decision through an in-out referendum.
[Party political content].
And I commend this statement to the House.
Published 27 October 2014