Oral statement to Parliament
NHS 7 day services and the junior doctors' strike
Health Secretary Jeremy Hunt updates Parliament on NHS 7 day services and the impact of industrial action by junior doctors.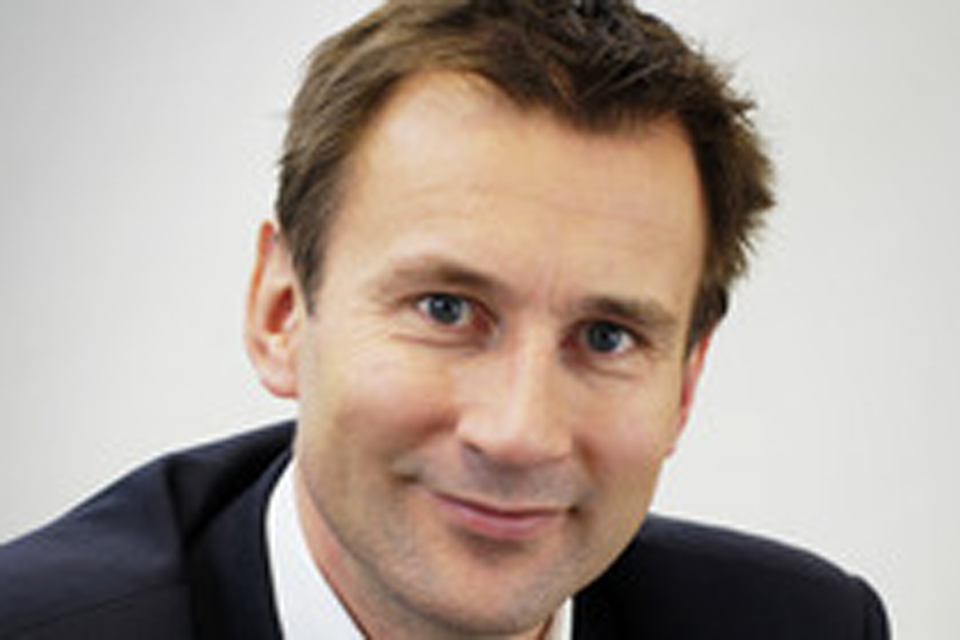 Mr Speaker, we have many choices in life but one thing over which we have no control is the day of the week we get ill. That is why the first line on the first page of this government's manifesto said that if elected we would deliver a 7 day NHS so we can promise NHS patients the same high quality care every day of the week. We know from countless studies there is a weekend effect showing higher mortality rates for people admitted to hospital at weekends; the British public know it too; and today we reaffirm that no trade union has a right to veto a manifesto promise voted for by the British people.
We are proud of the NHS as one of our greatest institutions. But we must turn that pride into actions – and a 7 day service will help us turn the NHS into one of the safest, highest quality healthcare systems in the world.
This week, Mr Speaker, the BMA has called on junior doctors to withdraw emergency care for the first time ever. I will update the House on the extensive measures being taken up and down the country to try to keep patients safe but before I do that I wish to appeal directly to all junior doctors not to withdraw emergency cover which creates particular risks for accident and emergency, maternity units and intensive care units.
I understand the frustration many junior doctors feel that because of pressures on the NHS frontline they are not always able to give patients the highest quality of care that they would like to. I understand that some doctors may disagree with the government over our 7 day NHS plans and particularly the introduction of a new contract. I also understand that doctors work incredibly hard, including at weekends, and that strong feelings exist on the single remaining disagreement of substance, Saturday premium pay.
But the new contract offers junior doctors who work frequently at weekends more Saturday premium pay than nurses, paramedics, than the assistants who work in their own operating theatres, more than police officers or fire fighters and nearly every other worker in the public and private sectors.
Regrettably, over the course of this pay dispute 150,000 sick and vulnerable people have seen their care disrupted, and the public will rightly question whether this is appropriate or proportionate action by professionals whose patients depend on them. Taking strike action is a choice and if they won't listen to the Health Secretary I would urge them to listen to some of the country's most experienced doctors – Professor Sir Bruce Keogh, Professor Dame Sally Davies and former Labour health minister Lord Darzi – who have all urged doctors to consider the damage both to patients and the reputation of the medical profession that it will cause.
Let me also today address some of the other concerns that have been raised by junior doctors.
Firstly the concern that a 7 day NHS might spread resources too thinly. This government's financial commitment to the NHS has already seen a like for like increase of 10,700 more hospital nurses and 10,100 more doctors. Following last year's spending review which, despite the pressure on national finances, committed the government to a £10 billion real terms increase in the annual NHS budget by 2020, I can today tell the House that by the end of this parliament the supply of doctors trained to work in the NHS will have increased by a further 11,420. So whilst it is true that pressures on the NHS will continue to increase on the back of an ageing population, we are not saying that the current workforce will have to bear all the strain of delivering a 7 day service even though of course they must play their part.
Secondly, there is concern that the government may want to see all NHS services operating 7 days. Let me be clear: our plans are not about elective care but about improving the consistency of urgent and emergency care at evenings and weekends. To do this, the Academy of Medical Royal Colleges has prioritised 4 key clinical standards that need to be met. These include making sure patients are seen by a senior decision maker no more than 14 hours after arrival at hospital; 7 day availability of diagnostic tests with a 1 hour turnaround for the most critically ill patients; 24 hour access to consultant directed interventions, such as interventional radiology or endoscopy; and twice daily reviews of patients in high dependency areas such as intensive care units. Around one quarter of the country will be covered by trusts meeting these standards from next April, rising to the whole country by 2020.
Thirdly, there is the concern that proper 7 day services need support services for doctors in the weekends and evenings as much as doctors themselves. Less than half of hospitals are currently meeting the standard on weekend diagnostic services, meaning patients needing urgent or emergency tests on a Saturday or Sunday, such as urgent ultrasounds for gallstones or diagnostics for acute heart failure, face extra hours in hospital at weekends or even days of anxiety waiting for weekday tests. Our new standards will change this, with senior clinician-directed diagnostic tests available 7 days a week for all hospitals by 2020.
Finally, there is a legitimate concern that a 7 day NHS needs to apply to services offered outside hospitals if we are properly to reduce the pressure on struggling A & E departments. So as announced last week, the government's 7 day NHS will also see transformed services through our GPs.
We are committing an extra £2.4 billion a year for GP services by 2020/21, meaning that spending will rise from £9.6 billion last year to over £12 billion by 2021 – a 14% real terms increase. Thanks to this significant investment, patients will see a genuine transformation in how general practice services operate in England. By 2020 everyone should have easier and more convenient access to GP services, including at evenings and weekends. We will not be asking all GP practices to open at weekends to deliver this commitment, instead using networks of practices to make sure people can get an evening or weekend appointment nearby even if not at their regular practice. We have committed to recruiting an additional 5,000 doctors to work in General Practice to help meet this commitment and will support GPs in this transformation by harnessing technology to reduce bureaucratic burdens.
Returning to the strikes, the impact of the next 2 days will be unprecedented with over 110,000 outpatient appointments and over 12,500 operations cancelled. However, the NHS has made exhaustive preparations in order to try to make sure patients remain safe and I want to thank those many people in NHS England, NHS Improvement and every trust in the country who have been working incredibly hard over this weekend to that effect. I myself have chaired a series of contingency planning meetings, bringing together the operational response across the entirety of the NHS and social care. From this, NHS England has worked with every trust to ensure that they have plans in place to provide safe care, with particular focus on their emergency departments, maternity units, cardiac arrest teams and mental health crisis teams. As part of their duties for civil contingency preparedness, trusts also have major incident plans in place which are ready to be enacted if required.
NHS England has also asked GP practices and other primary care providers in some areas to extend their opening hours so patients can continue to get the important, but non-emergency, care such as follow-ups and assessments, they need.
Finally, we have set up a dedicated strike page on the NHS website to provide as much information as possible to the public during this strike action on what local alternatives to hospital care there are, where these alternatives are, and when they are open. This website is now live.
The NHS 111 system will also work as normal during the strike, and has been provided with additional staff to cope with expected increased demand. We would encourage people concerned that they may need urgent care to visit this website, and call 111 in advance of showing up at their local A&E department.
Mr Speaker the NHS is busting a gut to keep the public safe. But we should not lose sight of the underlying reason for this dispute, namely this government's determination to be the first country in the world to offer a proper patient-focused 7 day health service. To help deliver this, the NHS will this year receive the sixth biggest funding increase in its history. But it's not just about money, as we know from the mistakes of previous governments. It's also about taking the tough and difficult decisions necessary to make sure we really do turn our NHS into the safest, highest quality healthcare system in the world.
This government will not duck that challenge and I commend this statement to the House.
Published 25 April 2016