Speech
Justine Greening's speech to mark 30 years of Islamic Relief
The speech, delivered in Birmingham, celebrates Islamic Relief which has grown from a small humanitarian charity into a global development agency.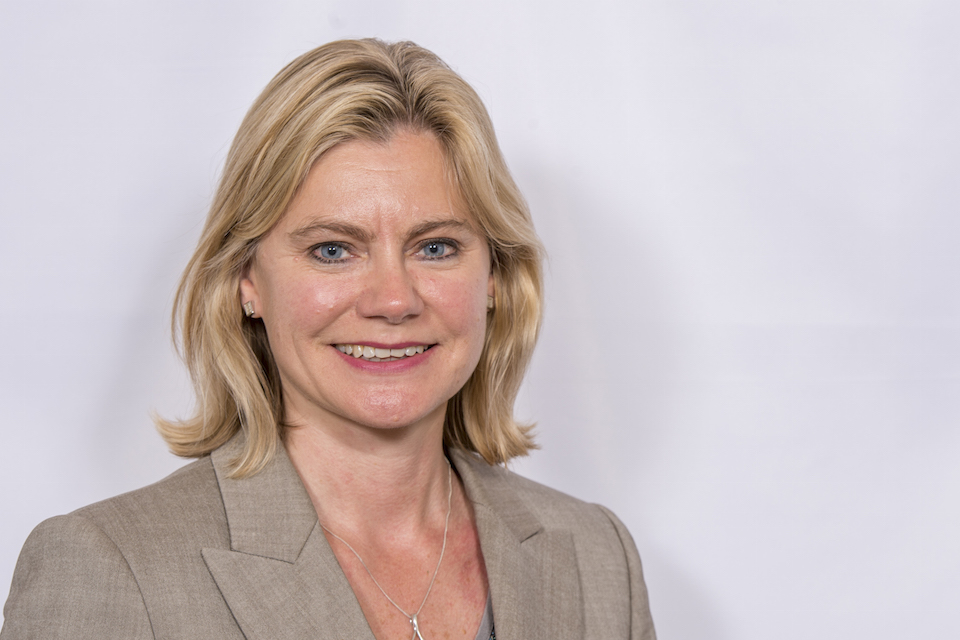 Introduction
Thank you for that introduction. It is an honour to be here today for such a historic anniversary.
Thirty years ago a 9-year-old boy from this city pulled twenty pence out of his pocket. He decided that he would give it to a brand new charity to help people suffering thousands of miles away.
That small act of generosity, the first ever donation to Islamic Relief, kick-started 30 years of work helping the very poorest people across the globe.
Over those 3 decades Islamic Relief has exemplified the generosity, kindness and charity of Britain's Muslim community. Countless families across the world now have access to healthcare, education and a chance for a better life thanks to you.
From a small humanitarian charity operating out of a single office in Moseley, Islamic Relief has grown into a truly global development agency. In over 100 offices in 40 countries it is helping hundreds of thousands of people to escape from poverty.
And your original humanitarian roots have not been forgotten. Whenever and wherever a disaster unfolds, within days you are likely to see Islamic Relief workers on the ground, delivering supplies, building shelters and saving lives.
From its beginnings helping those in need during the 1984 Sudan famine to last year's Typhoon Haiyan, your organisation has been at the forefront of the global response to humanitarian emergencies.
Much of the good work that Islamic Relief has done has been achieved side by side with the British Government. I'd like to talk about some of that work today.
This year not only marks the 30th anniversary of the organisation, it is 20 years since it became the first Muslim NGO to receive Government funding.
The Department for International Development supports Islamic Relief's work to improve flood resistance in Bangladesh, boost nutrition in Kenya and help thousands of people access clean water and hygiene in Pakistan.
Syria
Britain is also supporting the great work that Islamic Relief is doing in helping those affected by the world's most intractable humanitarian crisis in Syria and the region.
The crisis has now reached catastrophic proportions. 9.3 million people are in dire need of humanitarian aid within Syria. At least 6.5 million people have been forced to flee their homes within Syria and there are now over 2.7 million refugees in the region.
The UK has been at the forefront of the global humanitarian response. Our total funding for Syria and the region is now 600 million pounds, 3 times the size of our response to any other humanitarian crisis. We are the second biggest bilateral donor after the US.
Our support has reached hundreds of thousands of people across Syria, Jordan, Lebanon, Turkey, Egypt and Iraq. In Syria and the region, Britain is providing food for over half a million people and water for 1.5 million people every month.
And, with Islamic Relief, we are helping to alleviate the refugee crisis which is engulfing the region. In January I announced 2 million pounds for Islamic Relief to support Syrian refugees in Jordan with education and cash assistance to help them pay for basic accommodation.
Pakistan
I'd also like to take this opportunity to thank Islamic Relief for their work in Pakistan, a country of enormous importance to the UK.
The Pakistani community in the UK numbers 1 million people. This is the largest Pakistani population living outside Pakistan. Every year 1.4 million journeys are made between the two countries. In 2010 remittances from the UK to Pakistan amounted to £627m.
We know the scale of the challenge in Pakistan is enormous. Today, 12 million children in Pakistan are not in school. Half the population can't read or write. More than 60 million people live on less than 30p a day.
But we also know that investing in the country can set it on the path towards stability, growth and self-sufficiency.
That's why today, during Nawaz Sharif's visit to the UK, I announced that Britain is aiming to work with 200,000 small and growing businesses across Pakistan, helping to create more than 400,000 jobs. We will help banks to properly support these SMEs.
The UK is also providing expert advice to the Pakistani tax authorities to help widen the tax base and increase revenue collection.
Just as the UK has a long term economic plan, we want the countries we work in to be building up sustainable tax revenues so they can develop welfare and infrastructure they need to end aid dependency through growth.
Islamic Relief shares our new focus on promoting economic development and job creation across Pakistan. Your work restoring farmland and improving techniques so families can grow and sell their own crops is giving hundreds of families a route out of extreme poverty.
Gold Moment
And I know Islamic Relief is also doing important work in Pakistan training women in the skills they need to get a job, helping them to fulfil their potential.. I firmly believe that a country can never truly develop when half its population are left behind.
Britain is committed to a world where all girls and women have the opportunity to achieve their potential free from discrimination and violence. And this year we have ramped up the focus on tackling two of the most harmful symptoms of this discrimination: Female Genital Mutilation and Early and Forced Marriage.
On the 22nd of July, the Prime Minister will bring together community leaders, faith leaders, governments, international organisations and the private sector to rally a global movement to end FGM and Early and Forced Marriage in a generation.
We will be building on existing efforts. Men, women, girls, boys, community and faith leaders have started to speak out against these harmful practices across the world. In most countries where FGM is practised the majority think it should end.
Our role is to support this movement and keep the momentum going.
Islamic Relief will be an important partner in achieving this and I look forward to hearing your ideas about how we can work together on this hugely important campaign this year and beyond.
Sudan
Finally, I'd like to address the rapidly deteriorating situation in Sudan.
We are extremely concerned about the growing conflict in Darfur. Levels of violence and displacement are increasing daily.
200,000 people have fled their homes since the start of the year. Almost half the population are now in need of assistance.
Yet access remains a huge challenge. The suspension of the Red Cross and the de facto suspension of the UN Refugee agency has only compounded the difficulties in getting aid through.
All parties need to end violations of humanitarian law and allow access so help can get through to those in desperate need.
To make this happen all of us – governments, aid agencies and NGOs – have to work together to shine a light on the scale of the suffering happening in Darfur.
Islamic Relief, as one of our most important partners in Sudan, has an absolutely central role to play in this.
Conclusion
Throughout Britain's history faith-based organisations have led the way in helping those in need across the globe.
Islamic Relief is no exception. You have been doing incredible work helping the poorest people in the world over the last thirty years …responding to humanitarian disasters, supporting refugees, helping men and women to support themselves through the dignity of work.
Thanks to your efforts families across the world now have a better life and hope for an even better future. I look forward to continuing to work with you on behalf of the Government and I can't wait to see what you will achieve over the next thirty years.
Thank you.
Published 1 May 2014