Oral statement to Parliament
Justine Greening: Statement on Afghanistan - May 2014
The Secretary of State for International Development has delivered a quarterly oral statement on Afghanistan to the House of Commons.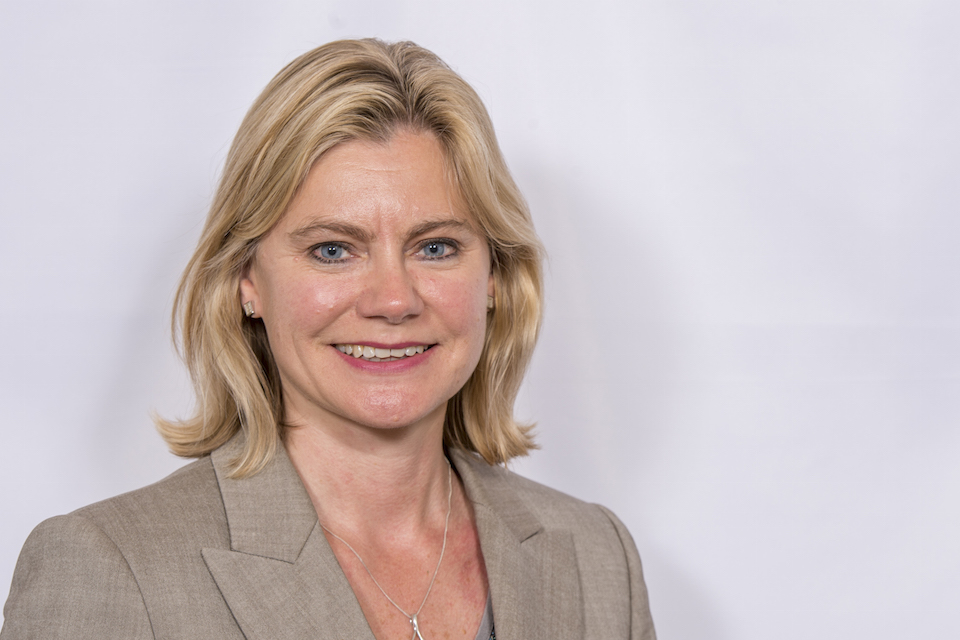 With permission, Mr Speaker, I would like to update the House on Afghanistan.
Firstly, I would like to pay tribute to the 6 service personnel who have died serving their country in Afghanistan since the last statement on Afghanistan was delivered to the House by the Defence Secretary on 10th February. They include Sapper Adam Moralee, who was killed on 5 March while preparing equipment for redeployment out of Afghanistan as part of our military drawdown.
On 26 April, 5 UK service personnel - Captain Thomas Clarke, acting Warrant Officer Class 2 Spencer Faulkner, Corporal James Walters, Flight Lieutenant Rakesh Chauhan and Lance Corporal Oliver Thomas - were tragically killed in a helicopter crash south of Kandahar. A full investigation is underway into the incident but there is currently no indication of enemy activity being a contributing factor. It was the third biggest single loss of UK life since 2001.
These deaths are a timely reminder that our troops continue to risk their lives in Afghanistan every single day. Their legacy is realised in the fact that Afghanistan is now neither a safe haven nor a launch-pad for terrorists who seek to destroy our way of life. The tens of thousands of Afghan security forces whom they have helped mentor and who are now securing the country's future are a testament to that. The sacrifice of our servicemen and women will never be forgotten.
I would also like to reiterate my deepest sympathies for those affected by the tragic landslide in Badakshan province. Relief efforts are underway to help the more than 4000 people displaced. The UK is closely monitoring the situation and stands ready to provide further assistance. Our recent £10 million contribution to the UN's Common Humanitarian Fund will ensure that additional relief supplies can be delivered as required.
Elections
While the scale of the challenge cannot be underestimated, we are seeing some extraordinary progress in Afghanistan. Last month, Afghans took part in provincial and presidential elections, these elections were organised by Afghans, run by Afghans and security was provided by Afghans.
And latest estimates from the preliminary results on voter turnout show that nearly 7 million people voted, 36% of whom were women.
This is particularly impressive given Taliban threats of violence across the country. With very little support from ISAF, the Afghan Security Forces secured the vast majority of polling centres across the country and helped prevent any high profile attacks from occurring. Their professionalism and bravery was evident throughout, and their confidence has been boosted by this operational success.
A constitutional transfer of power from President Karzai to his successor will be a milestone for the Afghan people. Until 10 years ago, Afghans had never had the right to choose their leader. Now they are getting a choice and the UK government is supporting that democratic process.
And we continue to support Afghan institutions in making sure that the elections are credible, inclusive and transparent.
DFID is providing £20 million to the UN's ELECT II programme, which ran a voter registration top up exercise in Afghanistan. This has led to over 3.8 million new registered voters – over a third of them women.
ELECT II also trained almost 7,000 Election Commission officials, over 2,000 of whom are women. This includes gender officers for each of Afghanistan's 34 provinces.
Women's political participation has been a priority for the UK government in the past year. And it was impressive to see so many women exercise their democratic rights as voters.
Although there were no female presidential candidates, it is a sign of how much Afghanistan has changed that 3 women stood as second vice president on presidential tickets, and 297 women contested the provincial council elections.
The government's support for women voters and candidates – through the UN and through DFID's own programmes – will continue through to the parliamentary elections in Afghanistan in 2015.
Challenges post-election
We have made clear that our commitment to Afghanistan extends beyond the time that UK combat forces have returned home, the UK has committed to its current level of development funding until at least 2017.
However, in order for us to continue our cooperation with Afghanistan for the long term, it is important that the Bilateral Security Agreement and NATO Status of Forces Agreement are agreed as quickly as possible. And we will expect to see clear progress and further reforms from the new Afghan President and his government.
Afghanistan's economy remains fragile and vulnerable to shocks. While economic growth and tax revenues have increased substantially over the past decade, uncertainty ahead of the elections alongside the impact of the drawdown of international forces have led to an economic slowdown in recent months.
DFID's continued support to Afghanistan's economic growth and private sector development in the years ahead will seek to remove barriers to investment, particularly in the agriculture and extractives sectors, and create economic opportunities for women. The UK will also continue to support greater regional economic integration, through infrastructure development and trade.
We hope that the new President will prioritise increasing domestic revenue collection and strengthening the economy, including passing key legislation. This is the best way to ensure that the country's long-term future is not reliant on aid from other countries.
At an early stage, the UK will be encouraging the new government to take further steps on reforms that the international community want to see, including tackling corruption and ensuring that gains made on women's rights are strengthened.
Some of the bravest Afghans I've met have been women's rights defenders. These people risk their lives daily, fighting for rights that men and women take for granted in this country. The UK government will continue to support their efforts to secure a better future for Afghan women and girls.
Global action
We cannot do this alone and Afghanistan's future depends on many international actors playing their parts alongside the work Afghans are doing themselves to secure their country's future.
Afghanistan will inevitably be a key feature of the NATO Summit, which will take place at the Celtic Manor in Wales in early September. Plans and preparations are well underway to deliver this important NATO event.
And the UK government will co-chair a Development Conference on Afghanistan in the months after the new Afghan Government is formed. This will be a timely opportunity to focus Afghan and international attention on the long term economic, social and political challenges that Afghanistan must address.
The turnout to last month's election shows the will and determination of the Afghan people to secure a brighter future, they need our support. By continuing our essential development work, by working together we can create a stable country where Afghan children have opportunities denied to their parents
That will be a fitting and lasting legacy to the service of our troops, both those who are now returning to their families, and those that tragically do not.
Published 14 May 2014