Speech
Elizabeth Truss speech to the Norfolk Farming Conference
Speech delivered at the John Innes Centre in Norwich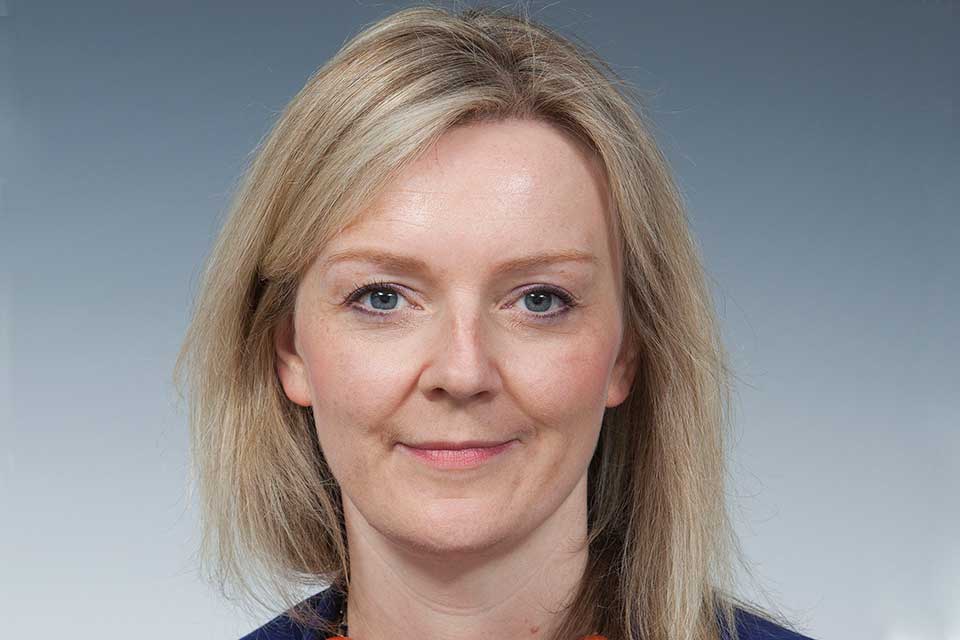 Thank you and particular thanks to Clarke Willis and to Anglia Farmers for organising this conference.
I have personal experience of just what superb work Anglia Farmers do and I was delighted a few years ago to work with Clarke on organising the Norfolk Food Festival in parliament, which brought some of the fantastic produce from this county to the people of Westminster, from Kettle Chips, Kinnerton Confectionery to smaller firms like Metfield Organic Bakery.
And I remember Clarke's hard work in trying to get the food through the House of Commons security and into the festival.
But it was a huge success and in particular Eric Pickles gave his thumbs up to Brays Cottage pork pies in the House of Commons as a result of that.
I think Anglia Farmers continues to go from strength to strength as an organisation.
And we couldn't be in a better place in my view to hold the Norfolk Farming Conference, here in this powerhouse of British food and farming research.
What happens here is vital to our future.
The John Innes Centre has been a world leader. It helped to create the dwarf grain crops that brought soaring yields and fed the world in the 1970s.
These days, they are working closely with the Sainsbury Laboratory, where researchers are developing tasty, blight-resistant potatoes that could save £3 billion worth of lost crops round the world each year.
The scientists here are part of a constellation of star researchers in the wider region.
There is Cefas in Lowestoft, which laid the foundations of modern fisheries science and is a world authority on fish stocks and aquaculture.
Around Cambridge, there is the Wellcome Trust Sanger Institute and the National Institute for Agricultural Botany.
And here in Norwich, the Institute of Food Research is studying how the bioactive compounds found in food can keep us healthy and prevent disease.
Science and technology are indispensable to unleashing our food producers so they can lead the world.
This is vital for Britain and for the British economy - because the whole food chain is worth more than £100 billion.
It is a core part of our long-term economic plan and it is vital to securing Britain's economic future.
Food is our biggest manufacturing sector, worth more than cars and aerospace combined.
My ambition is to ensure that what the Prime Minister recently called "this vital industry" brings even more value to Britain.
This government is determined to see the industry thrive rather than hold it back.
That's why we are challenging regulation to be at its best, chopping red tape while keeping standards high.
We have already cut 34,000 farm inspections a year. We have achieved that by doing sensible things like combining inspectors' visits and expanding earned recognition schemes.
We are on course to cut Defra guidance by 80% by the end of this parliament.
We are doing all this while maintaining standards of quality and environmental responsibility that are second to none.
I've taken our battle for better regulation to Brussels, which generates 80% of our environmental rules.
I talked to the new Commissioners as soon as they took office about the need to improve CAP and the need to ensure our farmers are able to drive jobs and growth.
When Commissioner Hogan visits later this month, I will be showing him some of our productive farms so he can see the implications of the three-crop rule for himself.
This is why I am writing to all of you to ask how this and the rest of the greening rules affect you.
We all know the three-crop rule is bureaucratic nonsense. I want farmers growing what the market demands, not what Brussels instructs.
We are on track with the rollout of the Rural Payments system. I am personally taking a close interest in this, as is the farming minister, George Eustice.
Across the country, nearly 35,500 out of around 87,000 expected claimants have registered as of yesterday, with around 2,000 more coming online each day.
You'll hear the detailed figures later on in Andrew Clark's presentation.
I strongly urge anyone who has not already registered to do so as soon as possible.
The earlier you register the easier the application process will be. You will be able to start building up your claim, checking the information we have about you and your land use and changing it if necessary.
We know the system is asking for a lot of information this year, but once you have supplied it, the process will be quicker in future years. I have been online myself, mapping ponds and hedges and it is as simple as it can be.
For farmers who do not have internet access or need other advice, we are providing 50 free support centres. You can ring the Rural Payments helpline on 03000 200 301 to book an appointment or for advice.
Anglia Farmers are among the other organisations ready to provide help.
To make sure this industry is world-beating, farmers must have access to the best science.
That's why I have been pressing the Commission about just how important it is for us that decisions on issues like pesticides and GM are made on the basis of the scientific evidence.
I have made it clear that we want far more of those decisions taken here in Britain for the benefit of British producers.
We cannot allow this country to be closed to its own scientific discoveries.
Science is also vital to protecting farmers from animal and plant diseases, with the devastation to businesses and the personal misery they bring.
None of my responsibilities is more important than ensuring security from disease.
That is why despite the necessary savings Defra has made, we have maintained the number of frontline vets and expanded our investigatory capacity.
We have bolstered this country's world-class capability researching and countering disease through organisations like the Animal and Plant Health Agency, which works on bovine TB.
We have a comprehensive strategy to fight this terrible disease.
It includes cattle movement controls, vaccination in the edge area and culling of badgers in areas where the disease where the disease is rife.
We are bringing TB under control - we will roll it back. We have the worst infection rate in Europe so this is not a quick job, but we will eradicate it by our target date of 2038.
We won't let up – we will do whatever it takes.
Because we back our farmers.
I particularly recognise how important it is right now that we back our dairy farmers.
Our dairy industry is internationally competitive with a positive future. But the sector was hit by price falls of 10 pence or more per litre last year because of volatile global markets.
I am working closely on this as I do not want this country lose capacity in such a key sector.
I've met dairy farmers in Cornwall, Somerset and Nottinghamshire as well as our own Ken Proctor in Norfolk.
To ease the immediate difficulties, we are working with HMRC, the banks and the RPA on practical steps to help with cashflow.
We have also laid regulations before parliament setting out the powers of the Groceries Code Adjudicator. She will be able to levy fines of up to 1% of a company's UK turnover.
It's also important we build resilience in the long term because volatility is not going to go away.
That could include a dairy futures market to help price stability and the creation of producer organisations to give farmers extra bargaining power.
And increasing exports to a wider and wider range of countries is going to be key to long-term resilience—for dairy farmers and for all our food producers.
We're fortunate that British produce has such a fantastic reputation for high quality and traceability to build on.
So I am working for our food and drink to be branded under the government's Great campaign, which is promoting British products and creativity around the world.
This government has put huge effort into international food diplomacy to increase exports beyond Europe. We've signed some 600 deals since 2010 to open new markets.
These have helped our food and drink exports go up 7% to £19 billion since 2010.
We recently opened five new pork markets, including India, where we finalised the agreement last month. We've opened parts of the Canadian poultry market and we're making strong progress opening the US to our beef.
We are making sure we are best placed to take advantage of rising incomes in China. It will be the world's biggest food import market by 2018.
That's why in January, I was in Beijing and Shanghai leading a food industry delegation with major players such as Cranswick, Tulip and Somerdale Cheese as well as smaller firms like Lizi's Granola – and industry bodies including the British Pig Executive.
We found huge enthusiasm for British products, which I am working to exploit to the full.
We made real progress on opening markets. I am anticipating that Chinese inspectors will arrive here in the near future to inspect our pig trotter production and to approve more plants for pork exports.
I signed a framework agreement to make it easier to export organic food and we have made progress on longer-term talks to open China to British barley, beef, lamb and chicken's feet.
We anticipate that the deals we're discussing with China on meat and animal products alone could unlock an extra £800 million of exports by 2020.
I have made building the relationship with China a strategic priority at Defra. We have appointed the first food and agriculture counsellor at the British embassy in Beijing, Karen Morgan.
I also used the visit to build much broader and deeper engagement with the Chinese government and I'm glad that Han Changfu, the Chinese agriculture minister, has accepted an invitation to visit Britain to see our farms, food businesses and world-leading research centres.
The competition is fierce. That's why it's so important we are acting now with China to make sure our food businesses can get ahead of that competition.
Exports are a huge opportunity, but I want to see much more British food on the shelves at home too, food that says proudly it is produced in Britain.
Consumers here want to buy British, research has repeatedly shown this. But just 60% of the food we eat here is produced here, that compares with 74% 20 years ago.
That's why we are making it easier for shoppers to know they are buying British. From April, pork, lamb and poultry will have to show the country where they were reared and slaughtered. And I am pushing in Brussels for country of origin labelling on milk and dairy products.
The government is setting an example. We are implementing the Bonfield report, which opens up a potential £400m of new business in the public sector by making it easier for schools, hospitals and canteens to buy high-quality local food, rather than just going for the cheapest.
We are also backing local food. There is a great resurgence of pride in this country about our unique heritage of local food and drink.
Nowhere is that truer than in Norfolk - it's one of the reasons why I am hugely proud to represent this county in parliament.
We've got Cromer crabs, exported round the world.
The Norfolk Peer potato, grown by Heygate Farms of Swaffham, one of the superb food and farming businesses in my constituency.
Norfolk black pigs.
Traditional Norfolk poultry.
Great cheese - like Mrs Temple's Binham Blue.
But you know what–Norfolk does not have a single Protected Food Name it can call its own.
I mean no disrespect to Fenland celery, the protected food which this county shares with Cambridgeshire and Suffolk. As Delia Smith says: "The flavour is exceptional, particularly after a light frost, when it is sweetest of all".
But Cornwall has six protected food names, Kent and Yorkshire three each. The producers there now have the sales advantage of this scheme which gives legal safeguards against outside imitators.
Studies have shown that it can fetch higher prices than similar food that has no protected status and it is a great mark of quality for the export market.
I am going to be launching a campaign with the Eastern Daily Press for more Norfolk food and drink producers to come forward and apply.
No county merits it more than this, the cradle of the agricultural revolution.
In the 18th century, if you wanted to be at the cutting edge of world economic development, you would join the throng at Coke of Norfolk's three-day sheep shearing competitions and tour the Holkham fields to discuss crop rotation, seed drilling and the latest in animal breeding and wheat cultivation.
Coke's pioneering spirit thrives today, and Holkham has introduced the newest six-course rotation under its award-winning director of farming, Poul Hovesen.
It was thanks to Norfolk that Britain could feed its booming population, and those lessons have a valuable resonance today, with worldwide demand for food forecast to grow 60% by 2050. The food innovation we have seen for hundreds of years and still see in Norfolk today sends a clear message–farming is not an optional extra for Britain.
Three quarters of our land is used for farming, so it is central to our national and local identity. And noone has a more important role than farmers in making sure we have a healthy, thriving natural environment.
With access to the best science and technology, our food producers will lead the world. This government recognises just how indispensable farmers, farming and food production are to this country.
Just today, the Chancellor announced that we are creating 11 new Food Enterprise Zones, they will act as hubs for local food and farming businesses, supporting growth in the supply chain.
We are grateful for what you do for Britain.
We have backed farming and I am going to make sure it stays right where it belongs–at the heart of our decisions about this country's future.
Published 13 February 2015