Oral statement to Parliament
Ebola outbreak: An update on the UK's response in West Africa
Development Secretary Justine Greening gave an update to the House of Commons on Britain's work to beat Ebola in Sierra Leone and beyond.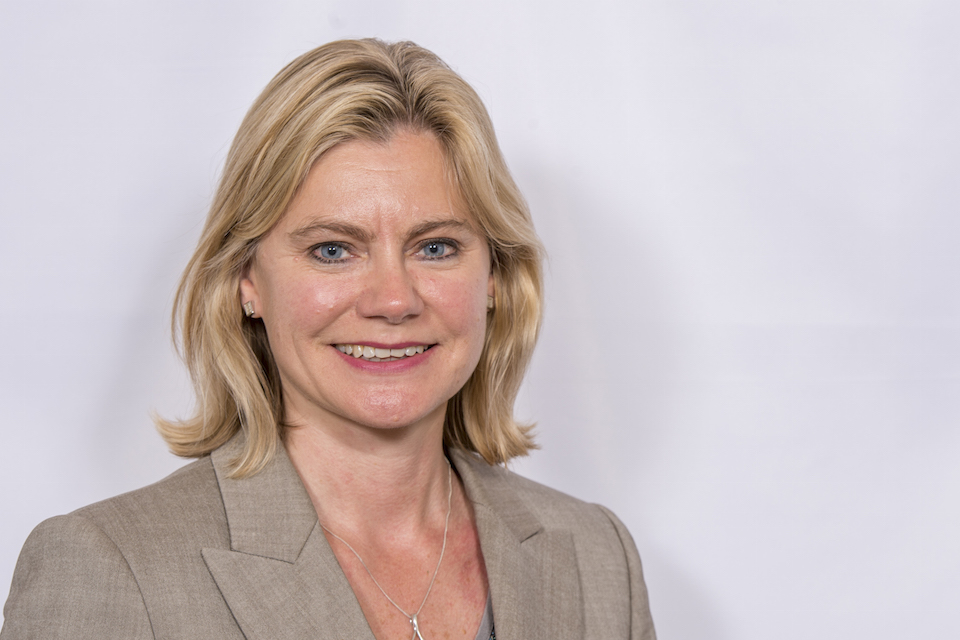 With permission, Mr. Speaker, I would like to update the House on the Ebola outbreak in West Africa.
First, I would like to refer the House to yesterday's statement from Public Health England which confirmed that a military healthcare worker has tested positive and is being flown back and will shortly be in the Royal Free Hospital in London. Our thoughts are with her and her family at this time.
We are also assessing 4 other military healthcare workers, who had been in close contact with the patient. This is a purely precautionary move.
Our Armed Forces, our health workers, our diplomatic and my development staff are risking their lives to help Sierra Leone defeat this terrible disease and stop it spreading beyond West Africa. It is vitally important we do it. Halting the rise of the disease in West Africa is by far the most effective way of preventing Ebola infecting people in the UK and we indebted to those UK personnel for their efforts. Their commitment and their bravery has been outstanding.
Domestic preparedness
As my Rt Hon Friend, the Member for South West Surrey has said previously, the UK remains well placed to respond to this threat. The Chief Medical Officer confirms the risk to the UK remains low. An enormous amount of work has gone into making sure we are prepared in the UK now and in the future. The NHS has world leading infection control procedures. And we have put in place robust screening and monitoring arrangements to detect and isolate cases at home.
UK efforts in bringing down transmission
A few weeks ago I returned from my third visit to Sierra Leone in 5 months. In that time there have been significant improvements. The number of cases per week has reduced from well over 500 in November to less than 60 now.
Our strategy is working, and President Koroma and others have thanked the UK government and the UK public for their critical and unwavering support.
I am extremely proud that Britain's support means there are now enough Ebola beds, testing labs, trained burial teams and an effective command and control structure to track down the disease across Sierra Leone and stop it spreading further.
The challenge now is to get to zero cases as quickly as possible. That is not going to be easy. We are looking at months not weeks till the end of this crisis.
But we have the right people and the right plan in place to deal with this. The UK will continue to provide critical support to this response, particularly in the health sector where we will help Sierra Leone tackle future disease outbreaks. We will hold our nerve and stay the course.
This ongoing package of support will now bring our total commitment to this response and the country's early recovery to £427 million.
UK Response – changes, but staying the course
The UK response will change as we transition into the next phase. After 6 months on station RFA Argus will sail as previously planned by the end of this month having provided critical support to military and civilian volunteers on the ground. We will maintain the healthcare capabilities she has provided through continued UK military support at an enhanced MOD clinic in Freetown. Her helicopter capabilities will be replaced by commercial providers. Military personnel will also continue to play an important role at the dedicated Kerry Town Ebola Treatment Facility for healthcare workers and in supporting our Sierra Leonean partners with command and control, to respond to district level outbreaks.
Although the last planned deployment of NHS staff is due to end this month, we are mindful of further spikes in the caseload. To this end we have arranged for an NHS stand-by team to be on call to deploy within 48 hours. Throughout this response the cooperation of the NHS, the NHS Trusts and Public Health England has been tremendous both in Sierra Leone and at home. Over 150 NHS staff have so far been deployed to fight Ebola. This is testament to the superb flexibility of its staff at all levels.
Our support through Public Health England on labs will continue, as testing capacity is vital to the continued effort.
Recovery
We are also planning for recovery. The Ebola crisis has disrupted markets and access to food and other essentials for many families. It has put an enormous strain on the country's health care system and it has caused a generation of children to miss nearly a year of school.
For too many children, the Ebola crisis has resulted in a breakdown of family and community protection systems. Over 9,000 children are registered as having lost one or both parents in this crisis. They are vulnerable to neglect, abuse and exploitation.
Continued leadership from the governments in the region will be crucial to maintain the momentum. I welcome President Koroma's leadership, and clear message that there can be no half victories. We will work with the government of Sierra Leone to re-open schools and hospitals safely, and ensure those most at risk and stigma, including orphans, have the support they need.
International support
Throughout the response, we have received critical support from international partners to help us staff treatment centres and labs across the country.
I was in Brussels last week to ensure that the international community remains engaged - first to defeat Ebola, and then to help Sierra Leone and the countries of the region back onto a path to sustainable recovery.
The international community must also learn lessons from this outbreak and together with the governments of the affected countries build a more resilient system for the future. We must do everything we can to ensure that a crisis of this nature never happens again.
Conclusion
In conclusion Mr Speaker, the UK did not stand on the side-lines when Sierra Leone needed us, and our strategy has saved thousands of lives and protected millions more around the world.
This response – though far from over – has shown the very best of what the UK can do overseas. I am incredibly proud of the way that we have stepped up to this challenge, and delivered in the toughest of circumstances. And so I am pleased to confirm that Her Majesty has agreed to honour this tremendous effort with the striking of a medal.
I commend this statement to the House.
Published 12 March 2015