Speech
#ChooseCycling manifesto launch
Speech regarding the goals, myths, investment and plans for cycling in the United Kingdom by Robert Goodwill.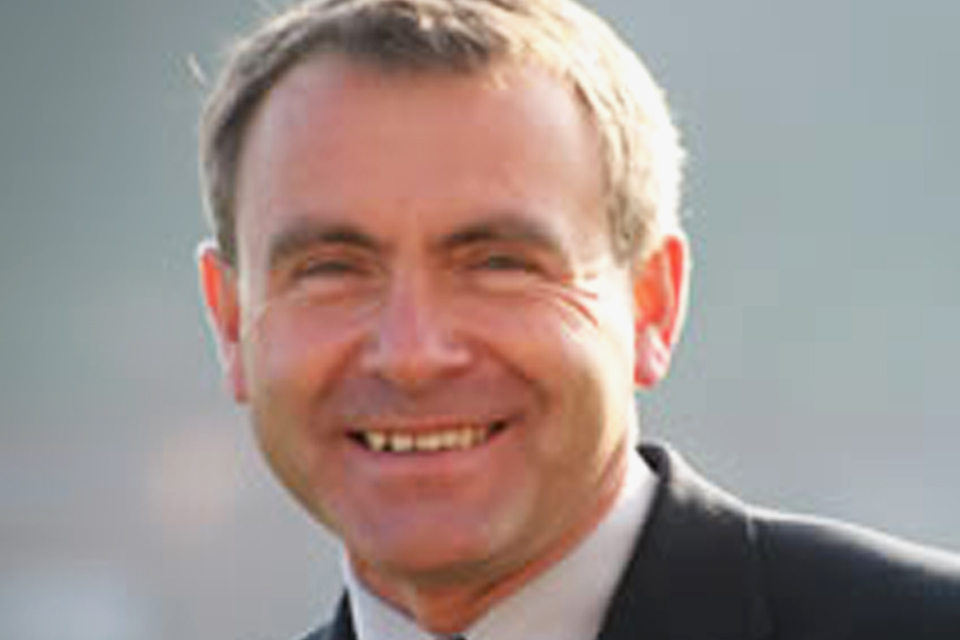 I was delighted to be invited to speak at today's (10 February 2014) event.
I would like to thank British Cycling for inviting me to speak today (10 February 2014) and for their ongoing support to the department.
And I am particularly pleased to have this opportunity to thank Chris [Boardman] for his tireless commitment and support for cycling.
I don't think many other than British Olympians and our Tour riders have done more to put bicycles on the front page - perhaps with the exception of Andrew Mitchell.
The Prime Minister said that he wants to see a cycling revolution in this country.
And like any successful revolution, that means we need to win people's hearts and minds.
To do so, we all need to tackle a number of the little misconceptions that are out there. Like:
There's no such thing as a parking lane.
There's no such thing as road tax.
Not all cyclists jump red lights.
And cyclists are not responsible for inflicting serious injuries on large numbers of pedestrians.
But there are some higher level arguments that need to be won if we're going to get everyone to choose cycling.
The first is about what actually being 'a cyclist' actually means.
I read a quote from the great Eddy Merckx recently.
In it he said:
I am certain that the bicycle will once more become a means of transport and not just an object of leisure.
That's the point I was making when I said we need more 'everyday' riders.
Because the fact is that when many people hear the word cyclist they imagine a young man on an expensive carbon fibre frame.
Now I cycle pretty much everyday in London - and that's certainly not me.
The majority of journeys in this country are under 5 miles long yet about half of these are made by car.
They don't need to be.
But for significantly more people to choose to go by bike, cycling needs to feel like it is something for everyone.
To use Eddy's words it needs to be a normal mode of transport.
As normal as walking.
And to get more everyday riders, we need to build a broad consensus behind cycling.
That means we have to tackle a second big misconception.
We need to puncture the myth that drivers and cyclists are in constant conflict.
For example, I read a typically tongue-in-cheek piece by Jeremy Clarkson earlier this year.
In the article, he described his rage at being stuck behind a slow moving cyclist on a wide boulevard in London.
I'm not sure he meant to, but I think he made the case for cycle lanes in a nutshell.
89% of delays are caused by traffic congestion in urban areas.
Good cycle lanes on wide roads benefit everyone.
Faster cars aren't in conflict with slower moving bikes.
Cyclists don't come into conflict with pedestrians.
And investment that helps encourage more people to get out of their car and onto their bike means less congestion on the roads for everyone else.
I know Edmund King is speaking later, and I'd like to take this opportunity to thank the AA for all they do to get this important message across.
Finally, we need to tackle the perception that cycling is inherently unsafe.
118 cyclists were killed in 2012.
Any death on our roads is one too many – and part of the reason we are improving cycling infrastructure is to help more people feel safer on their bike.
I know there are too many deaths and life-changing injuries involving HGVs.
We have launched the Industrial HGV Task Force in London.
Police and DVSA inspectors are targeting the worst cases and take co-ordinated action
We are reviewing exemptions to some of the current HGV safety regulations.
You might have heard the suggestion that we are blocking efforts by the EU to improve safety.
That's not quite right. (That is nonsense).
We actually want regulations that will improve the driver's view around their HGV.
And we want these to be implemented from June this year.
But we've got to use the right tool for the job. Which is where I think we have drawn some criticism.
But we are determined to continue to improve safety.
I know LGA are keen for us to go further, faster on the extra powers in Part 6 of the Traffic Management Act.
I understand their concern. But we need to build the evidence base to do so.
We are working in close partnership with TfL to on what's happening in the capital.
That will mean we can explain why the change is needed elsewhere and what the benefits of doing so are.
We want to see a cycling revolution so we have invested £278 million in cycling. And there are also almost 100 more schemes being delivered by councils through the Local Sustainable Transport fund.
This year more children than ever will benefit from 'Bikeability' training - with almost three quarters of a million more to come over the next 2 years.
Overall, we have doubled the investment in cycling compared to the last administration.
The Highways Agency have already committed £15 million for cycle improvement schemes next year.
Schemes on the national road network that will improve safety and put right problems that badly designed road building has created for cyclists.
The Highways Agency will also be announcing later today (10 February 2014) that works will commence shortly on a number of cycle proofing schemes, and I can confirm that work will start today (10 February 2014) to cycle proof the A30 in Ashford.
We will continue to work with you – including British cycling - to ensure we are targeting the money in the right places, and delivering schemes that are high quality and that make a real difference.
But we want to see even more being done across the country.
And if we want to get more people cycling, getting the message across to your local council is vital.
They are responsible for speed limits on local roads and the planning permission needed for cycle lanes and other improvements.
For example, in London, local councils are responsible for around 90% of the roads.
So we need councils to up their game and deliver infrastructure that takes cycling into account from the start.
We have already taken a number of steps to help local authorities do more.
For example, we have made it simpler to put in place 20mph limits and zones and to install contra-flow cycling.
And we'll use the new traffic signs regulation that will be launched later this year to make it even simpler for councils to make improvements.
But councils need to decide to get on and deliver.
I want to help encourage them to do so.
So, last month, we issued a document to start a discussion on improving highways maintenance funding, including for cycling and walking.
We asked whether around £50 million a year should be held back to encourage better cycleway and footpath maintenance.
If you want to find out more, roadshows are running across the country during February.
And we are also running a survey, until 2 March.
All comments and responses will be considered, so I encourage you to get involved.
So, in conclusion, I welcome publication of today's (10 February 2014) manifesto.
We all want to see more people choose cycling.
We want it to be something everyone sees as the easiest way of getting about locally.
We want to build on the legacy of London 2012. Lord Coe is taking a keen personal interest in ensuring we do so and that includes helping people get on their bikes.
We want to work with you and with councils to make that happen.
Thank you.
Published 10 February 2014