News story
New Bikeability support contract signifies government commitment
New contract to provide day-to-day Bikeability support services announced.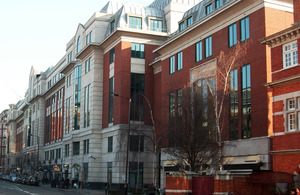 The Department for Transport (DfT) is today (9 September 2011) pleased to announce a new contract to provide day to day Bikeability support services. This follows a commitment given earlier this year by the DfT to support and provide funding contributions for Bikeability for the remainder of the parliament.
£11 million has been made available for cycle training during financial year 2011-12. This is helping to deliver up to 275,000 cycle training places to school children aged between 10-11.
Transport consultancy firm, Steer Davies Gleave, have won a competitive tender process to manage the day to day running of the Bikeability programme. Previously this work was shared between four different contracts. Using a single supplier to provide support will save an estimated £1.2 million over the next 3 and a half years.
Transport Minister, Norman Baker, said:
This government is strongly committed to cycling. Enabling children to learn to cycle safely and confidently on today's roads plays a valuable role in creating a new generation of cyclists. That is why we took the decision to safeguard the future of Bikeability with the aim of giving as many children as possible the opportunity to take part in Bikeability cycle training.

Bikeability promotes the benefits of cycling as a healthy and enjoyable way of getting around. On a wider level it helps to reduce congestion, gives children more opportunities for exercise, and plays a part in the fight against climate change.
The rules for local highway authorities and school games organiser host schools (formally School sports partnerships) who receive Bikeability grants are also being changed to allow more flexibility of grant use. Examples include offering training to a greater age range. Currently training is aimed at year six school children but the changes mean that children ranging between school years 5-9 (aged 9-14) will now get the opportunity. Grant recipients will also be able to consider offering the more advanced Level three training. This covers complex road situations to support children cycling in busier areas.
Peter Zanzottera, Bikeability Support Manager, said:
Steer Davies is proud to be associated with Bikeability as we have been since it started in 2007. With this new contract we offer continuity to all of the stakeholders, parents and children and we anticipate new products and initiatives to swell the numbers of new cyclists.
Further information
Funds for the support services are worth £2.1 million over 3.5 years subject to contract extensions. Their responsibilities will include providing specialist advice to DfT, making grant payments and looking after all materials associated with the scheme.
Four companies were invited to tender, one later withdrew leaving three suppliers who submitted bids to the department.
Bids were assessed in accordance with the Public Contracts Regulation 2006.
Steer Davies Gleave was contracted to run the Bikeability support service from November 2008 to September 2011. Before that the company was contracted to develop the service and to help local authorities and school sports partnerships apply for grant funding from the DfT. The company has also run a parallel contract to administer and develop the National Standard for cycle training which underpins Bikeability.
Full details of the changes to the grant rules will be released to grant bidders later this year.
News desk enquiries
Media enquiries 020 7944 3021
Out of hours media enquiries 020 7944 4292
Switchboard 0300 330 3000
Published 9 September 2011