Policy paper
6. Digital government - maintaining the UK government as a world leader in serving its citizens online
Published 1 March 2017
© Crown copyright 2017
This publication is licensed under the terms of the Open Government Licence v3.0 except where otherwise stated. To view this licence, visit nationalarchives.gov.uk/doc/open-government-licence/version/3 or write to the Information Policy Team, The National Archives, Kew, London TW9 4DU, or email: psi@nationalarchives.gsi.gov.uk.
Where we have identified any third party copyright information you will need to obtain permission from the copyright holders concerned.
This publication is available at https://www.gov.uk/government/publications/uk-digital-strategy/6-digital-government-maintaining-the-uk-government-as-a-world-leader-in-serving-its-citizens-online
From personalised services in health and safer care for the elderly at home, to tailored learning in education and access to culture – the tools, techniques, technology and approaches of the internet age give us greater opportunities than ever before to improve services. They will give us all more choice, control and information on how and when public services are accessed.
The UK has already made good progress and the UN has recognised the UK as the world leader in digital government.1 In the annex to this strategy we give examples from right across government of how we are using digital to improve services. But we want to go further and faster. We want to serve the citizens and businesses of the UK with a better, more coherent experience when using government services online – one that meets the raised expectations set by the many other digital services and tools they use every day.
Central to this is building the capability of government to not only design, develop and operate modern digital public services but also to transform old government infrastructure. Through this we will make government a digital organisation that is more responsive to our users' needs. The Government Transformation Strategy, published on 9 February 2017, sets out in detail how we will do this.
Our approach
Since the publication of the 2012 Government Digital Strategy, we have made significant progress in building online services. However, we can still do more to build 'online services so good people prefer to use them' – the ambition of that strategy. Based on what we have learned, there is a cross-government consensus on how the scope of service transformation must expand. It must:
recognise that government delivers services through a variety of channels (including online, telephone and face-to-face)
broaden the definition of users, for example to reflect that some users will interact with government through third-party services that use government APIs (application programming interfaces)
cover the internal workings of departments as well as the services they offer to users
The government has the following areas of priority for citizen-facing digital transformation this Parliament:
design and deliver joined-up, end-to-end services
deliver the major transformation programmes
establish a whole-government approach to transformation, laying the ground for broader transformation across the public sector
Departments and agencies will keep working to radically improve the user experience of government services by building digital services that meet the Digital Service Standard. The Government Digital Service (GDS) will lead three major areas of work to help departments meet the priorities for this Parliament.
First, we will accelerate the pace and scale of transformation by avoiding duplicated development of solutions, developing new digitally native business processes and focusing on the specific challenges of legacy contract exit and transformation. We will do this in a way that is secure, with privacy and security considerations throughout the design and deployment of every component and platform.
Second, we will build on the Government as a Platform concept, ensuring we make greater reuse of platforms and components across government. We will also continue to move towards common technology, ensuring that where it is right we are consuming commodity hardware or cloud-based software instead of building something that is needlessly government specific. Common components and platforms will cover both citizen-facing services and internal public sector technology.
And third, we will work towards having a range of reusable components to make it quick, cheap and easy to assemble digital services. These will be a mixture of government-built components, both from departments and the Government Digital Service, and common components that government can procure based on open standards.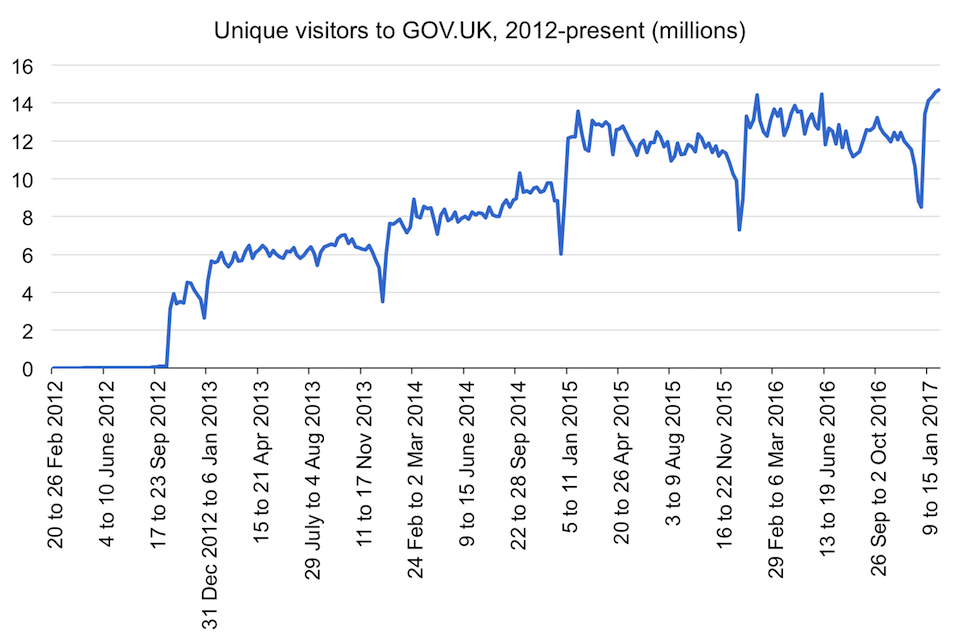 Digital Civil Service
The right culture
Since 2012, many more digital, data and technology specialists have been recruited across government, improving government's technical capability significantly. The challenge now is to continue to attract, recruit and retain specialists in a very competitive marketplace.
In particular, we want to evolve our culture by:
embedding digital skills throughout government, including by taking advantage of Microsoft's commitment to provide digital skills training for 30,000 public servants
making sure digital experts understand government
making sure that civil servants of other professions understand digital
strengthening our leaders' skills in agile project and programme management
establishing better ways to develop policy and deliver services in tandem – using an agile approach to iterate rapidly
Our ambition is to have one of the most digitally skilled populations of civil servants in the world, delivering the Civil Service vision to be 'A Brilliant Civil Service'.
We will do this by:
growing the digital, data and technology (DDaT) profession in government, including developing consistent career paths and reward structures
building the best possible learning and development opportunities for DDaT professionals through the Digital Academy
building government's data science capability through the Data Science Campus and Data Science Accelerator training programme
making government a leader in attracting a diverse workforce for digital, data and technology roles
We also want to collaborate with business, academia and the social sector to accelerate digital innovation in government. To do this we will establish a new Digital Government Partnership that deepens collaboration with external partners, including by inviting outside experts into government as Technology Fellows to help policy-makers:
think about how government should respond to the rapidly evolving digital landscape
generate analysis and ideas to inform current policy
experiment with emerging technologies, such as distributed ledgers and machine learning
The Partnership is being overseen by Cabinet Office's new Open Innovation Team, who aim to launch it by summer 2017.
The right workplace
A digital government does not just deliver excellent public services for its users. It creates the right environment for world-class public service by having the right digital tools, technology, governance and processes. Today there is wide diversity across government organisations in both the daily technology used by civil servants and its sourcing (both commercial and procurement).
We will create an empowering workplace by:
making sure government buildings have common, interoperable technology and that the design and use of space helps to create a culture of open, digitally enabled policy-making and service delivery
giving public servants the right, location-independent tools to do their jobs
Building on the Digital Marketplace's approach, we will embed user-centred, design-led, data-driven and open approaches in procurement and contracting across government by 2020.
Government digital products
GOV.UK Verify
One of the most important and challenging aspects of delivering transformed online services is identity assurance – establishing that the user is who they say they are and not someone pretending to be them. GOV.UK Verify, the government's online identity verification service, went live in May 2016 and delivers a federated, market-based approach to identity assurance for central government that can be reused in the wider public and private sectors.
We will continue to enable individuals to prove their identity online and to access government services securely and safely. We will help protect against the growing threat of online identity fraud.
To achieve this, we will:
work towards 25 million people having a GOV.UK Verify account by the end of 2020
continue a series of pilots for local authority and private sector services during 2017 to understand the user need and the commercial and legal basis for allowing people to use their GOV.UK Verify accounts to access services in those sectors
continue to work with industry and GOV.UK Verify certified companies to expand the range of ways people can prove their identity online
work with the Open Identity Exchange to further explore the role of secure, trustworthy digital identities and benefit from market innovation in that field
GDS will help departments use the identity assurance capabilities provided by GOV.UK Verify along with other cyber security techniques to make sure that government transactions can be completed wholly electronically.
We will also work across government to determine the best next steps for other forms of identity (such as verification of intermediaries and businesses) and which parts of government would be best placed to lead on this.
GOV.UK Pay
The government receives millions of online payments every day. We want people to have the option to pay digitally for public services. We are committed to offering users who pay for public services online an experience as good as any they might expect from leading online businesses.
GOV.UK Pay took its first payment on 2 September 2016. GOV.UK Pay makes it easy for people to pay government securely online, reducing the time and hassle of doing business with government and removing the need for the government to buy or build payment systems multiple times. We aim to increase its scope over time, so that citizens can pay for services using a wide range of payment types (such as cards, Direct Debit and e-wallets).
GOV.UK Notify
The government receives millions of calls every year from people anxious to find out the progress of an application, or to check if a payment has been received. We want to avoid people needing to call government and to reduce the amount that government spends on contact centres. We want to transform the way citizens communicate with government.
GOV.UK Notify sent its first messages on 18 July 2016, making it easier for service teams across government to keep people updated through text messages, emails or letters.