Medicines and Healthcare products Regulatory Agency privacy notice
Updated 11 February 2022
At the Medicines and Healthcare products Regulatory Agency (the Agency) we are committed to protecting and respecting your privacy.
This privacy notice describes how we collect and use your personal data, in accordance with the Data Protection Act 2018 and the UK General Data Protection Regulation (UK GDPR) 2016/279.
This privacy notice applies to anyone (except staff) whose personal data we might process, for example, members of the public, manufacturers, wholesalers, and other authorities.
If you work for the Agency, please refer to our intranet for details of how we process your personal data – ex-members of staff should contact: dataprotection@mhra.gov.uk.
1.

Who are we?

The Medicines and Healthcare products Regulatory Agency (the Agency) is an executive agency of the Department for Health and Social Care (DHSC). DHSC and its executive agencies are a single legal entity (controller) for data protection purposes.

Further information about DHSC and the Agency and its three centres.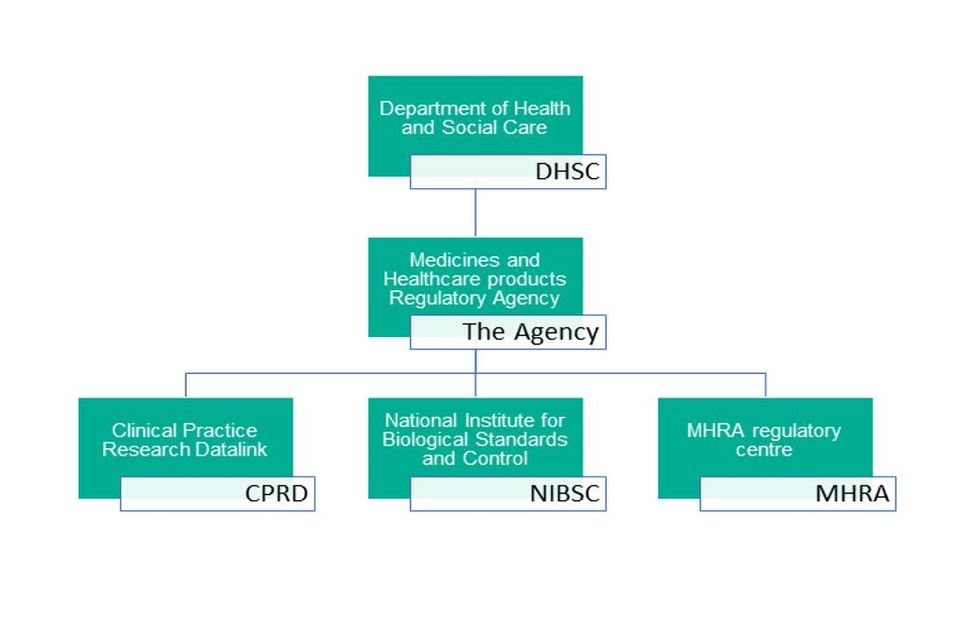 The MHRA regulatory centre complies with the national data opt-out, for more information please see the NHS Data Matters webpage.
Please note: CPRD have separate privacy notices that you can read on their website.
2.

Contact our Data Protection Officer

If you have queries about how the Agency protects and uses your personal data, please contact dataprotection@mhra.gov.uk in the first instance. You may also contact the DHSC Data Protection Officer at data_protection@dhsc.gov.uk.

Alternatively, you can contact us in writing:

Data Protection Officer
MHRA
10 South Colonnade
London
E14 4PU


Or

Data Protection Officer
DHSC
1st Floor North
39 Victoria Street
London
SW1H 0EU

3.

Our commitment to you

Whenever we process personal data we will ensure that we comply with the data protection principles, so that your personal data is:
processed fairly, lawfully and transparently
processed for the legitimate purposes we tell you about
adequate, relevant and limited to what is necessary
accurate and kept up to date where necessary
kept no longer than necessary for the purpose
processed securely – we will put in place appropriate technical and organisational measures to safeguard your data
We will also:
seek your consent before making your personal data available for commercial use
make sure we have appropriate consent before offering information services to a child under 13 years of age
let you know beforehand if we want to use your data for a different purpose
4.

Who do we collect personal data from?

We process personal data about:
members of the public
employees and formers employees
customers and clients
advisers, consultants and other professional experts
suppliers and service providers
complainants and enquirers
holders of public office
applicants to committees
members of advisory groups and committees
legal representatives
academics and researchers
health and care professionals
manufacturers and wholesalers of medicines and devices
pharmaceutical and scientific organisations
applicants for permits, licenses, certificate and permit holders
5.

Why do we process your personal data?

We need your personal data to fulfil our regulatory functions to ensure that medicines, biological medicines and medical devices are safe, effective and of a high quality; answer your queries and continue to monitor and improve our services.

We collect your personal data when you use the Agency's website or contact us through other channels.

We may use your data to:
conduct our regulatory and scientific functions
process general enquiries and requests for information (e.g. FOI)
respond to complaints
promote our policies, procedures, and services to the public
conduct online surveys and gain feedback to improve our services
fulfil our contractual obligations
6.

What types of personal data do we process?

Personal data refers to any information relating to an identified living individual; or someone who could be identified by the combination of data we hold about them.

We collect, store, and use the following categories of personal data:
personal contact details, such as your name, title, job title, address(es), telephone numbers, and email address
dates of birth
sex or gender
passport details; number, address, name
General Practitioner contact details
CVs and cover letters
educational/professional qualifications
bank details
IP address and location
We also process more sensitive types of personal data (also known as 'special category data'):
racial or ethnic origin
political opinions, religious or philosophical beliefs
genetic data or biometric data
trade union membership
health information
sexual orientation or sex life
criminal convictions and offences
7.

Lawful basis for processing your personal data

We primarily process personal data where it is necessary for the effective performance of a task carried out in the public interest. There are six legal bases for processing that might apply, depending on the context. These are:
consent
contract
legal obligation
to protect someone's life
public task
legitimate interests
These provisions are set out in Article 6 of the UK GDPR.
In limited circumstances we may rely on your consent to process your data. Where this is the case, you have the right to withdraw your consent, by contacting the Agency's Data Protection Officer (see below).
8.

Your rights

Data protection law gives you certain rights when we process your personal data. Some of these are restricted - how they apply depends upon the Agency's legal basis in processing your data, and the context. The rights are to:
be told that we are processing your data and why
receive a copy of your data (subject access)
ask for your data to be corrected
ask us to erase your data
restrict processing
data portability
object to the processing
be told if we use automated decision making or profiling
If you would like to find out more about your rights, please contact our Data Protection Officer at dataprotection@mhra.gov.uk.
9.

Subject access request

The UK GDPR gives you the right to obtain a copy of your personal data, as well as other supplementary information. This is known as a subject access request (SAR).

To find out if we hold your personal data, or to access it please email: dataprotection@mhra.gov.uk.

We will need evidence of your identity before searching our records; and will respond within one month of receiving this. If we need extra time, we will inform you within the month.
10.

Disclosing your data (3rd parties)

We sometimes need to share the personal data we control (and our data processors may also share information) with other organisations. Where this is necessary we are required to comply with all aspects of data protection legislation. What follows is a description of the types of organisations we may need to share personal data we process for one or more reasons. Where necessary, required and within the law, we may share data with:
other Government departments
credit reference agencies
suppliers and service providers
debt collection and tracing agencies/ organisations
financial organisations
devolved Government departments
health and care organisations
trade, employer associations and professional bodies
other statutory law enforcement agencies and investigative bodies
health, social and welfare advisers or practitioners
survey and research organisations
police forces and other law enforcement organisations
the Government Internal Audit Agency and other auditors as required
the Civil Service Commission
the Advisory Committee on Business Appointments
the Office of the Commissioner for Public Appointments
other regulators such as the Information Commissioner's Office
Her Majesty's Revenue & Customs (HMRC)
Trading Standards
Serious Adverse Blood Reactions and Events (SABRE)
Serious Hazards of Transfusion (SHOT)
AGE (pre-employment)
European Medicines Agency (EMA)
NHS Improvement and Care Quality Commission
Device Registrations (Device Online Registration System)
device manufacturers
pharmaceutical and scientific companies and organisations
We use third-party processors who provide services for us. We have contracts in place with our processors. This means that they cannot do anything with your personal data unless we have instructed them to do so. They will not share your personal data with any organisation apart from us.
They will hold it securely and retain it for the period we instruct. Where our processors are based outside the UK, we have arrangements in place that comply with the requirements of Chapter V of the UK GDPR.
11.

Retention of your data

We keep your personal data for no longer than necessary to fulfil our purpose in processing it.
12.

Changes to the terms of this privacy notice

We will update this privacy notice when applicable. If any change would result in us processing your personal data for a new purpose, we would inform you before we start using it for a new purpose.
13.

Other websites

View the Department of Health and Social Care's (DHSC) privacy notice
14.

The Information Commissioner's Office

For independent advice about data protection, privacy and data sharing issues you can contact the independent Information Commissioner's Office at:

Wycliffe House
Water Lane
Wilmslow
Cheshire
SK9 5AF


Tel: 0303 123 1113