Joint working between Border Force and the NCA stopped huge cocaine haul.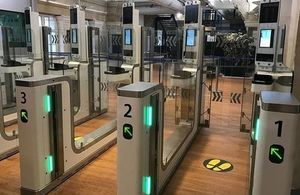 The British Ambassador to France and the Director General of Border Force opened the UK's first overseas ePassport gates on 2 March 2017.
updated
Promotional material

published
Promotional material
What we do
Border Force is a law enforcement command within the Home Office. We secure the UK border by carrying out immigration and customs controls for people and goods entering the UK.
BF is part of the Home Office.
Documents
Our management
Director General, Border Force
Contact BF
Border Force Complaints and Correspondence Team
Lunar House
11th floor Long Corridor
40 Wellesley Road
Croydon
CR9 2BY
Report an immigration crime
In an emergency, dial 999 and ask for the police.
Corporate information
Jobs and contracts