News story
Women on Boards – an open letter to business
Lord Davies and the Women on Boards review team call on businesses to make sure that women are taking their rightful seat in the boardroom.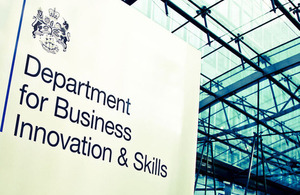 Equality and fairness in the workplace should be running from the shopfloor to the boardroom. Two years ago I was asked to address the issue of the latter. My report in 2011 looked to address the reasons why there were low numbers of females reaching the boardroom and what we could do to tackle this.
We identified a number of barriers and my report recommended a voluntary business-led approach to change this culture. The second annual update of this report and the evidence shows that real improvements are being seen.
The whole Women on Boards agenda has never been just an equality issue – it makes level-headed business sense. Well-balanced boardrooms bring fresh ideas, talent and experience which in turn lead to better decision making. All of which leads to greater productivity of UK plc.
Our second annual report shows that women now account for 17.3% of FTSE 100 and 13.2% of FTSE 250 board directors up from 12.5% and 7.8% respectively in February 2011 - an increase of nearly 40%.
Only six all-male boards remain in the FTSE 100, down from 21 in 2010. Nearly four out of ten appointments to the FTSE 350 are female at the moment. Furthermore, according to Cranfield University, the FTSE 100 is on track to achieve 25% women on boards by 2015 and 34.4% by 2020. This will only happen if the momentum is maintained, and women are appointed to one third of all new appointments.
These are very positive steps. But we should not be complacent of the progress being made. This can only be achieved by maintaining the current momentum and pace of change.
And this change should come from business themselves rather than regulation or quotas from Europe. As our annual report shows a self-regulatory model is the best approach for the UK.
We are calling on businesses to build on the progress to date and make sure that women are taking their rightful seat in the boardroom.
To compete in the fast-moving global economy, businesses need to use the skills of the best individuals they can. And ultimately, improving the performance of UK companies will mean stronger economic growth for the country.
Lord Davies of Abersoch
Professor Susan Vinnicombe
Denise Wilson
Sir John Parker
Amanda MacKenzie
Dominic Casserley
(Members of Women on Boards Steering Group)
Published 11 April 2013