News story
What is the G7?
From:

Part of:

Published:

9 May 2013
This was published under the 2010 to 2015 Conservative and Liberal Democrat coalition government
The Group of Seven (G7) is an informal forum of countries representing around half of global economic output.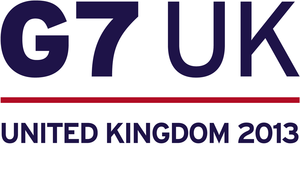 The group has met regularly since 1976 to discuss key issues related to global economic stability.
The G7 comprises Finance Ministers and Central Bank Governors of 7 countries: Canada, France, Germany, Italy, Japan, the United Kingdom and the United States of America. Representatives of the European Union, including the EU Presidency and European Central Bank, as well as heads of international financial institutions also regularly attend.
This year the UK has assumed the Presidency of the G7 and will host a meeting of Finance Ministers and Central Bank Governors on Friday 10 May and Saturday 11 May. The representatives attending the meeting are shown in the tables below.
G7 representatives
| Country | Finance Minister | Central Bank Governors |
| --- | --- | --- |
| UK | RT Hon George Osborne MP, Chancellor of the Exchequer | Mervyn King, Governor of the Bank of England |
| Canada | Jim Flaherty, Finance Minister | Mark Carney, Governor or the Bank of Canada |
| USA | Jack Lew, Secretary of the Treasury | Janet L. Yellen, Vice Chair of the Board of Governors of the Federal Reserve |
| Italy | Fabrizio Saccomanni, Economy and Finance Minister | Ignazio Visco, Governor of Banca d'Italia |
| Germany | Wolfgang Schäuble, Federal Minister of Finance | Jens Weidmann, President of Deutsche Bundesbank |
| France | Pierre Moscovici, Minister of the Economy, Finance and Employment | Christian Noyer, Governor of the Banque de France |
| Japan | Tarō Asō, Minister of Finance | Haruhiko Kuroda, Governor of the Bank of Japan |
EU representatives and heads of International Financial Institutions
| Institution | Name | Title |
| --- | --- | --- |
| European Commission | Olli Rehn | Vice-President of the European Commission and Commissioner for Economic and Monetary Affairs |
| European Central Bank | Mario Draghi | President of the European Central Bank |
| International Monetary Fund | Christine Lagarde | Managing Director of the IMF |
| World Bank | Jim Yong Kim | President of the World Bank |
| Eurogroup | Jeroen Dijsselbloem | President of the Eurogroup |