Press release
Welsh international footballer turned social enterprise-leader wins Big Society Award
Baroness Jenny Randerson to present award to Kelly Davies.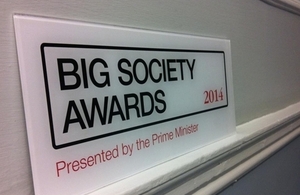 Vi-Ability's footballer turned business leader CEO Kelly Davies has today been recognised by the Prime Minister with a Big Society Award for her work tackling both youth unemployment and commercial sustainability in football clubs.
Kelly Davies, 29, founded Conwy-based social enterprise Vi-Ability in 2010 with the help and support of the Wales Co-operative Centre. Vi-Ability has been commended for their work in transforming local football clubs into centres of opportunities and leadership for their community through education, training and employment.
On behalf of the Prime Minister, Wales Office Minister, Baroness Jenny Randerson will today (31 January 2014) present the Big Society award to Vi-Ability during a visit to Conwy Borough Football Club. Here she will meet staff members and individuals on Vi-Ability's supported employment programmes.
The minister will later accompany Kelly Davies on a visit to Ysgol Bro Cernyw in Llangernyw where she will experience Vi-Ability's 'Winning Mentality Project', a concept being delivered in primary schools to raise awareness of the importance of participating in exercise to improve well being.
Believing that thriving clubs foster a sense of belonging and community spirit, and that sport plays an essential role in addressing social issues, Kelly – after completing an MBA – combined her passion and skills and set out to build a solution which could improve sustainability in football clubs while also providing an education opportunity for young people.
Vi-Ability places young people in football clubs, building capacity and implementing strategies, gaining training and experience while the club, as a business, gets a vital boost. The first football club to run the programme was in Kelly's hometown of Colwyn Bay where 20 unemployed young people between the ages of 16 and 20 years - mainly ex-offenders or recent school leavers – completed the programme 3 days a week over 20 weeks. All 20 completed and 18 went into full-time jobs.
Prime Minister David Cameron said:
Vi-Ability CEO Kelly Davies had the vision to see that football clubs could get a business boost by reaching out to their communities and supporting young people get the skills they need for the future.

This Big Society Award recognises the efforts of Kelly and everyone in her team and the impact their work has had across Wales.
Baroness Randerson said:
I am delighted to have the honour of presenting Vi-Ability with this important award. As part of my role, I often have opportunities to meet with community groups, local organisations and businesses to discuss ideas and new approaches that could encourage and support the growth of partnerships and social enterprises in their neighbourhoods.

Vi-Ability is real success story and one that other budding organisations can look to for inspiration.

It shows that if we encourage people to step forward and play their part, we won't just make our society fairer and more cohesive; we will create the conditions for a more inspirational, entrepreneurial culture.
Secretary of State for Wales, David Jones visited Vi-Ability in July 2012. Congratulating Ms Davies on the award, he said:
I have known Kelly Davies for several years and have seen first hand the great work she is doing in her community. Vi-Ability is now making a real impact across Wales and helping individuals develop key life and employment skills. The award is well-deserved and I wish the enterprise every success in the future.
Kelly Davies said:
Vi-ability is a social enterprise that essentially has a mission to try and make sure that every community in Wales or England has a thriving, financially stable football or sports club at its heart. It also aims to ensure that clubs provide opportunities for every member of the community to develop skills and broaden their horizons.

We don't just do education programmes now - we support employment, deliver training qualifications and work placements. We're working with economically inactive people like lone parents, ex-offenders and homeless people - they're our main beneficiaries. Being recognised with this Award means an awful lot to all of us involved.
As part of her visit to north Wales, Baroness Randerson also visited previous Big Society Award winners, Crest Cooperative in Llandudno.
Crest Co-Operative is a recycling social enterprise working at the heart of the community to provide jobs, skills and meals for people in need. It creates employment for the long-term unemployed, people with disabilities, and ex-offenders and volunteering opportunities which develop essential skills.
Notes to editors
The Social Enterprise Vi-Ability was developed to:
Help tackle the issues of financially unsustainable football clubs, economic inactivity and youth disengagement.
Introducing individuals to the commercial management of football clubs.
Teaching them how to design, plan and run activities that help raise money for the football club, and make a real difference to the community in which they are based.
All of which help the individuals to develop employability and life skills.
Since 2010, Vi-Ability has:
Seen turnover tripled to £500,000 – and now employs 11 full time staff members
Engaged 529 young people in supported employment contracts, 88% of which have gained sustainable employment, at least 2 recognised qualifications & 5 soft skill outcomes.
Set up work placement programmes across Europe in Italy: Spain: Sweden and Holland.
Secured contracts and investment which has enabled them to expand operations in south Wales
Won the Wales & UK Social Enterprise Start-up of the Year award after its first year and an Inspire Wales Award in 2011.
Recently expanded into other sports – Hockey, Swimming, Cricket and Tennis.
Case Study
Aaron Evans is a cerebral palsy sufferer who also spent a lengthy period battling pancreatitis. Aaron gave up a temporary job with Conwy council to join Vi-Ability as a volunteer.
Originally I just helped out with the coaching side, collected cones and collected equipment and made sure that the equipment was ready.

I spoke to clients on the phone to try and gain business. That's how I started, and then I did my Football Leaders award and I did other awards.

I did my BTEC in Football Industries and I went from there, really. I gained more confidence as time went on. I became more responsible and got more responsibility.
Aaron has since left Vi-Ability to work as a casual disability coach for Denbighshire council and is also involved with Welsh Premier club Prestatyn Town.
Hopefully now with Denbighshire and with Prestatyn Town, and with the other projects that I'm involved in, I can really make a difference to the children in North Wales.
He has been so successful that he won the Sport Wales Young Coach of the Year award for 2012, yet has no doubt about the crucial role played by Vi-Ability and Kelly Davies in his progress.
It sounds soppy but I can't thank Kelly enough. She has changed my life through football and I still look back and I think how incredible it's been.
On the Big Society Awards:
The Big Society Awards were set up by the Prime Minister in November 2010. The aim is to acknowledge individuals and organisations across the UK that demonstrate the Big Society in their work or activities. In so doing, the aim is also to galvanise others to follow.
The award focuses upon three specific areas:
Outstanding Contribution to Community
People, projects and organisations that enable communities to drive change themselves
Projects and organisations that allow the community to identify solutions
People, projects and organisations that inspire others to contribute to their community
Improving Lives and Society through Innovation, Collaboration and New Partnerships
People and organisations taking new approaches to public services
Successful collaboration and partnerships between public, private and voluntary sector - working together to benefit communities
Engaging in Social Action
People, projects and organisations taking action in their community
Working together for social change (e.g. through creating groups, campaigns, movements)
Generosity of time, money, skills and other resources – in support of social action
Launching the awards, the Prime Minister said:
There are some amazing projects and remarkable voluntary work going on in towns and cities up and down the country, by all kinds of organisations from large enterprises to tiny grassroots schemes and inspirational individuals.

These awards are a chance to pay tribute to those making a valuable contribution to their community, the real champions of the Big Society, but perhaps more importantly, I hope they will motivate many others to take action, get involved and drive change in their area.
Nominations come in from the general public after which there follows a process of scoring and short-listing by civil servants and a further short-listing by a Panel of Ministers and independent external experts. This Panel makes recommendations to the Prime Minister who makes the final decisions about who to make the award to. Twelve winners are decided each quarter meeting and then announced once a week throughout the year.
Published 31 January 2014