Press release
Wales Office Minister visits Portmeirion and Plas Newydd
Baroness Randerson hails north Wales' attractions as "leaders in their fields" able to compete with the best in the world.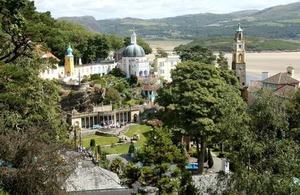 Wales Office Minister Baroness Randerson will today (28 August) visit Portmeirion, the beautifully-crafted Italianate village and hotel in Porthmadog.
The village attracts visitors from across the globe - more than 200,000 in 2013 - and has a cult following from its role as the setting for television series The Prisoner.
Robin Llywelyn, Managing Director, Portmeirion said:
Snowdonia is very much on the agenda of the overseas visitor to Wales and we hope that Portmeirion plays a part in attracting these tourists to North Wales.
The Minister will then visit the majestic Plas Newydd on the Menai Straits to tour the house and see its revolutionary marine source heat pump.
The innovative system pumps a small amount of sea water from the Menai Straits through pipes from a heat exchanger, up 30 metres of cliff face into the mansion's boiler house. The system, installed earlier this year, will save the property around £40,000 a year in heating bills.
Nerys Jones, General Manager of Plas Newydd, said:
The Plas Newydd marine source heat pump is a pioneering example of using sustainable energy and we're now very keen to share what we've learned with others.
Baroness Randerson said:
Plas Newydd and Portmeirion are leaders in their fields and offer tourists a glimpse of something very special in the areas of architecture and science. They both draw visitors to this splendid area of Wales.

We need to encourage those visiting Wales for the NATO Summit to take the opportunity to explore all we have to offer. I look forward to promoting these and the many other fantastic venues across Wales to those I'll be meeting at the forthcoming NATO-related events.
Published 28 August 2014