World news story
UN Human Rights Council 39: UK Statement on Burma
The UK reminded the Council of the results of the Fact Finding Mission to Burma and called on all members to support the resolution to advance accountability and prevent future violations.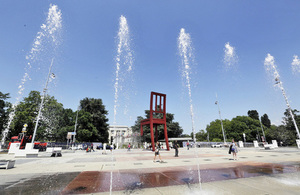 Burma: Adopted: strong resolution to advance accountability for appalling violations in Burma. There can be no impunity for atrocity crimes. Commander in Chief Min Aung Hlaing and other military leaders must be brought before an independent court.
Thank you Mr President,
I would like to begin by commending the delegations of the European Union and Pakistan on behalf of the OIC, for their leadership in the negotiation process which led to the presentation of draft resolution L22.
This is the first time that the EU and the OIC have jointly authored a resolution on any topic at the Council. This is a reflection of the extreme gravity of the report by the Council's Fact Finding Mission on Burma. And it is a reflection of the need to send a common message of condemnation for the appalling atrocities committed under the direction of Commander-in-Chief Min Aung Hlaing against the Rohingya, the Kachin and the Shan minorities in Burma.
Mr President,
This year is the 70th anniversary of both the Universal Declaration of Human Rights and the Convention on the Prevention and Punishment of Genocide. It should have been beyond imagination at this stage in our history that the violations described by the Fact Finding Mission could still be carried out. And yet the evidence gathered points to the possible commission of the most heinous acts imaginable in Rakhine State.
Mr President,
There can be no equivocation on the part of this Council when it comes to responding to the possible commission of atrocity crimes.
There can be no defence for the brutal and massive scale gang–rape which the Fact Finding Mission report sets out in horrific detail.
And there can be no doubt that there must be investigations of those responsible so that they can be held to account by an independent court.
Mr President,
This Council is charged with dealing with issues of the utmost importance on a frequent basis. But we urge all Council members to recognise that this resolution is responding to a report which is unlike any which has gone before it. The findings by the Fact Finding Mission are the strongest ever presented to the Council, and the countless victims of the violations carried out by the Burmese armed forces are looking to us to provide the response which is so clearly needed.
The draft resolution seeks to provide this response through the establishment of new Independent Mechanism to advance accountability so that justice can be done and the recurrence of such violations can be prevented. We call on all Council members to firmly support this draft resolution. This is minimum that the victims deserve.
Thank you
Published 27 September 2018