Press release
UK welcomes US-Russia agreement on Syrian chemical weapons
Foreign Secretary welcomes framework agreement on Syria chemical weapons. Onus now on Assad regime to comply with the agreement in full.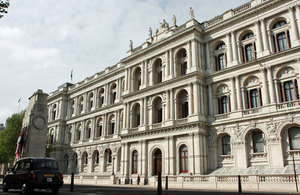 Following a call with US Secretary of State John Kerry, the Foreign Secretary William Hague said:
I welcome today's announcement of a framework agreement to ensure the destruction of the Syrian chemical weapons programme. This is a significant step forward.
The priority must now be full and prompt implementation of the agreement, to ensure the transfer of Syria's chemical weapons to international control. I will hold talks with Secretary Kerry and Foreign Minister Fabius in Paris on Monday to discuss the way forward, including action at the United Nations Security Council.
The onus is now on the Assad regime to comply with this agreement in full. The international community, including Russia, must hold the regime to account.
This includes doing everything we can to stop the continuing bloodshed in Syria, bringing all sides together to agree a political solution to the conflict.
Further information
Follow the Foreign Office on twitter @foreignoffice
Follow the Foreign Office on facebook and Google+
Published 14 September 2013